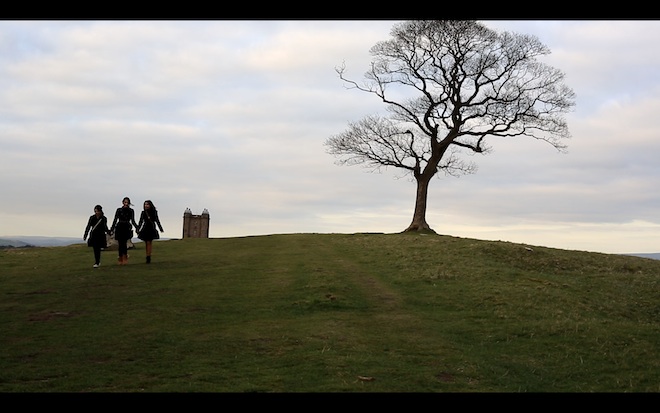 I now have my Canon 5D Mark III and I'm working my first piece of cinematography that I've shot with the camera, called Spring Revolution. The shoot is work in-progress but I have some initial impressions of the camera which I'm happy to share right now…
I was shooting at Lyme Hall in Derbyshire which is where the BBC filmed Pride and Prejudice. Incredible place, like stepping back in time!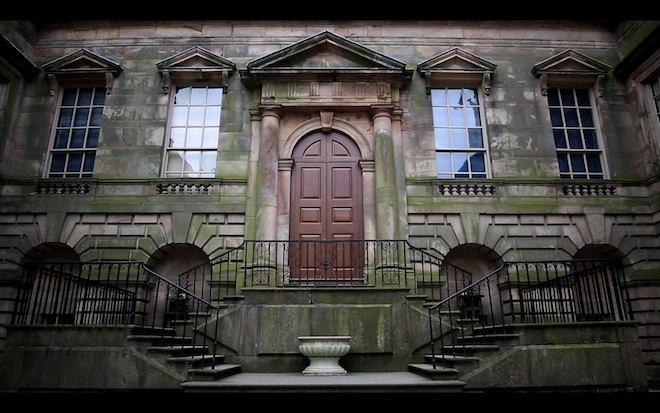 Above – Lyme Hall on the 5D Mark III shot with the Samyang 24mm F1.4
With me I had the 5D Mark III, Manfrotto 190CXPRO4 tripod, Zacuto EVF and Acratech levelling base with Manfrotto 701 head. The lenses I am using for my shoot are:
Contax Zeiss 135mm F2.8
Contax Zeiss 85mm F1.4
Leica R 50mm F2
Samyang 24mm F1.4
Samyang 35mm F1.4
OK, first the small stuff.
The colour space of video is now broadcast HDTV standard Rec. 709 (thanks for the discovery, David Newman on Twitter). The 5D Mark II had the old standard definition 601 colour space, which didn't make any sense at all. Meta data and timecode is stored in the Quicktime clip, no THM file is present. VLC Player 1.9 doesn't playback the ALL-I H.264 – unusually for that app. Quicktime X is OK but I don't use it. Instead, updating to the latest VLC Player 2.0.1 fixed the issue. Another thing to watch out for – old lens adapter AF confirm chips. I had a major camera lock-up whilst first shooting. It turned out I had an old AF confirm chip on my Contax / EOS adapter – which I had to rip off on the spot to use the lens. It was screwing up the new AF system resulting in an Err. 01 which required a reboot as soon as you attached it. Newer adapters should work fine but check before an important shoot.
The main LCD display shuts off when you connect an HDMI monitor or EVF, but you can enter the on-camera focus assist via HDMI and do all the normal stuff whilst it is connected. I have a real issue with the placement of the magnified focus assist button on the camera, so you need that monitor more than ever for focus. It is almost like Canon treated this important button as something nobody used and now instead of under your thumb on the right of the camera it is tucked away on the left under 'Rate'! So you have to use your 2nd hand if it is free or take your right hand off the shutter button completely and move it all the way to the other side of the camera just to confirm focus. Pretty ridiculous to be honest.
Whoever advised them to do that should be tied up, put under his lounge room floor boards and have them nailed back in, so he can never advise a major camera company ever again. If it was a Canon only decision not a committee, then the person responsible was clearly having a bad day. They have changed so little of the controls of this camera, yet the manual focus button is a bad change and I don't like having so much of the main camera menus devoted to fine tuning the AF, either.
(Update: focus assist cannot be assign it to the M.Fn button near the shutter. It can be programmed to the SET button – better).
I'm using the Zacuto EVF which worked well with no issues, no change of resolution when you hit record and no gamma shift. However entering the camera's menus will result in a blue screen for a few seconds since the output resolution (bizarrely) changes. This delay can be inconvenient and seems unnecessary because I don't see why the menus should be displayed in a different resolution to the live view display.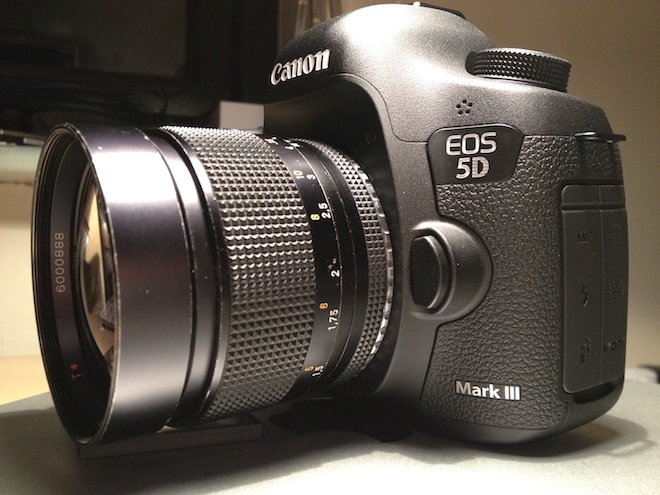 Curb Your Enthusiasm
Image quality in video mode was a mixed bag. Resolution is a bit of a let down. The GH2 has far more.
You notice this mainly on wide shots of landscapes, the outlines of finely detailed trees, the brickwork of an old building. For medium-close shots of actors or closer subjects in general (and macro of course) the soft resolution is less of a problem. A shallow depth of field also helps to heighten your sense of resolution.
But to be honest I'm a little disappointed. It may have a full frame sensor but the GH2 clearly beats the 5D Mark III for resolution in video mode. So unless the full frame look suits your wide angle stuff, I'd give it a miss for infinity focus wide angle shots and have a GH2 ready to fill in for those. This is not a nature documentary camera – those shooters will be better off with the 4K EOS DSLR which is currently scheduled for later this year.
For the rest of us, the 5D Mark III and GH2 compliment each other superbly, filling in for one-another's weaknesses.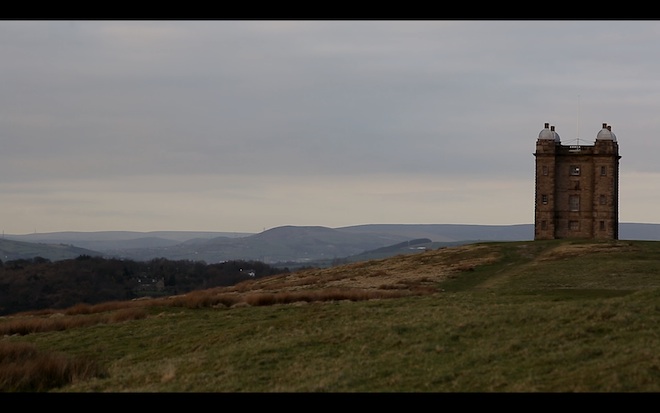 The in-camera sharpening still produces quite a bit of haloing on high contrast lines and edges in video mode, so keep that turned down below the mid-point like on the 5D Mark II.
At 100% it is quite evident on the outline of the tree and grass.
And as you can see the fine detail on the grass is not up to GH2 or C300 standards by quite some margin despite  the high bitrate codec. BUT it is a lot cleaner than the false detail hell of previous Canon DSLRs.
The noise performance of the camera seems astonishingly good with my limited testing so far but with one major caveat – it is still pretty noisy on heavily under-exposed areas even at ISO 100 and it is a blotchy noise – not a fine organic grain like on the Canon C300. This is very likely codec related rather any shortcoming of the sensor. I did have noise reduction turned off completely but even then I was surprised to see noise in dark areas at ISO 100.
Blacks crush hugely on my Macbook Pro 17″ 2011. Your milage with the below frame grab my vary but to me it is quite different to the exposure as shot…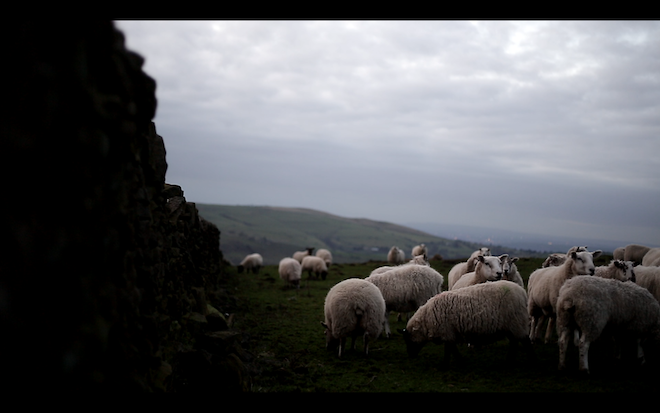 Overall I feel very mixed about the 5D Mark III. In a sense it is improved over its predecessor in every single way. In another sense it is too little, far too late and a very conservative incremental update that doesn't address one of the main failings of the 5D Mark II's video mode relative to the $600 Panasonic GH2 – resolution. The box says 1080p. I'm sorry but it just isn't.
Canon now need to be extremely careful here if they are to continue the strong sales and momentum they've built up with DSLR video.
Nikon are now providing stronger competition, and don't have a Canon C300 to protect. The D800 has a lower price (although that is soft as well!). Panasonic will bring a GH3 possibly this year and if it is anything like the GH2 it will hit well above its price point as far as video is concerned.
Sony are going to bring out their first video capable full frame DSLR and the NEX 7 is already pretty handy. Canon's next step is the 4K EOS, but that dark red 'C' badge fills me with dread. If it is priced way more than the 5D Mark III like the C300, other competitors notably RED in the indie cinema market and Sony in the prosumer / enthusiast market will cane Canon to death. Their DSLR video market share will slump big style over the next 2 years. If it is priced in line with the 5D Mark III meanwhile, it will be very good going forwards but there's going to be a hell of a lot of 5D Mark III's on eBay soon after NAB 2012.
Resolution apart, there's a lot to like about this camera though. Full frame is special.
More very soon and my first footage.
Big thanks to Digital Rev for getting my 5D Mark III pre-order shipped so quickly. Their pricing is also far cheaper than the crazy UK RRP and import tax is included, so check them out. Extremely impressed with their service.