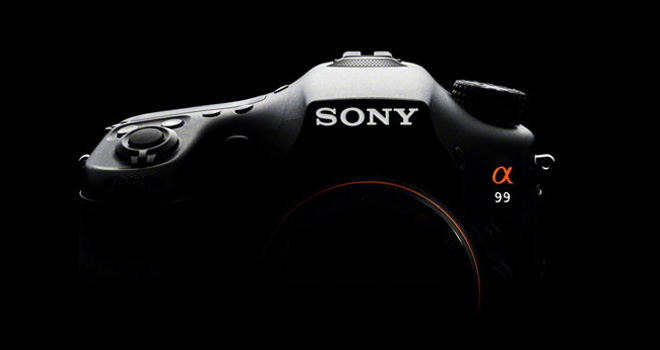 Some interesting Sony A99 video specs have been put into the wild from a prototype model.
Sony's new full frame DSLR features 1080p video in 24p and 60p – the first full frame DSLR to have the higher frame rate, which is very welcome for slow motion. Interestingly this DSLR is also able to record stills without interrupting video. A dual readout like that has only previously been seen on compact cameras which can output the entire sensor at up to 30fps.
Could the Sony A99 have an electronic shutter mode?
As a headline spec 1080/60p certainly gives Sony a unique selling point relative to Nikon and Canon. There is still a big demand for full frame video from pros and Hollywood. Not everyone is only using Super 35mm cameras like the C300 because full frame has a different look. A larger sensor also has low light and dynamic range advantages.
However we haven't yet seen the full advantages of a full frame sensor in video mode because sensor data is binned on the sensor itself before being sent to the image processor.
The Sony A99 potentially changes this because of the simultaneous stills / video recording capability. I don't see how they can have line skipping or binning active on the sensor for video as well as getting those 24MP still frames off at the same moment. A mechanical shutter would also interrupt video. It could be the sensor is doing 24MP at 60fps to the image processor which then downsamples the image to 1080p and sends the original full resolution frame to the card. This may be optimistic but it would be incredible if true.
Oversampling from 24MP to 1080p would mean Image quality in video mode would be close to perfect full HD and like a moving still.
Thankfully the megapixel count is a relatively restrained 24MP compared to the Sony sensor in the 36MP Nikon D800. This means the camera should be a match for the 5D Mark III in low light unlike the D800. The ISO range is 50 to 25600. An extended option of ISO 102,400 will be present in the final firmware.
A full frame DSLR has the potential to seriously threaten the image quality of a $15,000 cinema camera so lets hope we see the full potential of the Sony, and not have a repeat of the 5D Mark III disapointment. As a Canon customer, I care about how my own camera performs not whether or not C300 owners are up in arms about how close the image quality is from a DSLR. Better to cannibalise yourself than let (inevitably) a competitor do it.
The A99 is due at Photokina and EOSHD will be there to test it out.
Source: Sony Alpha Rumors