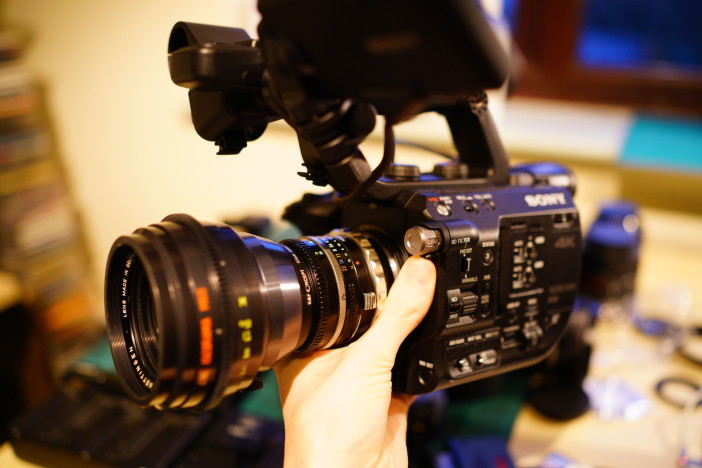 The Sony FS5 is a miniature version of the FS7 cinema camera and Sony's competitor to the Canon C100 Mk II.
It's also one of the most capable slow-mo cameras, with a 10bit 4:2:2 internal codec at 240fps.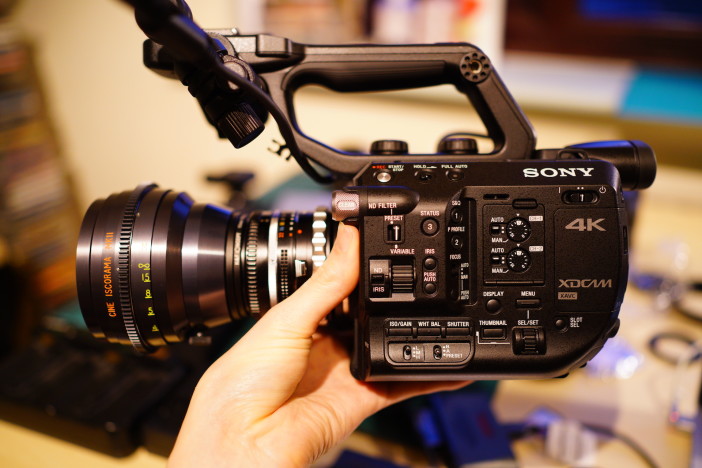 Over Christmas I had a bit of luck thanks to WEX Photographic in the UK, they had an ex-educational demo FS5 with 16-105mm F4 OIS for a very tempting price. It came absolutely as-new with all the bits and original packaging for £4k. The lens alone was worth £500 so if I sold that the FS5 has ended up costing around £3500. That's just £500 more than I once paid for the 5D Mark III back in 2012.
Let's just say things have come a long way since then and Canon should be worried!!
The Sony FS5's normal price (body only) is $5600 in the US (it is in stock at B&H here) and £4100 + VAT in the UK. In the US the camera is just $200 more than the Canon C100 II.
Do you get $200 more with this camera? Hmm. Let's have a look –
At a glance – advantages over the Canon C100 II
Internal 4K (3840 x 2160) recording (8bit 4:2:0)
10bit 4:2:2 internal 1080p vs only 8bit on the C100 II
Higher bit rates – XAVC 100/50mbit (versus AVCHD 28/24mbit)
More modern codec wrapper – MXF (versus AVCHD MTS)
World first variable electronic ND filter (C100 II is only mechanical)
Stronger ND filter (1/128 versus 1/64 on the C100 II)
Slow-mo 1080p 240fps cache record (C100 II maxes out at 60p)
Up to 960fps line-skipped cache record
S-LOG 3 for 14 stop dynamic range vs Canon LOG for 12 stop
Speed Booster compatible lens mount (full frame vs C100 II S35)
PL adaptable lens mount vs EF mount (which isn't)
Super 16mm centre scan crop mode versus none
Power zooms, zoom rocker control and video optimised lenses
Weight – 1.3kg built up vs nearly 2kg for the built up C100 II
I can't think of a single advantage of the C100 II other than the cheaper UK price and the dual-pixel AF. In the UK for some reason the price difference at CVP is £1300 but we will let that slide for now. Whatever the price difference the Sony FS5 monsters it over the C100 II…
If you need 4K from a Canon Cinema EOS camera you are really looking at $16,000 for the C300 II, which lacks the small size and variable ND of the FS5… and here's the kicker…
It's getting a RAW upgrade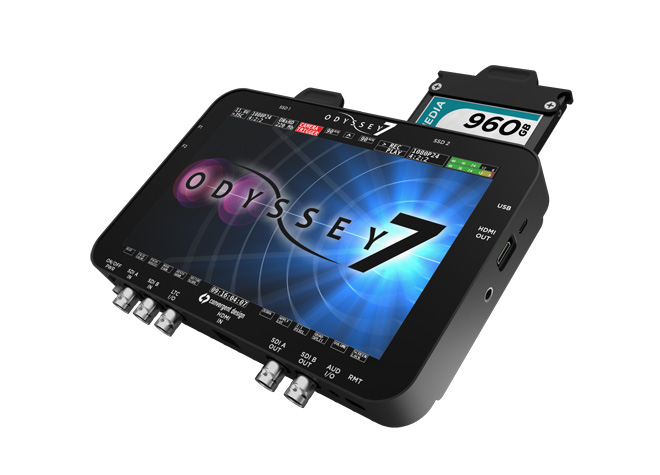 I believe the FS5 uses the same Super 35mm sensor as the FS7. The only real downgrade over the much larger model is the codec. Even though 10bit gradation and colour is promised in 1080p on this camera, compression and macro-blocking at 50Mbit/s might the transition between tones blockier than with 10bit on the FS7.
However this is where it gets interesting – Sony are bringing out a RAW firmware update for the FS5. This will go over SDI-out to the Odyssey 7Q+ for Cinema DNG raw. Even better news though is that the 7Q+ can record this raw stream direct to 10bit ProRes so you don't have to contend with the terrifying file sizes of 4K raw or the more demanding workflow.
There's even the possibility that Sony may allow high speed raw like they did on the FS700 – in 4K or 1080p, 120fps or 240fps I cannot yet say. What a tantalising prospect though on a sub-£5k camera, even though it will be a paid upgrade.
I love small cameras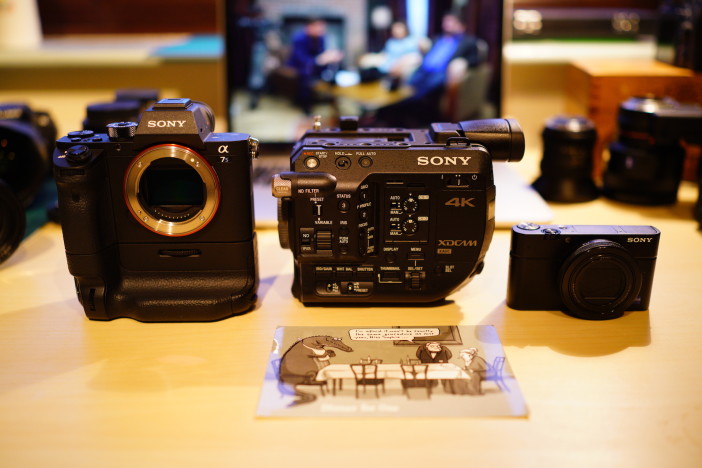 Once I would have said Canon got the most important thing right – ergonomics. Well Sony have caught up in a big way with the FS5.
Small cameras draw less attention, don't intimidate the subject and are a breeze to carry around on a one-man shoot.
When I first got my hands on a Sony FS7 back at Photokina, I felt they had finally taken a step forward after the ergonomic nightmare of the FS100 and FS700. However one thing was amiss – it was too big. Not too big compared to a cinema camera (very small compared to an Alexa!) but too big for the purposes of too many shooters.
When I took a look at the camera at Photokina 2014 I was with the director Frank Sauer who does commercial work for Red Bull and a lot of parkour shoots, he uses a GH4. He said the FS7 for him was just too clunky. Too big for a drone, too heavy for an action shoot, too much like overkill compared to a GH4.
Sony recognised this very early on and the FS5 is the result.
It weighs an astonishing 0.8kg body-only. Like the Blackmagic URSA Mini the FS5 uses a magnesium chassis to keep the weight down. Sony went further though. The URSA Mini 4.6k weighs more than double, at 2.3kg and it lacks NDs. When power is taken into account, the FS5 again is much lighter – using C100 II style camcorder batteries rather than a brick or twelve!
To give you an idea of how small the FS5 without the handle and grip – it has the same footprint of a postcard and less tall than an A7S II with battery grip. That is TINY. I used to be a Sony FS100 shooter and I'm so glad they have made another small cinema camera.
As you can see below the FS5 is about as tall as a DSLR, the 5D Mark II in the picture. This opens up numerous possibilities for stabilisers, gimbals and drones.
You can monitor via WIFI to your phone when the screen isn't attached.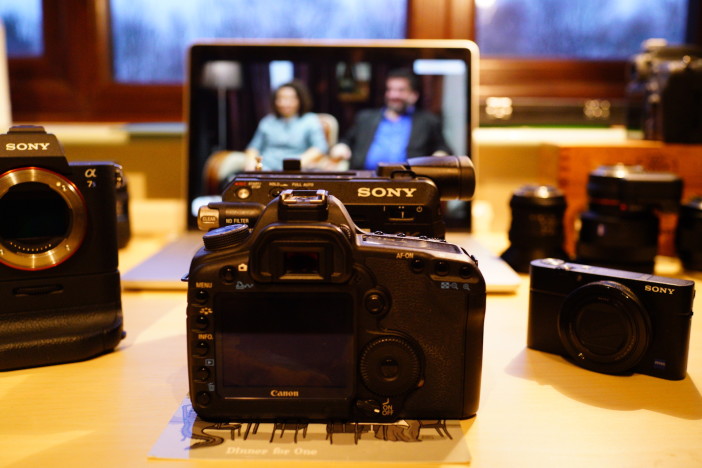 Possible achilles heel? Internal codec
Although on the surface the FS5 and A7S II might have similar 4K codecs at 8bit 4:2:0 there appears to be more here than meets the eye.
XAVC-S is on the A7S II. It's a Long-GOP (not ALL-I) with a maximum bit rate of 100Mbit.
XAVC-L is on the FS5. "L" stands for Long-GOP. It's also 8bit 4:2:0 with a maximum bitrate of 100Mbit in 4K. In 1080p though it is 10bit 4:2:2 and same goes for 240fps cache record. However the bitrate is only 50Mbit/s which is not ideal for 10bit gradation or S-LOG 3.
XAVC-L seems more demanding on my CPU during an edit than the A7S II XAVC-S footage. This points to other differences possibly a larger GOP and quantisation changes.
Image quality wise it looks similar to the A7S II – that is to say very good – but sometimes a bit blocky or bandy. It has other flaws too – likely firmware bug related. More on that in a moment.
The FS5's XAVC-L files are in an MXF wrapper and at the moment I find it preferable to convert them to ProRes 422 LT using Edit Ready due to the lack of smooth playback natively in Premiere CC. It's possible Premiere needs better XAVC-L support and better hardware acceleration. There's no ALL-I option on the FS5 like there is on the FS7 with XAVC-I. The advantage of ALL-I isn't so much about image quality – the files are less CPU-demanding to edit.
The good news about the internal codec is that it maintains a very nice fine grain texture, especially in 10bit 4:2:2 1080p mode. The bad news is there's more macro blocking than I've had liked to see and various users have reported unusual bugs like edge tearing, after images and black/magenta fringing. I hope Sony will address any problems with a prompt firmware update, because macro blocking makes a 10bit codec pointless. You would have all those nice smooth nuanced tones turned into mud and banding due to compression. I'll look more closely at the codec later when I compare it to my A7S II and 1D C.
The FS5 has already had a firmware update which enables internal 4K recording at the same time as external monitoring and recording via HDMI/SDI. I have high hopes the FS5 will be well supported with multiple firmware updates in 2016.
EVF
The Canon C300 II and C100 II have a woefully middle-of-the-road EVF, forcing Sony to put it on as a 'me-to' feature on the FS7 and FS5. Because these cameras don't really need one and hardly anyone will use it, Sony decided to scrimp and save some money on its implementation. Therefore we end up at the odd situation of a £5k pro video camera having a cheaper, lower spec EVF than on Sony's £1k consumer A7 stills camera.
A built in viewfinder is obviously more important on a stills camera. Adding a dedicated EVF to the FS5 feels much more natural than it does adding one to a tiny A7 body and unbalancing it.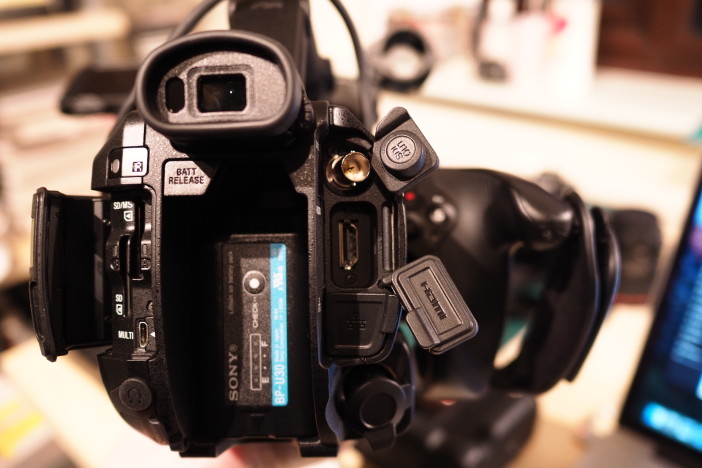 Is the built in EVF usable? Yes, perfectly good. Is it sharp? Yes seems high resolution to me and only a tiny bit smaller than the one in the A7 cameras. The RX1R II's pop-up EVF trumps the whole lot though, so certainly not Sony's best unit.
Monitoring
Slotting into the top handle on a very neat and tidy articulated hinge, the fantastic LCD has a dedicated cable providing both the image and power, so it's like having a small external HDMI monitor but without the bulk and without having to worry about bolting extra batteries to it. Coming from a DSLR or mirrorless camera this is refreshing both in terms of its excellent placing and better visibility of it direct sunlight. It's way better than the A7S II's screen and is a wider aspect ratio.
Downsides? Well it isn't quite big enough to give you absolute 100% confidence in focus without using any focus aids. Also the dedicated cable still seems unnecessary when the top handle has an electronic interface going into it. The LCD cable attaches much more securely than an HDMI cable but it is hard-wired into the monitor end, meaning if it breaks then the whole screen has to be replaced. Why didn't they wire the monitor's picture and power through the top handle interface connection instead?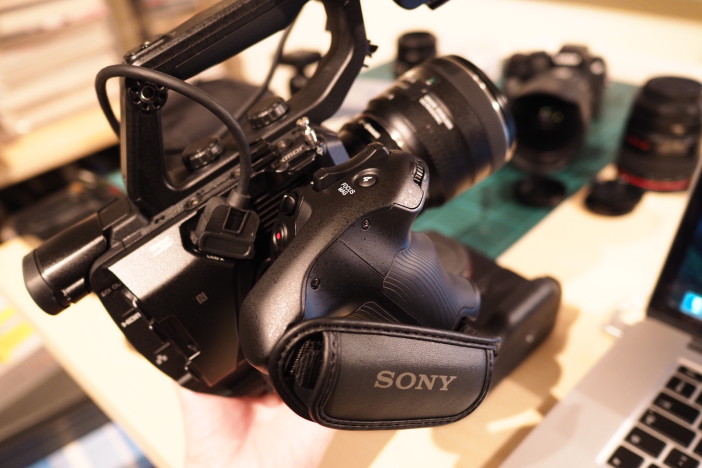 The attachment of the LCD cable on the camera body by the way is very fiddly to remove and attach in a hurry. It locks in so ideally you have to take the hand grip off to pinch it properly at the sides and pull it.
Top handle, side grip and menus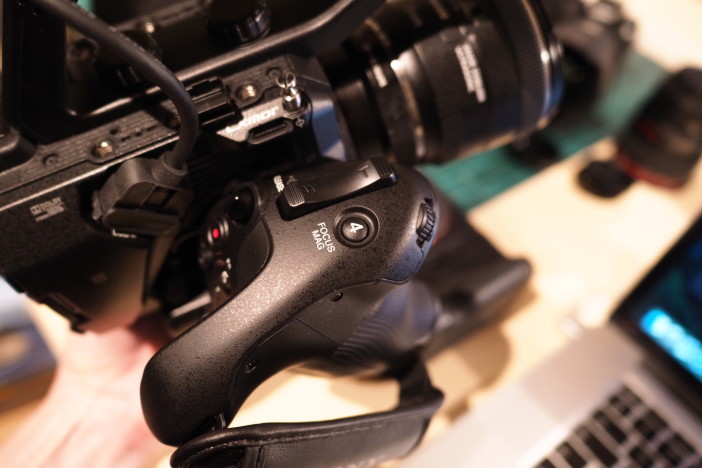 The FS5's top handle is way quicker to get on and off than the FS7's. I also absolutely love the fit of the side grip in my hands. The button placements on it aren't ideal, but it adds some welcome extra controls like a jog wheel for the iris so you're not fumbling around for it on the left side plate of the camera. There's also a joystick for the menus, a lovely focus magnifier button and of course a record button.
So light is the FS5 you can comfortably hold it one handed with the side grip and wield it around in a run & gun situation. The top handle and hand grip add so much to the ergonomics of the FS5 shooting experience, for some this will be the primary reason to upgrade from an A7S II. It was a big reason for me.
The control panel menus seem to have come across from the FS700 rather than the FS7 but they are much snappier and responsive. Still not a big fan of them though. Thankfully you don't need to dive into them as often as on the A7S II.
Electronically variable ND filter
At this point all Sony FS7 users turn their heads jealously towards the FS5 and wonder should they sell up!! This is a star feature of the FS5 and also a world first. The built-in ND filter of the FS5 is a seamlessly variable one, a magical sheet of unknown material, which when lowered over the sensor is activated by an electrical charge and can be seamlessly varied all the way from 1/4 ND to 1/128 ND. The adjustment is ultra smooth and not stepped.
This makes matte box filters and variable ND filters completely obsolete. The ND dial has a "Clear" setting for raising the filter completely out of the way and also some presets so it works very similarly to the FS7. Unfortunately so far I haven't found a way to have it set to automatic for auto exposure. You can set the iris, ISO and shutter to auto but not the variable ND. That would have been a nice touch.
On a DSLR for exposure you might be furiously tinkering via aperture, shutter speed and ISO – or worrying about reflections changing due to the polarising effect of a normal screw-on vari-ND. On the FS5 you don't need to worry about any of this any more. No colour shift either. It's very liberating.
To be continued
Sony have turned my head with the FS5. It proves that cinema cameras don't have to be bulky, heavy, ND-less monsters like the RED Epic. Almost instant to boot up and get shooting, almost as light as a DSLR, Sony will say that the FS5 is more a grab-and-shoot video camera and the FS7 more a cinema camera but they have done admirably little to make the FS5 less of a cinema camera. It really appeals to filmmakers.
With far less rolling shutter than the A7R II, A7S II or Samsung NX1 and with the best built in ND filter technology yet seen, when the FS5 gets RAW it will be in the RED league for image quality yet without the bulk and expense.
That to me is pretty ground breaking for $5k.
The Sony FS5 is currently in stock at B&H