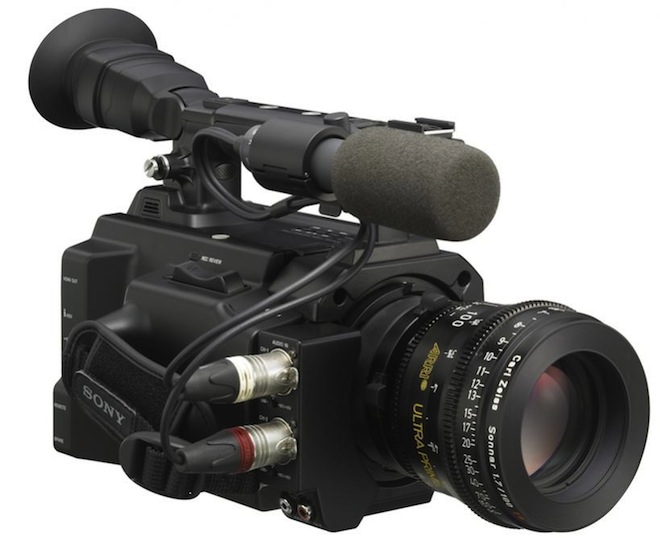 Above: notice zoom rocker switch on camera body
Sony's F3 is here, a competitor to the Panasonic AF100 in all but price.
The F3 is the reason for the lack of 24p in the NEX-VG10 and Sony's DSLRs, the F3 is aimed squarely at the film, TV, broadcast and video industry in competition with Arri and RED and features a new Exmor Super35 CMOS. They have saved all the good stuff for this but it comes at a significant price – $28,000 with lenses and $20,000 without. 4 times more than the AF100.
Compared to the $150k Sony F35, the Arri Alexa is a bargain at $50k. Compared to the Arri Alexa the Sony F3 is a bargain at $20k. Compared to the Sony F3 the Panasonic AF100 is a steal at $5k. Compared to an AF100 the GH2 is a giveaway at $1000. You get the idea… the F3 is not going to be for the masses.
Which approach is going to work best? Panasonic's aggressive price strategy with a product covering a larger market or Sony's aggressive targeting of industry standards and cutting edge specs aimed squarely at high end crews? Well on the specs side it falls significantly short of RED's EPIC. No HDR and no 4K.
For the intended market of the F3, the price is less an issue. To spend $100,000 on post production only to scrimp and save on the very core tools which make the image would make no sense to a production company.
We now have large sensor interchangeable lens movie cameras with hugely differing prices, and on the surface hugely differing specs. I can only assume that some of the difference in price is down to the cost of factoring in huge marketing and support networks, because the specs alone do not tell the whole story.
Can you make the same standard of production with a DSLR? Of course, if Red Tails is anything to go by and another famous example, House.
What the Sony F3 allows professionals to do is put the elitism back into their work. For just an extra $20k over a Sony DSLR or VG10, professionals can have 24p.
(This is all whilst Sony pretend to be a company that encourages creativity and budding filmmakers at every level…)
Along with other film industry dogma, $20k also buys you a PL mount. Yes, it is a bit more expensive than a Hot Rod adapter for your GH1 but if you can afford Cooke S4 Primes then you can probably afford an extra $20k on the camera and heck maybe an extra $20k on the pool party when shooting wraps.
But hang on, isn't the PL mount a hang over from the 35mm film days? The use of that mount automatically blocks the path to a lot of high quality (and reasonably priced) DSLR lenses and that is surely Sony's main intention for the PL mount – to charge more for lenses.
What $15 extra gets you over the AF100
• HD-SDI stream is 10bit 4:2:2, on the AF100 it is 8bit 4:2:2 (Sony is better for post work and keying)
• Onboard codec on the Sony is slightly better – XDCAM 35Mbit versus 24Mbit AVCHD on the AF100
• Variable frame rates, 1-30fps in 1080p and 1-60fps in 720p (However AF100 overcranks to 60p in 1080p)
• Erm – that's about it.
The F3 inherits the same LCD and viewfinder from the EX1. The matter of sensitivity and ISO are confusing for DSLR video guys like me – Sony say the camera has a signal to noise ratio of 63db at ISO 800 and a sensitivity of F11. Compare that to the EX1 which has a sensitivity of F10 and 54db. Since I am from a DSLR background I have no idea how to relate this back to DSLRs and I don't have the gear in front of me to do a direct comparison. It isn't something I'm experienced with. I had a Sony FX1. The gain went up and down and the lens was fast. What ISO was it using? Who knows!
Is the maximum ISO capped at just 800 on the Sony F3? If so then make sure you have plenty of budget left over for lights.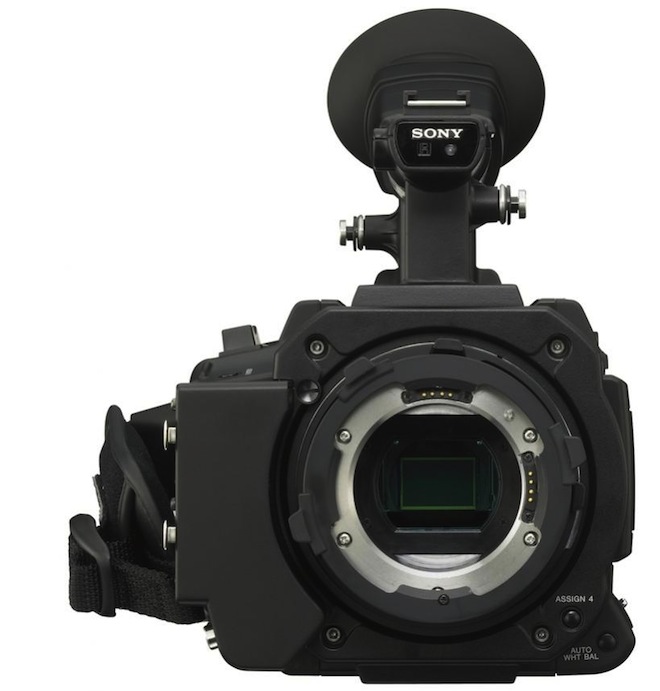 According to Crews.TV who were privy to a lot of the Sony stuff before it officially came out into the open, Sony look set to develop motorised zoom lenses for the F3. There are promotional images of the F3 with a zoom rocker switch.
That's quite positive, since Panasonic say all their AF100 lenses are coming from the consumer Lumix division, we can safely rule out a similar solution on the AF100 for a while.
Now the bigger picture – will the F3 be a success? Will it outsell the AF100 on film sets? How about the Alexa, and RED?
I expect the AF100 has more bases covered than anyone. It's just about affordable for serious prosumers. It's great for film schools and universities where price is always a factor. It's going to sell better with smaller price conscious crews and the DSLR crowd.
Where it won't do so well versus Sony or Arri is in the high end. Crews who want a PL mount out of the box and who plan to do a lot of keying green screen work will prefer the robustness and industry standard adherence of the Sony. I expect that for $20k it also has more robust build quality than the AF100, the pre-production model of which felt pretty plasticy at Photokina.
Canon meanwhile have pretty much waited to see where all the cards fall and know they have a complete picture. Canon will choose their specs and prices based on how well the Alexa, RED EPIC, Sony F3 and Panasonic AF100 perform in the market. Easy hey?
In terms of EOSHD's point of view, the Sony F3 reveals and reinforces something quite worrying about the inflation of gear prices in the professional industry. That is, pros will pay whatever it takes for a product which is only 2-5% improved on much cheaper offerings, whilst they will also pay sky high prices to maintain industry standards, established ways of working and camera bodies which look big and professional.
And yet we DSLR enthusiasts know that the game is up. Inside the Sony F3 is basically the same core technology which Sony flog en-masse in their DSLRs, and if Panasonic can afford to sell a niche camera like the AF100 to professionals for $5k, then what on earth is Sony doing in their manufacturing process to warrant the extra $15k?
That extra money is pure hype. It's what the industry is happy to pay out for essentials. Fine at the very top end of the market but for medium to small crews and freelancers, the time has never been better to be smaller, simpler, cheaper and just generally more nimble on the rate card than our expensive F3 wielding Real Filmmakers. Provided we have the portfolio, awards, presence and reputation – it won't matter whether a freelancer shoots with an F3 or DSLR.
If clients ever realise this in great numbers, Sony's pro offerings will be dead in the water and the next generation will truly have to be special. No more holding back 4K on a camera costing upward of $20k. In 2010, the F3 does not represent a great leap in technology.