[vimeo]https://vimeo.com/159962392[/vimeo]
Welcome to my rolling review of the Sony A6300. Like the rolling shutter of the A6300 this review takes a long time to get from the top to the bottom so grab a hot drink (be careful not to overheat) and enjoy the ride…
A6000. Popular camera. A6300 is going to be even more so. These don't come along often. GH4 popular camera. NX1 popular camera. XC10, erm, not so popular camera.
What makes a popular camera? Over the years it's become clear where the strengths are each manufacturer's approach.
Nothing better sums up where Sony are weak like this picture: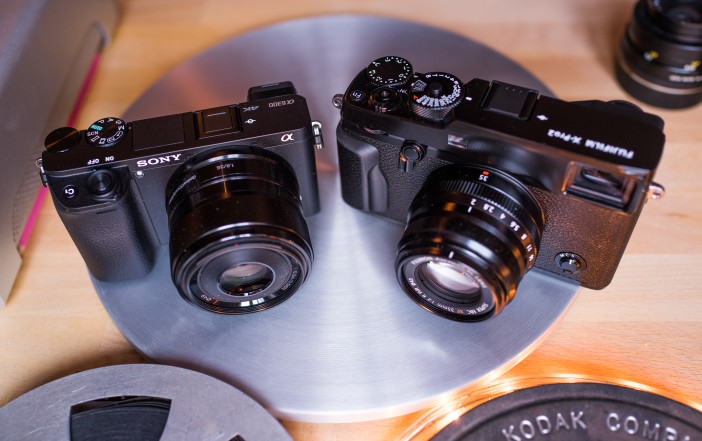 Sony are constantly on the cusp of the perfect camera in terms of specs, but each spellbinding step forward their sensors and processors make only serves to highlight the growing gap between body and brain, the mind of Einstein in the body of a village idiot whose parents were Cybershot compacts.
Fine grain simulation in video mode on the A6300
Thankfully the 4K image coming out of the A6300 is interesting for a number of reasons and Sony appear to have a new approach with image processing. Also, it's a completely new sensor.
Film is famous for a very fine grain structure which gives a texture to the image. Both Sony and Fuji seem to be catching on that this could be implemented as a feaure. The Fuji X Pro2 has a film grain simulation option for JPEGs and the A6300 seemingly has a new compression and noise reduction technique that holds onto a more film like texture when it comes to high ISOs in 4K video mode (but not in 1080p).
Low light performance is very impressive for an APS-C camera. ISO 1600 and 3200 are very clean. Only 12,800 starts to get noticeably noisy. Even then, the camera holds onto more fine detail and a nicer grain pattern than Sony's best low light camera, the A7S II in 4K.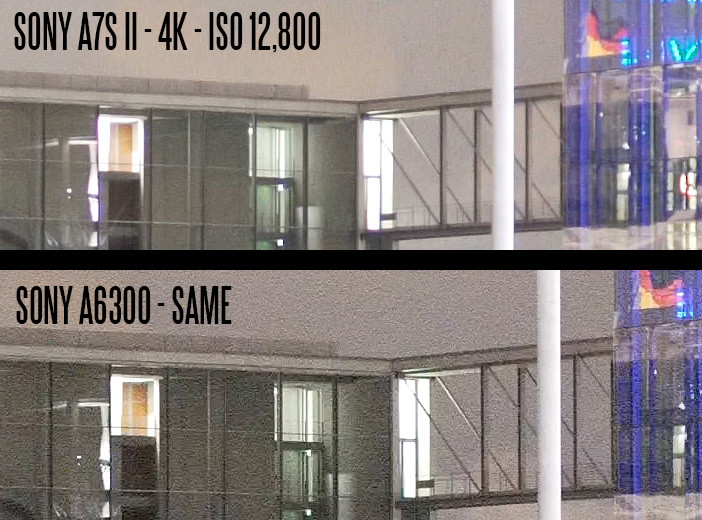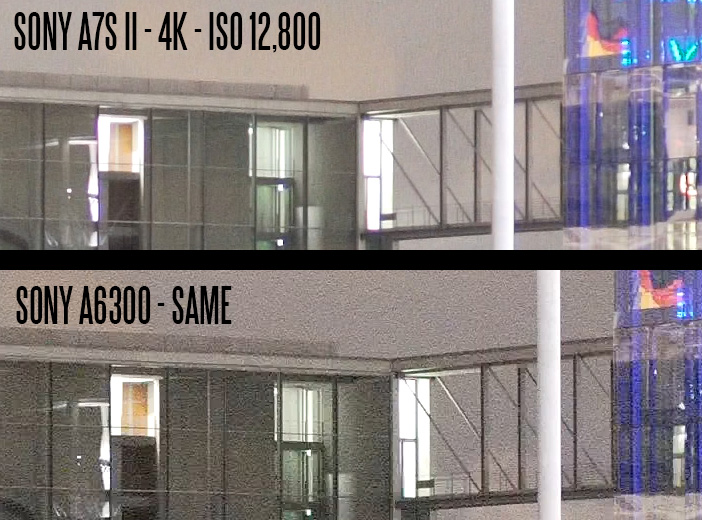 In fact the A6300's low light performance is as good as most full frame cameras, better than some of them.
Clearly the new image processing, oversampling from 6K to 4K and the new copper circuitry in the sensor have helped up the game for an APS-C camera.
4K image quality
The A6300 costs $1k or £1k or €1250. It's not quite the bargain on this side of the Atlantic that it is in the states. However even at the grand sum of 1250 euros, the A6300's 4K image is simply outstanding.
The A6300 has a 2 or 3 possible deal-breakers however and you definitely have to make a note of them before shooting 4K on an important shoot. The flaws are so obvious. So obvious I wonder why Sony didn't consider them important enough to avoid in the first place.
It's not mystery to me, that Canon remain ahead on sales because the others still can't quite get the basics right for all their awesome specs – lenses, form factors, reliability.
By basic I also mean being able to get through a relatively short short without this happening…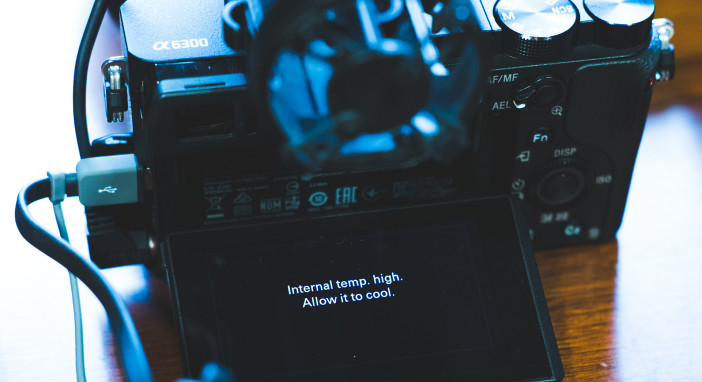 For this shoot, Blackbird Studios in Berlin and 10 piece orchestra cost over 2000 euros to hire for a few hours. With the orchestra laying down strings on 5 tracks by Cameron James Laing (formally the band Bunny Suit) we didn't have the cameras rolling constantly. The aim was to make a documentary piece edited down to the most interesting bits of the day. A memento of the occasion.
I shared the burden between 3 cameras including the X Pro2 and FS5 but even then the A6300 had to sit on the sidelines a few times to cool down after around 1 hour of 3-5 minute continuous takes with gaps in-between of varying lengths – sometimes a few seconds, sometimes a few minutes. That's simply not good enough, Sony!
With the new cooler running copper sensor Sony had the chance to fix this since the A6000 suffered from it too – in 1080p – but instead the 1080p of the A6300 is pretty mediocre and the 6K to 4K pushes the camera too hard with inadequate cooling. Very very questionable decision! Might a 2.8K mode with less rolling shutter and a better heat sink been preferable?
Sadly pros can't even rely on the A6300 as a B-camera due to the overheating, especially not for any kind of live filming or interview work at all.
Rolling shutter is the next thing to be aware of, it's the most unsuitable camera yet for action or fast handheld movements. The good news here is that the 1080/120fps mode minimises the rolling shutter and the slightly cropped 4K 30p modes lessens it a tiny bit although you won't find me shooting 30p!
Also check out Erik Naso's test of the A6300 overheating and rolling shutter issues here
Finally, my advice to is pack 3-4 extra batteries, it's a pretty hungry camera, also invest in a really good tripod and wide angle Batis 25mm F2 to avoid the rolling shutter issues. Sony's much cheaper 35mm F1.8 OIS APS-C lens is a great run & gun option for handheld shooting. The stabiliser works well to reduce wobble and jello. Handheld off an 85mm without stabilisation (there's none in-body) things will look like jelly. Telephoto is strictly for locked down shots with very slow movement within the frame on this camera.
Autofocus – of growing importance for video shooters
Wallander DP Geoff Boyle, otherwise known as that British guy behind The Cinematography Mailing List says he recently shot a commercial using autofocus (shock horror!). To be specific, he used Dual Pixel AF on the Canon C300 Mark II. Geoff recently did a very nice anamorphic talk at BVE which I watched with Andrew of SLR Magic. At the show he said that once you understand how Dual Pixel AF works, the way it works and what it can't do, it's as good as having a professional manual focus puller.
What the machine cannot yet do however is inject emotional intent into a focus rack, but if you just want to get from A to B with no effort it works well.
Canon's Dual Pixel AF is slightly different technology to what Sony has employed on the A6300. On the Canon sensors with Dual Pixel AF every pixel is a phase detect AF point so there are millions of them and they have more light to inform focus.
On the A6300 there are a lot of phase detect AF points by the standards of a phase detect system on a DSLR (even a pro DSLR like the D5) but they number in the hundreds not the millions and don't seem to get quite enough light to be truly reliable in anything less than bright situations.
In dimmer conditions the reliability of the A6300's AF system no matter what lens you use is just not good enough for professional work. Here's an example in twilight with the Sony 16-105mm F4, which is an optimal lens in terms of AF on a Sony body. The A6300 had no trouble recognising his face but the system kept dropping him and going to the brighter, more detailed background.
Nevertheless this camera has THE best AF for video of any of the current non-Canon large sensor interchangeable lens cameras. In good light it CAN sometimes perform miracles.
For stills it's also a huge step forward. With most Canon lenses and the Metabones adapter with latest firmware, it's incredibly fast – better than the A7R II and completely on par with a 5D Mark III in good light, even a 1D X. It does still get a bit hit and miss in low light though.
Remember that Canon don't offer this kind of AF performance with Dual Pixel AF along with Super 35mm 4K video until you hit the $6k mark with the 1DX II. The Sony A6300 is the only bonafide alternative to this if you want 4K.
With Canon lenses via the Metabones adapter in video mode (or oddly, when face recognition is turned on) the camera goes to hell. It won't track with Canon EF lenses at all or do continuous AF whilst recording video. I really hoped that would work! Instead I am faced with spending thousands on Batis lenses or other high-end E-mount lenses just for this feature. Probably this was Sony's intention but it's way too much to ask isn't it? That is, to invest thousands all at once and dump my cross-platform Canon lenses just for video AF.
One more thing – the tuning options aren't particularly elegant. The speed of the focus racking doesn't seem to ramp up in the middle and then slowly settle on the target for instance, so it comes to quite a sudden stop. Sometimes horrible looking hunting or shimmering occurs – something phase detect AF is supposed to prevent. As a shot grabber though it's great, just edit out the racking.
Form and function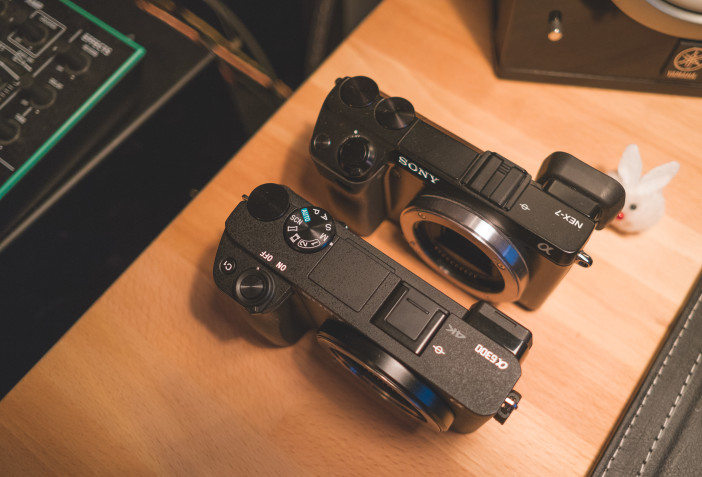 "Form follows function" should be a phrase every designer knows.
If the A6300's functionality is so impressive why doesn't the form follow?
It's not the NEX 7 style form factor I have a problem with. Actually I find the small size a real blessing, depending on the lens it's even jacket pocketable. The quality of the EVF is great – similar to the A6000 but with the option for a faster 100fps refresh rate. However this comes at the expense of resolution when engaged, giving a rather pixilated image. I prefer to use it in 50fps mode. Meanwhile the articulated LCD is better and more solidly built compared to the A6000.
However instead of the NEX 7's twin dials for shutter and aperture, we get the A6000's more consumer-leaning mode dial and just one proper dial. ONE! The secondary rear jog dial has to be assigned to shutter or aperture and it's such a lightweight piece of fluff for something as important as that. It's like steering a tank by tweaking the ear of a hamster.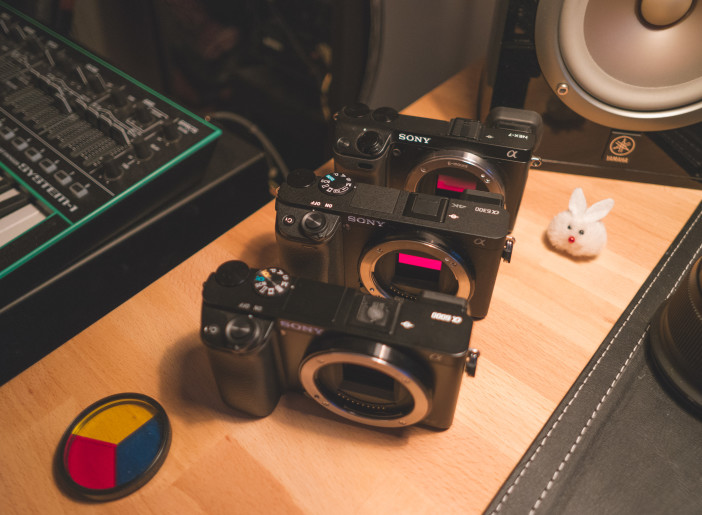 Above: A6300 (middle), A6000 (front) and NEX 7 (rear)
The A6300 has also put on weight. It's way less cute than the old camera.
There are quite a few other areas unfortunately where there's great functionality but form has done a runner…
Take the manual focus punch-in zoom. It's one of the fuzziest, most pixilated messes of an image I have ever seen in video mode when zoomed in – and the whole point of it is to check sharpness! How do you check sharpness from looking at softness? Is this Sony's idea of form following function?
Look at how this model is positioned with cutting edge 6K video recorded as 4K Ultra HD for $1k, again great function so why the tiny video button reachable only by moving your thumb into a position which relinquishes the grip of your entire right hand on the camera? The A6300 has more features packed into the menus than a space shuttle, yet only 2 custom buttons, one of which has to act as a video record button because the one Sony laid out is reachable only by a rare jungle tribe who have second opposable thumbs. What was wrong with the positioning of the video button on the NEX 7 exactly?
It has an unbelievably powerful processor and sensor, but the form of the wimpy battery dictates that battery life is a bit pathetic, and for what? To shave a few millimetres off the grip compared to an already small mirrorless camera like the Panasonic GH4?
All round it's an awful showing from a 'form follows function' perspective.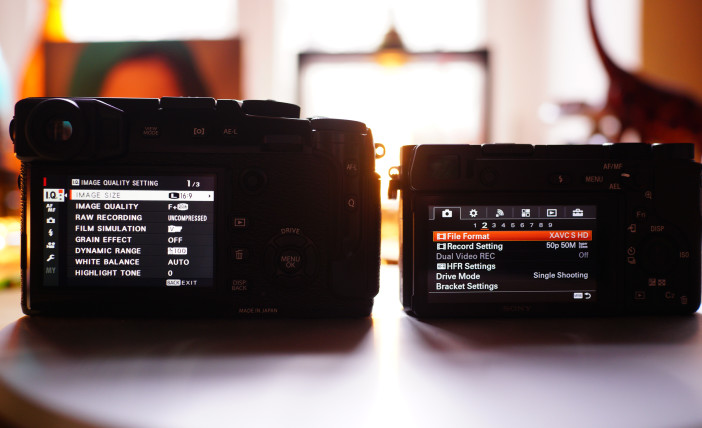 And let's not even mention the dreadful menus Sony STILL have not organised properly. It's like venturing alone into a desert to pick up a specific grain of sand, and then another one about 200 miles away. Once again the X Pro 2 (above, left) shows Sony how it should be done (although their movie page is a bit emptier!)
Fujifilm and Olympus have the most classic photographic DNA remaining. I am not sure what the Sony managers did with Minolta. The real secret to all of this however is that Canon distill this down to a utility vehicle you go to work in, it doesn't have the classic sports car trimmings like a Fuji but you'll never have to fight it in a fast bend. If Sony can distill a combined Leica / Arri DNA down to a pocket camera form factor they're onto a winner. So far their team isn't succeeding at this.
Conclusion 1 (22nd March 2016)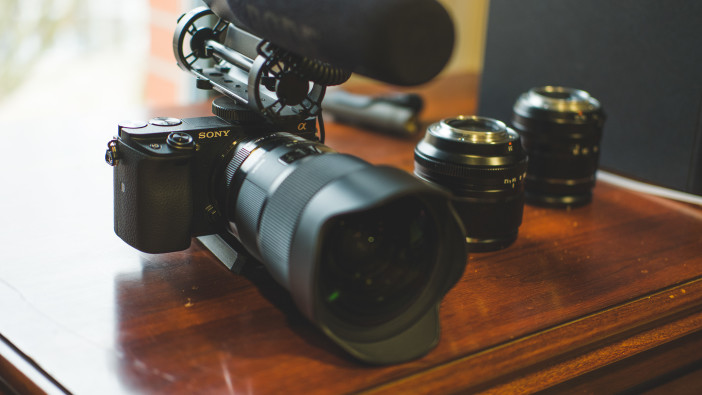 This is just the start of my experience with the A6300. It's a camera that will be sticking around with me for a while so tune into EOSHD in the future for more. First conclusion is the low light and how detailed the 4K image is from the A6300. For $1k the A6300 is the best low light camera available by quite a margin. The GH4, G7 and NX1 are really ISO 400 to 800 cameras then it is all down hill with 1600 being the maximum I usually go to on those. If it's only 1080p you need then the Nikon D5500 and D7200 are good up to ISO 3200, 6400 at a pinch. Yet the A6300 is usable up to 12,800 especially if you downscale from 4K to 1080p in post and do some extra noise reduction. Also, I'm very pleased Sony's new noise reduction and tweaked compression maintains a lovely film-like grain in the images, rather than smudging this or compressing it away completely.
Rolling shutter however is an issue on this camera, but sometimes it isn't. It really depends on how you use it. If you're using a wide angle lens, you'll avoid the worst of it even for handheld work. Also the Batis 25mm F2 and cheaper 35mm F1.8 OIS are really nice on this camera – far lighter and less bulky than most Canon lenses.
Pros – what I enjoyed
Incredibly detailed 4K image from 6K sensor readout
New sensor is superb in low light
Excellent codec which maintains a fine noise grain, less macro blocking than before
Speed Booster compatible for full frame look
Much more affordable than the A7S II, A7R II and Sony FS5
In good light, AF is best yet for video on a mirrorless camera
In good light, AF is super fast in stills mode with Canon lenses on Metabones adapter
Small for a 4K Super 35mm camera
Great quality EVF and LCD
120fps 1080p for slow-mo at acceptable quality
S-LOG, view assist, 100fps refresh-rate EVF, very generous offerings in a consumer priced point & shoot
Cons – issues to be aware of before a shoot
Rolling shutter skew is terrible
Overheating will seriously interrupt longer shoots and live events
Requires many spare batteries to get through a longer shoot
New AF system not bullet proof in dim light
No AF when recording video with Canon lenses via Metabones adapter (at time of writing)
No in-body stabilisation, very few E-mount lenses with OIS
1080p quality could be better – bit soft and not moire free
1080/120fps and 4K/30p crop the sensor