https://vimeo.com/17749667
Earlier this year EOSHD has varying degrees of success with the Canon 5D Mark II and Panasonic LA7200 anamorphic adapter – variable between unusable and not very good. I found the adapter worked best on the Panasonic GH1, where I was able to achieve an extremely wide angle with it. Typically for an anamorphic however, it still did not work well with shallow depth of field at fast apertures or at telephoto.
Matt Holcomb (Blog) of Holscope Productions was in touch recently and he appears to have had a great deal more success with the 5D Mark II and LA7200 combination. He's just shot an Australian short film, the frames grabs of which you see here are all shot with the 5D Mark II and LA7200. This short will be used to achieve funding for a full feature.
Matt uses the 5D Mark II, Arri Alexa and he's also used Red. Here he offers an insight into shooting on each, the LA7200 anamorphic adapter and his plans to use Hawk anamorphic glass from Germany.
Holscope Productions are based in Melbourne, Australia. They've also produced some awesome TV adverts that I've really enjoyed. Fire away Matt…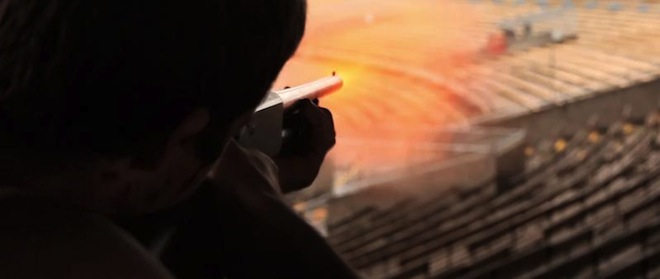 EOSHD: Diopters on the LA7200 seem not only to allow closer focus but to make shooting at fast apertures such as F1.2 workable. Anamorphic lenses usually need a lot of light, and I get a soft image at faster than F4 on my LA7200. Have you tried any diopters with the LA7200 and if so which ones?
MH: From test videos I've seen online, the LA7200 becomes a better lens for close-up cinematography with the addition of a +0.5 diopter. I've had a bit of a play with +1, +2 and +4 diopters, and the results were positive, but I was only using available light, and there wasn't that much of it, so it was less than a conclusive test. It's something I want to test more rigorously, but to do that I first need to get my hands on a +0.5 diopter.
EOSHD: This video by Mataikan on Vimeo shows the +0.5 diopter gives a significant advantage to anamorphic shooting with the Panasonic LA7200. The owner of the video Mataikan tells me it's an old Tiffen series 9. It's held in place by a matte box in front of the LA7200.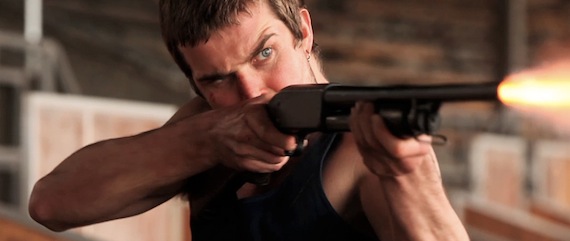 Matt, what's your overall opinion of the Sigma 24-70mm? (Pick it up for $569 at BH Photo Video here). This seems to be the magic bullet that allows a sharp image at telephoto with the LA7200 on a full frame camera (the 5D Mark II). I found the LA7200 was not suited to the 5D on the 24-105mm kit Canon L lens. Should we all rush out to buy this Sigma lens or are there better alternatives in the price range? It sounds great.
MH: Before I bought the Sigma, I saw some test footage shot with a 5D Mark II and an LA7200-adapted Nikon 24-70mm zoom, and the imagery was satisfactorily sharp. Out of ignorance I attributed the sharp imagery to the Nikon's focal range, so I went looking for a 24-70mm; and the only one I found that I could afford was the Sigma. I had read enough articles in American Cinematographer to know that you need a lot of light when using anamorphic lenses, and I was aware of the limitations of the LA7200, so I kind of knew what I was in for when I started testing the LA7200 with the newly-acquired Sigma, but I was pleasantly surprised – and encouraged – by what I was getting.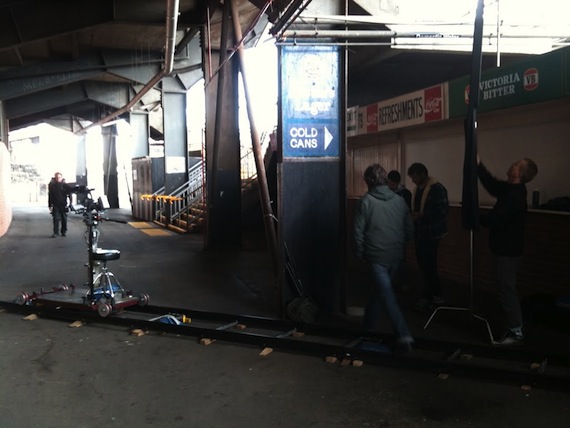 As for the Sigma 24-70mm being the magic bullet in terms of sharp anamorphic DSLR cinematography, it may very well be, and that probably has more to do with how Sigma design their lenses; how the Sigma 24-70mm bends light beams and what not. But until you pull down a Canon 24-105mm kit lens and a Sigma 24-70mm and compare how the lenses are designed and constructed, it's just speculation as to why the Sigma gives you a sharper anamorphic image than the Canon 24-105mm. Maybe it is just a focal range issue!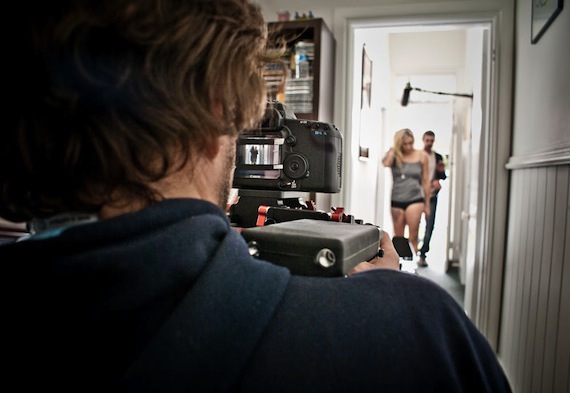 EOSHD: RED and DSLRs, which have opened the most doors for Holscope productions and which do you prefer to use right now? Does it depend on the job?
MH: The results you get with a high-end DSLR like the 5D Mark II are so good that, for future productions with standard budgets, I can see us using a RED (or ARRI Alexa) combined with a high-end DSLR. The reason I say that is because cameras like the RED One and the ARRI Alexa are large and unwieldy, so if you have to get a camera inside a car, or any tight space for that matter, you're much better off using a DSLR camera and saving yourself a lot of time and money.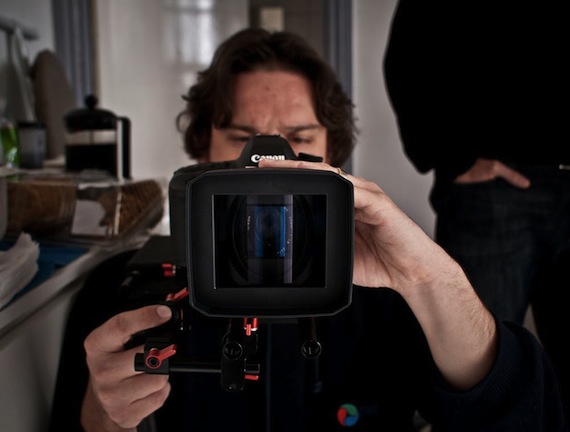 EOSHD: The stills from your new short look fantastic, do tell me more about how these were shot and on which camera / lens.
MH: The short film was self-funded, and naturally, our budget was tight. We probably could have stretched for the same RED One kit we shot our last short with, but we were so impressed by the results we got with the 5D on a recent documentary project that we decided to bite the bullet and shoot the short with a couple of 5Ds, one of which belonged to our director of photography. By making the decision to shoot with the 5D, we suddenly had access to an Aladdin's Cave of lenses, including our LA7200-adapted Sigma zoom, a Canon 70-200mm F2.8 and a bunch of Nikon, Canon and Samyang primes. We almost had too many lenses at our disposal – far more than if we had gone with the RED One.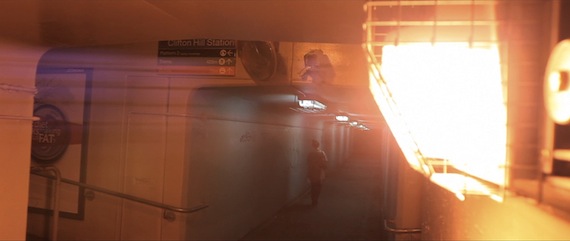 EOSHD: Without giving too much away, what is it about?
MH: The short is going to be used to raise funds for a feature film we've been developing for the last twelve months, and it's also going to be submitted as a stand-alone short to various festivals. Thematically, it's a story about life choices and how destructive jealousy can be. Story-wise, it's about two brothers who are small-time criminals with ambitions that are larger than their respective talents. And stylistically, it's a gritty crime drama shot in 2.35:1 that, in a lot of ways, looks and feels like a western, minus the swing doors and horses!
EOSHD: Sounds great! What was your route into video production, originally?
MH: Ten years ago my brother and I started a production company while we were still at film school. It's something we had always wanted to do, and the advent of the Mini-DV format allowed us to get in the game without much capital. The whole DSLR revolution is very reminiscent of the Mini-DV era, in that you have this relatively cheap camera technology that suddenly democratises an unnecessarily elitist industry and allows minor players to mix it up with the established ones. Sure, the RED and all the various HDCAM formats have helped level the playing the field, but ultimately, you still need a decent budget to shoot RED or Sony CineAlta; it's more about the kind of aesthetic you're after when deciding between film and a high-end, solid-state HD format.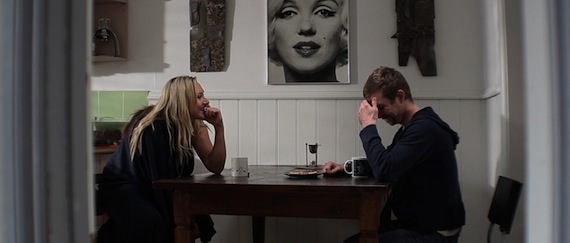 EOSHD: Please do share your experiences with the 5D versus what it is like to shoot on against a RED camera.
MH: I'm a naturally impatient person, so shooting fast obviously appeals. You can't shoot fast with a RED One, but shooting with a 5D is as fast and as easy as shooting with a Sony EX-1 or a compact Panasonic P2. I also like getting as much coverage as I can, and in most real-world, low-budget scenarios, the difference between shooting 5D and RED is considerably more coverage, and in most cases, that's the difference between an end product that's great compared to something that's so-so. And to be able to shoot fast, combined with a Vista Vision-sized sensor for that lovely shallow-focus look, is an absolute godsend.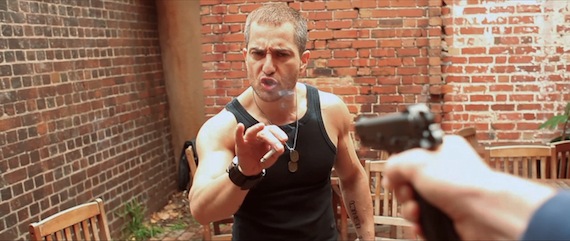 Below – TV commercial shot with the 5D Mark II by Holscope Productions

EOSHD: Why have you chosen the Alexa?
MH: I've heard only great things about the ARRI Alexa, while my enthusiasm for the RED One format has been tempered somewhat by my real-world experiences shooting with it. When it comes time to shoot our feature, it'll come down to how the Alexa compares with the RED One, and what camera gives us the best overall image with the HAWK anamorphic lenses we plan on using.
EOSHD: Please do tell me more about the Hawk anamorphic lenses!
MH: HAWK anamorphic lenses are designed and built in Germany, and as we all know, the Germans know a thing or two about optics. HAWK recently released a range of 1.33x anamorphic lenses designed specifically for cameras like the RED One and the ARRI Alexa. So the head says that's the direction we probably should go in as opposed to hiring a collection of old Panavision anamorphic lenses designed for 35mm. But the heart says Panavision, so it'll be interesting to see what we end up going with once it gets close to crunch time.
EOSHD: Thanks for taking the time to talk to us Matt, and good luck with the feature.
Matt also offers on his blog a regular insight into his work. Check it out here. There is a good example of the benefits to anamorphic – it has a style all of it's own – here from Matt's blog is oval bokeh in a scene from Bringing Out The Dead and an example of anamorphic lens flare in Logan's Run.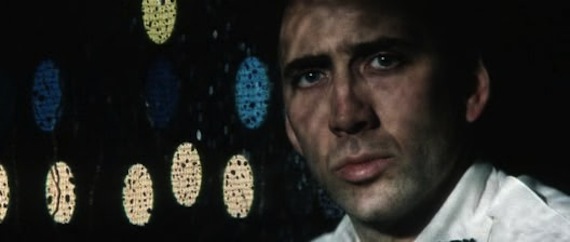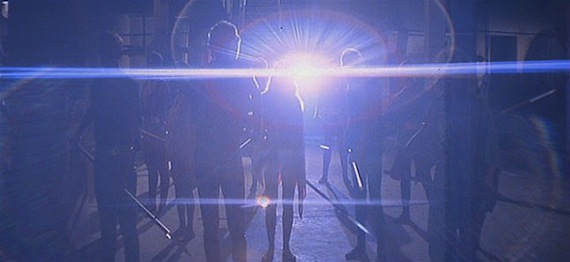 Holscope Productions 5D Mark II / LA7200 test reel