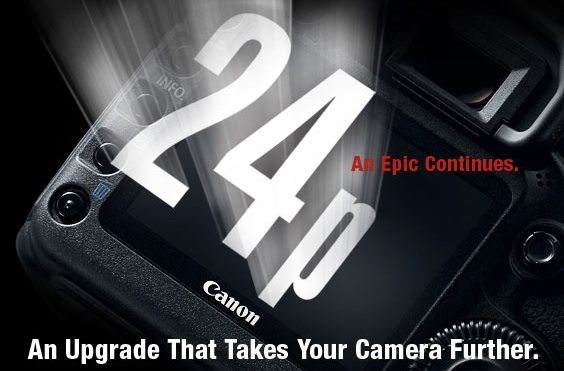 Lots of rumours are hitting the net ahead of the expected '2 waves' of announcements from Canon next month and in August. One of the cameras constantly mooted is a 60D.
But I see a problem with this and something profound has been missed.
The gap between the entry level 550D (T2i) and semi-pro 7D is very small, there is no room for the mid-range 60D to fit in it. How do you differentiate a 60D as a stills camera from the 550D and 7D? Any photo orientated 60D would have to be better than the 550D and worse than the 7D. That is impossible.
So all this leaves Canon with two choices.
Either scrap the concept of a 60D altogether or completely reposition it.
Some of the rumours have one thing in common. They say the new 60D is movie orientated with a articulated screen.
The benefits for the XXD line to become movie orientated is huge for Canon. It means they don't have to risk upsetting the legions of enthusiast photographers who buy the 7D purely to take stills. It means that the 550D can remain entry-level without risking an unfamiliar ergonomic shift and the price increase that a movie orientated camera would bring (aka GH1). It also gives Canon the opportunity to satisfy pent up market demand for a GH1 style video DSLR. It would surely sell well amongst video enthusiasts, a market that Canon have really been pushing hard with.
If anything it would allow Canon to determine how well such a product would perform in terms of sales and whether true stills/movie hybrids have a future. This in turn also allows Canon the breathing space to further fine-tune the next generation – the 5D Mark III (expected late this year) and any possible mirrorless or stand-alone video camera products due much later.
It makes sense and if the product planners at Canon have missed such an opportunity then I'll be applying for their jobs!
Exactly what in terms of specs Canon might have planned for such a movie orientated DSLR is still speculative. But if Canon are going to trouble it with an articulated screen it should have better live view capabilities to justify it. This may mean an HD optimised kit lens with silent continuous AF and iris operation. Otherwise, the camera would remain just a mirror-box SLR with a video mode bolted on and a rather pointless hinge on the screen.
It has to be a leap away from the 7D and 550D to stand out in the market and to convince people to buy it over these two cameras, otherwise why bother?
Let's look at some rival line-ups. Panasonic have the entry level (G10, G2) and they've chosen to make their high end range video orientated (GH1). It's really a mid-range stills camera with stella video capabilities.
Panasonic's mid-range is also fuzzy like Canon's, the GF1 is more a 'fashion' camera as the F suggests. Sony have the same, the NEX is a fashion camera, slim and portable. Sony's high end is aimed at serious professional photographers more than Panasonic's GH1 is, with the full frame Alpha but it is also becoming more video orientated with the future Exmor HD sensors. The entry level is not up to the 550D's standards but they have a clear gap between each range both in terms of features, price and target market.
Canon EOS 60HD anyone?