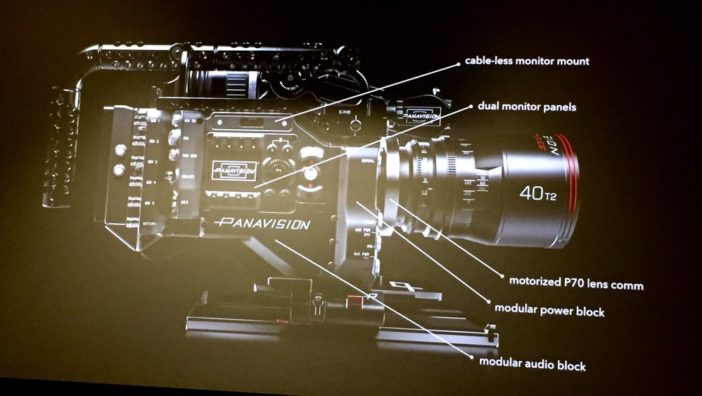 Picture – Bill Bennett, ASC (Twitter)

Well, it looks like the Arri Alexa 65 has some competition.
Panavision have revealed a RED-Weapon-like cinema camera which shoots 8K from a full frame 41 x 21 sensor in encrypted r3d RAW format.
This information is from the Panavision DXL microsite.
Specs:
Sensor Type – 16-bit, 35.5 Megapixel CMOS
Full frame resolution – 8192 x 4320
Sensor Size – large format 40.96mm x 21.60mm (Diagonal: 46.31mm)
Dynamic Range – 15 stops
Native ISO 800. Maximum ISO 12,800
Max Frame Rate – 60 fps at 8K Full Frame (8192 x 4320), 75 fps at 8K 2.4:1 (8192 x 3456)
Recording Codec – 8K RAW with simultaneous 4K proxy (ProRes or DNx)
Recording Media – SSD (up to 1 hour on a single magazine)
File Type – .r3d (supported in RED SDK)
Color Profile – Light Iron Color (compatible with all popular gamuts and transfer curves)
"Different colour science to RED Dragon"
Weight – 10 lbs / 4.5kg
Other features:
6 independent video outputs
Supports 6 independent 1D LUTs or up to 4 independent 3D LUTs
Directly motorize Primo 70 lenses through wireless control
Built in wirelesss timecode for genlock (Ambient Control Network)
Dual menus (Operator side, Assistant side)
Advanced airflow system for superior temperature management
Custom cheeseplate with integrated electronics
Modular and tooless quick changeover accessories
https://vimeo.com/168869375
Previously (and a long time ago now) Panavision partnered with Sony to develop the Genesis, a camera Sony released under the Cine Alta name as the F35. This time it looks like there's been a tie-in with RED as the r3d codec is quite exclusive, with many of the raw compression patents held by RED. There are similarities in the sensor area here too.
Panavision claim the camera works in harmony with their lenses and that the camera brings an Arri-like attention to detail to the ergonomics of the camera, which should be more than ready to slot into most workflows in the film industry. Even the 4K ProRes and DNx proxies are probably more than enough for broadcast and documentary, whereas the 8K RAW appeals to top-flight DPs on major features.
Certainly a very future proof tool, the camera will be available to rent in Q1 2017. It will be interesting to see if the Panavision DXL can take a chunk of the rental market away from Arri and RED, or whether it will remain a niche camera with a few feature films to its name. I certainly wish Panavision all the best of luck with what looks to be the absolute vanguard of camera technology in 2016.