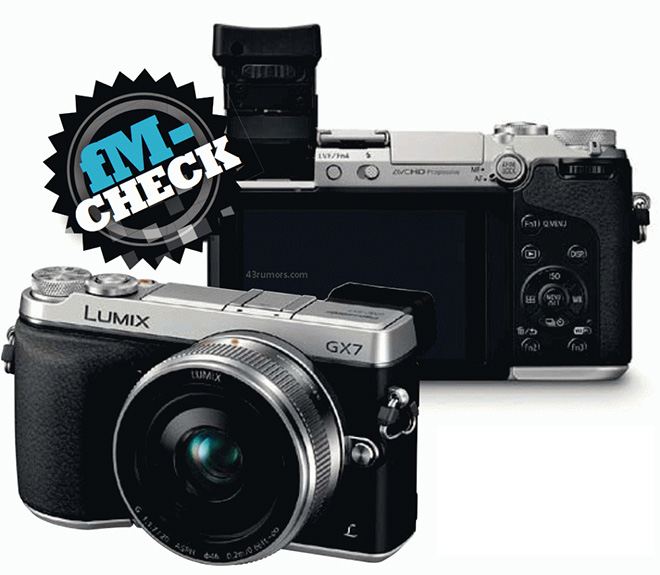 The Panasonic GX7 is looking genuinely exciting for filmmakers. It sits at the top of Panasonic's range and uses a different form factor to the DSLR-like GH3, in that it is in the mould of the Blackmagic Pocket Cinema camera, original Panasonic GF1 and Sony NEX range.
The GX7 is rumoured to have some major features not seen in the GH3, such as an in-body stabilisation system and peaking. The sensor is said to be all-new as well and outperforms all the current mFT sensors for raw image quality according to 43rumors.com
I'm really interested in this camera. To have in-body stabilisation with all my manual lenses including the Voigtlander 25mm F0.95 and Switar 26mm F1.1 is a dream.
So far that has only been available on the Olympus OM-D E-M5 where video was not the focus of Olympus's intentions. It has a very poor codec, low bitrate, no 24p and moire, as pointed out in my original review here.
To give you an idea of just how good their 5 axis in-body stabilisation is however, consider that this was shot with absolutely no rig from the back of a moving tram in Berlin –
[vimeo]http://vimeo.com/46037469[/vimeo]
To combine this technology with a GH3-standard video mode, all in a pocket-sized cinema camera, would be incredible.
The GX7 also has a very useful built in EVF, which is the first on a camera of this kind to be articulated!
The other smart move by Panasonic is the move away from their existing styling to a more retro, tactile and organic look. The GX7 is more Fuji X series than GF3 and that's a very good thing indeed.
The shutter now goes to 1/8000 which will be useful for shooting wide open at F0.95 without ND filters.
You can clearly see on the leaked body images above that the camera features AVCHD Progressive, meaning 24p, 25p, 30p and possibly 60p as well. Hopefully it will share the 72Mbit and 50Mbit Quicktime H.264 codec of the GH3 in addition, but the quality difference is minimal between the two.
Rumoured body price is 1000 euro and shipping starts in September.
Source: 43rumors.com