[vimeo]http://vimeo.com/90809303[/vimeo]
Tip jar EOSHD just $5 if you think this article is useful
Nerd alert!
I'm afraid it's time to put the creative urges to one side and get down to the nitty gritty. Just exactly how does the GH4's image stack up against the competition?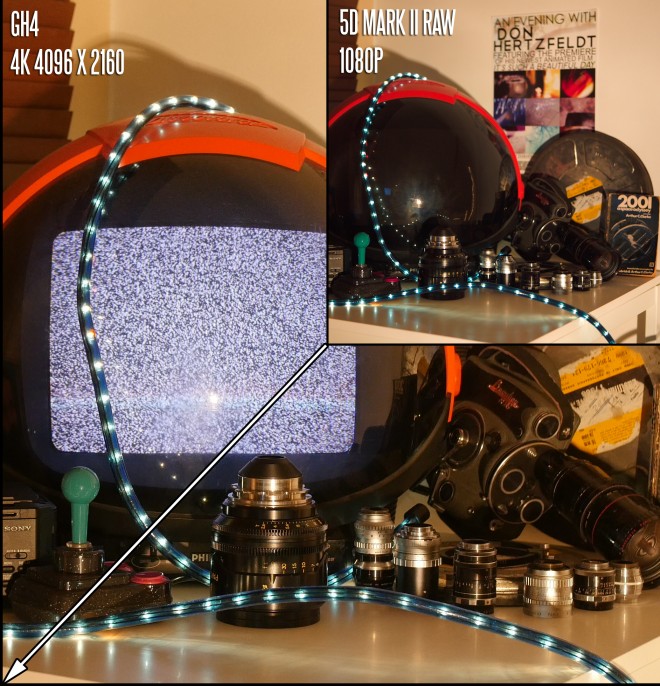 Above: A 1:1 crop of 1080p compared to the vertical resolution of the GH4's 4K mode at double the resolution (2160p)
Note: all images shot at ISO 800. This was to match the native ISO on the Pocket and 5D3… GH4 looks even cleaner at ISO 200
The GH4 is the first ever 4K camera to break the $2k barrier. I remember not so long ago when we didn't have a 4K camera for the fabled $4k. Red talked about this for a while and gave up. Canon don't seem interested in the low end at all. Sony's offerings are yet to come. Blackmagic's offering is a bit too flawed in my view. The ProRes files are just too large and the image has a lot of bugs in it.
So in this shootout the GH4 has no competition. The Canon 1D C I have shot with before and it does have a lovely image but in no way does it compete with the GH4 in terms of price, features or ergonomics when it comes to video; it is a lovely stills camera but horrid to use as a video camera. It is also $10,000 (after the $2000 price drop announced yesterday). The 1D C by virtue of having such a large sensor and a lovely 4K image has been a popular choice with pros. The argument for having one though never made much sense to me. So many pros initially complained that the DSLR form factor was unworkable, as they switched from 5Ds to C300s, so when they then went and dropped $12k on a DSLR, their argument lost all traction with me. Many 1D C owners are still to this day saying that the GH4 has a horrible form factor for video, when actually it is 10x nicer to use for video than the 1D C.
Do bear in mind with this test if you are viewing it on a 1080p screen or 2.5k iMac screen or similar, that the difference between the GH4 and the other cameras is lessened by the screen resolution not being able to go to 4K.
The real difference is seen at 1:1 but it is hard to show this on a blog page. First of all you really need to see the frame moving and see a big chunk of it at 1:1 to appreciate all that detail. Nevertheless here are some very small 1:1 crops from the test video. Note that the 1080p frames are upscaled to fit the 4K frame dictated by the GH4.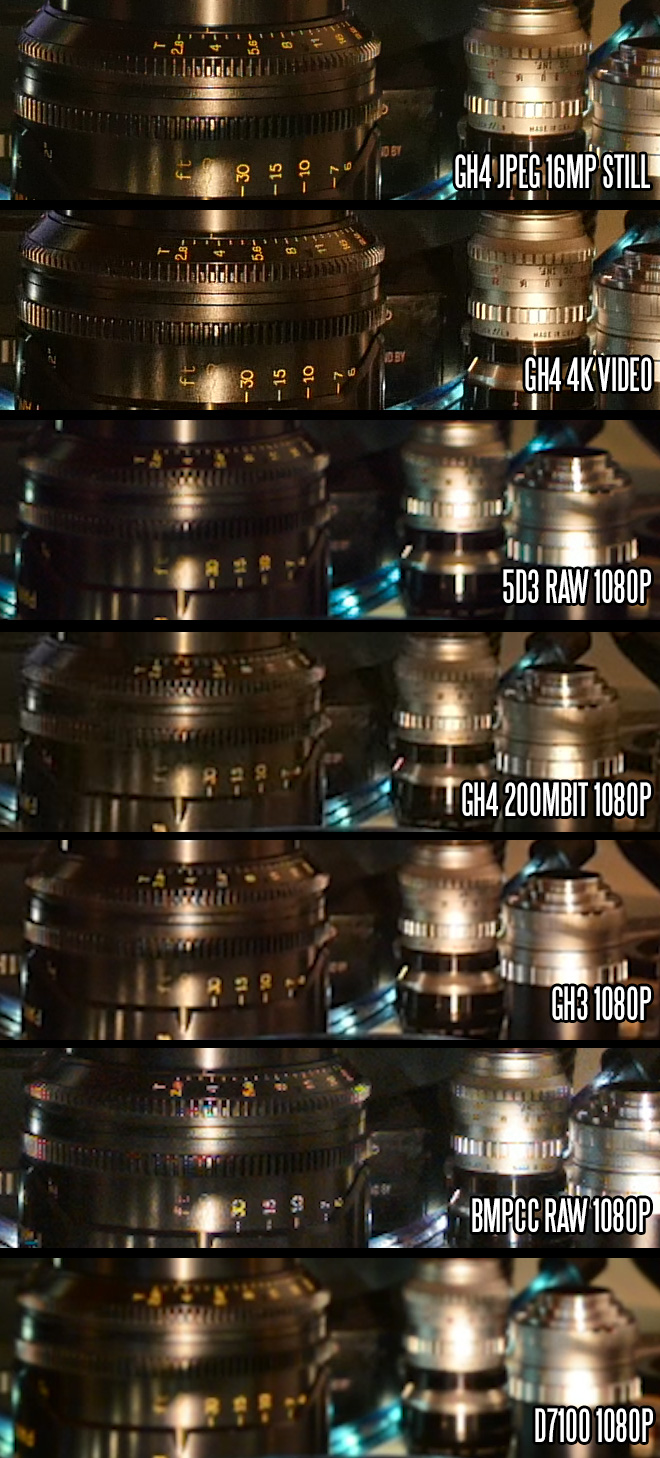 This shootout for me has two surprises. The first is that the 4K video output from the GH4 is easily a match for the 16MP stills. So we can say with certainty that this camera produces video 'like moving stills'. That it does so for $1699 compared to $12,000 gives you an idea of how much Canon's stronger brand is worth.
The second surprise was that of all the other cameras in the test, the Blackmagic Pocket Cinema Camera looked sharpest upscaled to 4K. This however is in part due to a lot of false detail in the 1080p image and it looks horrible when anything moves. The GH4's 4K image is as clean as a whistle.
The GH4's internal 1080p image is better than the GH3's by a small amount, but honestly I wouldn't bother with it. You have so many advantages to shooting 4K for 2K delivery. You can re-frame in post. It grades better. It has less aliasing, better colour, smoother gradation. Everything about it is better.
The 5D Mark III's raw has great colour and sharpens nicely. The shots in this shootout were not graded or sharpened. The 5D Mark III produces a lovely clean image, but 1080p just cannot compete with 4K on detail and that shows here.
The Nikon D7100 also produces a clean image which sharpens up nicely in post but again, it's way short of the GH4.
The Blackmagic Production Camera unfortunately is now back at Blackmagic but I am sure it would have been a match for the GH4 here, in all but low light performance. The GH4 has much cleaner low light performance as you will see on Day 4 in the low light test at up to ISO 6400.
The only real drawbacks (for me) of the GH4 are as follows –
A Canon 50mm F1.2L on a Canon 5D looks gorgeous, one of my favourite looks of all time. The GH4 with it's 2x crop sensor cannot quite mimic the look of this even with Speed Booster. The same goes for the Canon 24mm F1.4L on a 5D. You cannot quite get the same feel on a 1.5x Super 35mm or a 2x crop sensor
The internal 4K does have some compression, banding and macro-blocking if you push the grade or pixel peep the shots. It isn't on all shots but it is there, the only disadvantage to having such nice practical small file sizes for 4K. This is a drawback you can easily fix. Just use the uncompressed 10bit 4K 4:2:2 HDMI output or the YAGH interface box with a suitable external recorder. I cannot wait to see what this looks like but wait I have to… for a suitable recorder, especially one with 4K HDMI input.
The sensor in the GH4 does become Super 35mm sized EXACTLY with the Speed Booster for Micro Four Thirds, very little optical trade offs, but there isn't one for PL or Canon EF yet and those are the ones I really would like to use with the GH4. (The Speed Booster calculations are 2.2x sensor crop in 4K * 0.71x reduction factor = 1.562x crop. Super 35mm is a 1.5x crop over photographic full frame. Cinematographers will think of it as their 1.0x crop and won't compare it to full frame.)
A few other issues aren't related to the image. I'd love to have a built in ND filter, just to make it that bit more practical and convenient like a C300. Easy to shoot with a minimum of effort. By that same token I'd love to see in-body stabilisation (5 axis) like on the Olympus cameras to help handheld stuff with no rig. Thermal issues meant this wasn't possible on the GH4. A floating sensor block is harder to dissipate heat from.
In closing day 3's camera geekery, the real difference between the GH4's 4K and 1080p is probably best summarised with an image instead of words. Hold your gaze on what is below and consider the $1699 price and the single step on from the GH3 in just 1 year.