The ideal run & gun solution for music videos?
You can now follow my friend's band (and long-time EOSHD collaborator, Herdwhite) on Patreon! Click here to follow the progress of the Berlin based group and pledge as little as $1 per month…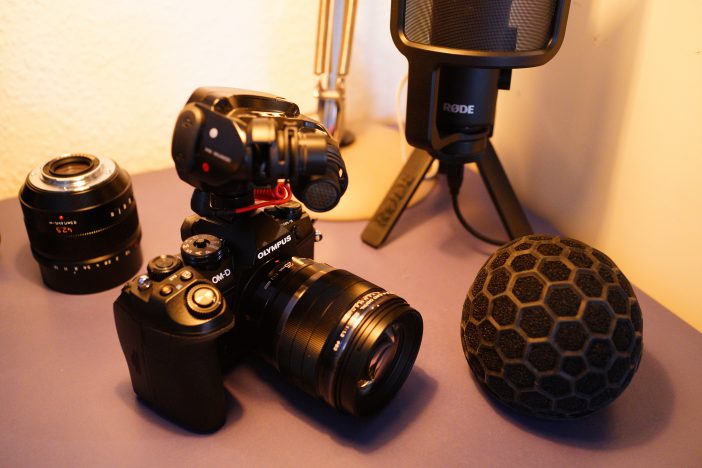 The Olympus E-M1 II is currently the most capable all-round Micro Four Thirds camera for video until the GH5 is released later this month.
Some might say this is a short shelf life for a 2x crop $2000 camera.
It's not quite that simple, because the E-M1 II is a joy from start to finish. I don't think I've ever enjoyed shooting handheld more than I have with this camera.
I am convinced it can compete with the GH5 on an even keel for Cinema 4K 24p video shooting. It just doesn't offer a 10bit internal codec, 4K at 60fps or 180fps slow-mo at 1080p. Bells and whistles are one thing though. What about the core day-to-day experience of using the camera?
Firstly, as with other Olympus cameras the ergonomics are very nice, this time not just for stills but for video. Very customisable and very responsive. Secondly, colour has that Olympus trademark superb skintones going for it and the flat picture mode for video reminds me of Canon LOG. Not completely flat like S-LOG, so it's much easier to grade. It does give a real gain in dynamic range, preventing crushed blacks and burnt highlights to the tune of around 1 stop at each end. It doesn't need expert attention or LUTs like V-LOG on the GH5. Thirdly the chassis is film-camera like, it actually handles and looks like a photographic tool rather than an electronic gizmo. Finally there's the Olympus stabilisation system, mind-blowing as it is for handheld shooting, it remains to be seen whether the GH5's equivalent system comes up to this level.
It also remains to be seen how much difference 10bit makes at 150Mbit/s on the GH5 in 4K. The Cinema 4096 x 2160 codec on the E-M1 II tops out at a maximum of 240Mbit/s, which is mightily impressive.
One important thing to take into consideration with both of these codecs is that they are not recording at the maximum bitrate all the time. File sizes are therefore very manageable. I find the Cinema 4K codec on the E-M1 II to be utterly superb in terms of image quality, with incredibly fine detail, smooth tonality, a lack of banding and absence of other weirdness. Rolling shutter is hardly anywhere to be seen, which makes it a much better handheld run & gun tool than the Sony A6500. The noise grain of the codec is filmic and low light results surprising. The E-M1 II is clean up to and including ISO 3200. At ISO 6400 there's only moderate noise but barely any drop off in colour performance and sharpness, as long as the shot is reasonably well lit.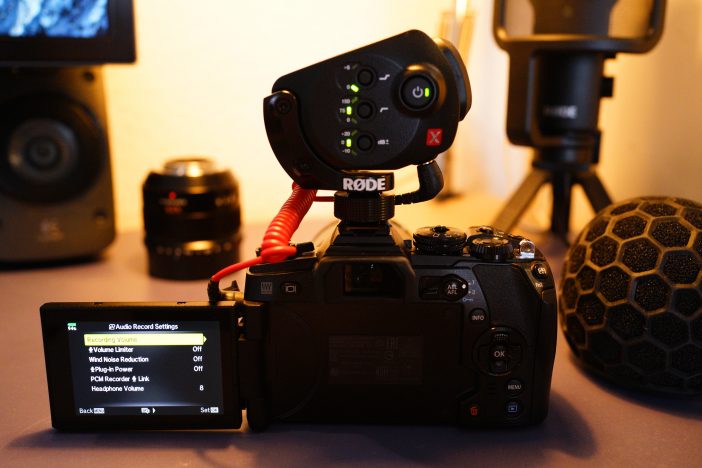 Even at ISO 3200 and ISO 6400 I find full frame cameras offer just 1 stop better noise performance than the E-M1 II (namely the 1D X Mark II in 4K). At ISO 1600 and below it isn't even a concern and here it pretty well matches the noise levels in video mode of full frame – as near as makes no noticeable difference. Remember with Speed Booster you gain the 1 stop back at ISO 6400 vs a Canon DSLR any way, allowing you to drop to ISO 3200 and match the noise performance of the 1D X Mark II's 4K MJPEG at 6400.
I also love the ergonomics as much for video as I do for stills, which is an area Olympus has an advantage over Panasonic and Canon. The feel of the camera is superb. I prefer it for run & gun shooting over the Canon XC10, which was like a mini C300 Mark II. The Olympus really is that good based on feel. The buttons are dials are very tactile.
I tend to buy cameras based on their individual unique abilities, rather than trying to cram everything into one body (tempting though that may be). The E-M1 II I bought for the 5 axis stabilisation, lovely ergonomics and superb DCI 4K codec. Add to that great colour along with the ability to use the Speed Booster Ultra on it for the Super 35mm look, furthermore it's a better stills camera than the GH5 – better ergonomics, sharp handheld shots at close to 7-seconds exposure speeds with sync-IS (that is not a typo… 7 seconds!!!!), 50MP high-res shot mode (for tripod usage), smaller than a GH5 and with a completely nuts 5K 60fps RAW burst.
Compared to previous Olympus cameras, the audio side is much improved too.
The onboard mic is surprisingly good (although no match for the Rode X as we'll see in a moment) and the menus offer full manual control of audio levels and more – although it's somewhat hidden. A mysterious right-press of the d-pad on the Mic on/off option in the movie menu brings you to the advanced audio settings.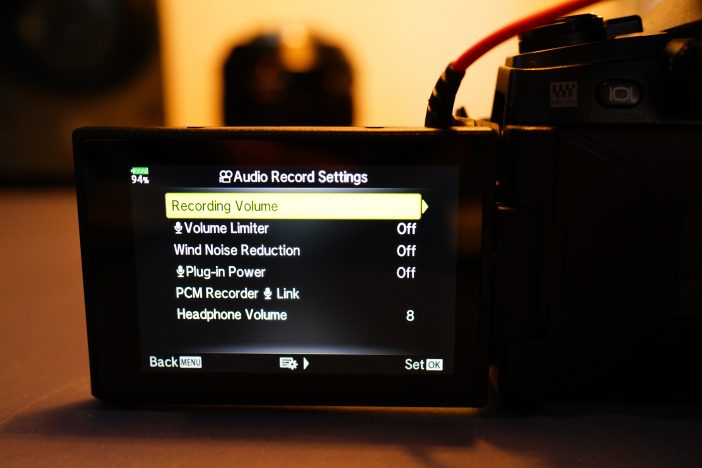 I also bought the Olympus 25mm F1.2 which is the sharpest and fastest focussing F1.2 lens I've ever used. It also has a mechanically coupled manual focus ring with hard-stops when you pull it back into the MF position and a fly-by-wire ring when in the AF position. It's a very quick way to switch between AF and MF without fiddling with function menus or custom buttons.
The screen and EVF are both superb, offering pin-sharp images, detailed focus aids and very effective peaking – but the articulated screen is hindered by the placement of the mic and headphone jacks, a problem solved by the larger body of the Panasonic GH5. Bear this in mind, but for me it's no deal-breaker.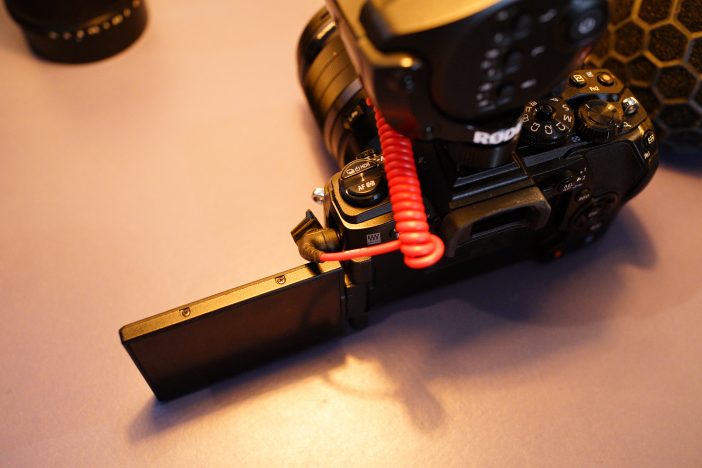 Rode Stereo VideoMic X
This is a tiny stereo X/Y mic with P48 phantom power mini-XLR jacks, offering a significant step up from any onboard stereo mic. Sound is detailed and immersive. You have manual control of gain (-10,0,+20 db) on the back along with control over the stereo image. It takes a 9v square battery and weighs just 300g. I find the low-end and dynamic range of this mic to be significantly expanded compared to even the best onboard camera mics, as you'd expect. It's also much more detailed, much better bass, such a nice simple thing to add to your rig.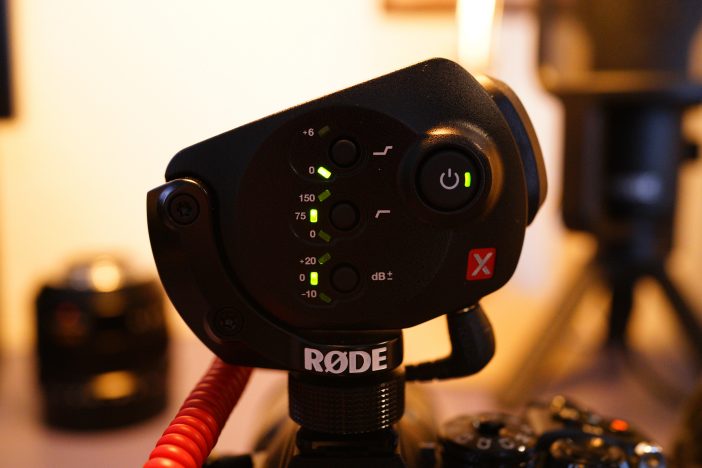 Is it worth the high-price (for a stereo mic) of £500? Absolutely. It snaps onto the hotshoe of just about every camera you use now or in the future, an instant improvement. This thing liberates you from the hassle of a dual system stereo X/Y recorder and gives you a wide stereo ambient soundtrack. A shotgun mic would be directional and mono, however you may want to keep hold one of those or a boom mic for dialogue because a stereo X/Y mic captures a lot of background ambience. That said, I found the VideoMic X surprisingly apt at capturing very nice warm and natural sounding voices in interview type situations close to the subject. It can indeed replace a shotgun mic when background noise is at a tolerable level or adds immersion.
The bottom of the hotshoe mount is threaded so you can mount it on a cage or arm. The chassis is an all metal affair, not a hint of cheap plastic and the mics benefit from onboard shock mounting to reduce handling noise when on top of the camera. It comes with a golfball shaped pop shield (useful for dialogue and interviews) as well as a dead cat windshield.
First impressions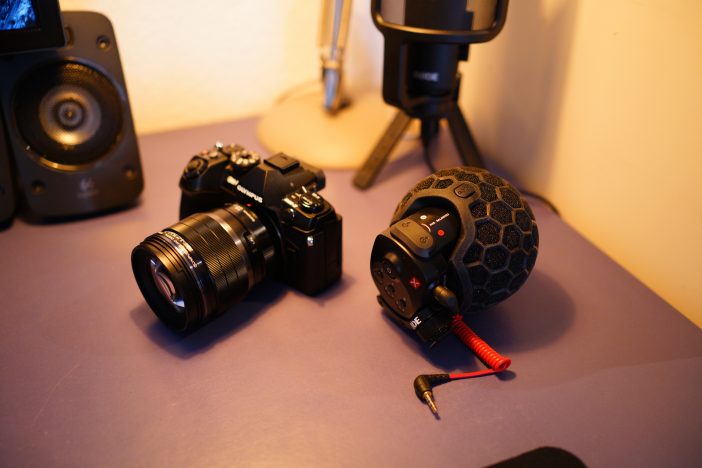 By no means is this a full review but I just want to put out the fact this is a superb combo for run & gun shooting. Never has such a steady, clean, Cinema 4K image been combined with such a wonderful stereo mic. Neither are cheap – not because of unjustified high-margins and marketing, but because they're both superbly engineered professional tools and compared to fully rigging out a Cinema EOS camera and buying a raft of IS lenses to go with it, the E-M1 II is much less money, much less hassle, much smaller and much less overkill. That it does such superb stills at the same time means it ably replaces any full frame DSLR – as long as you have nice glass to go with it. By nice glass I mean very fast apertures or a Speed Booster are a must for me on a 2x crop sensor, to be able to compose in-depth.
The star of the show is the 5 axis stabilisation and it remains to be seen if Panasonic can equal this on the GH5. The behaviour in video mode is improved with the production run firmware on the E-M1 II, with the floaty behaviour with locked-down shots seen in pre-production models completely gone. It's practically like having a tripod. Although the extra electronic stabilisation mode adds a crop, there's no further crop in 4K mode with sensor-shift stabilisation turned on. You're getting a 5K readout and oversampled DCI 4K whereas with the Panasonic GH4 and G85 you get crop 4K from a 16MP sensor. Put simply it is the best out there and trashes the Sony 5 axis system. With Sync IS lenses it is even more effective and you can add another notch in performance by enabling the electronic stabilisation mode. For walking shots it's insanely effective, but so good is the sensor shift on its own, I rarely need to use neither of the extra stabilisation modes. The Olympus Sync IS lenses are both zooms, both rather expensive and I prefer to use my Canon glass on a Speed Booster with the E-M1 II – with 2 or 3 exceptions – the Olympus 25mm F1.2, Panasonic 42.5mm F1.2 Nocticron and SLR Magic 10mm T2.1. These are by far my favourite lenses for Micro Four Thirds with a full-frame rivalling cinematic image wide open, yet bags of 4K resolution.
I also find battery life to be rather excellent for video shooting. Mind-blowing 1000's of shots on one charge in stills mode.
Flaws? There's the missing extra video features of the upcoming GH5 of course, the main one I miss on the Olympus is slow-mo. I'd rate the 1080/60p of the E-M1 II to be just 'ok', nothing special. 4K is this camera's sweet spot and file sizes are much more manageable than the 1D X Mark II or 1D C. The only other issue is the inability to fully articulate the screen when a mic or headphones are plugged-in. They should have put them on the front or the right of the body. The grip is mainly taken up by a nice robust door for the dual-card slots though so I'm not complaining.
Great job Olympus! Welcome to the 4K party at last.