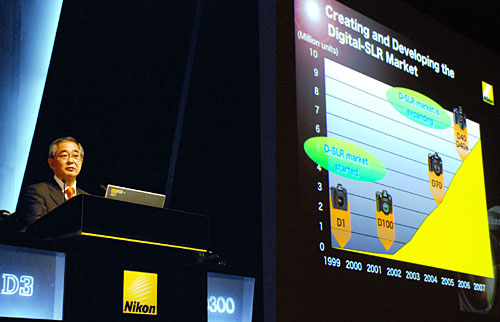 Nikon's president has announced that the company are working on a 'new concept camera' which will feature improved video capabilities.
Makoto Kimura told Bloomberg in an interview yet to be fully published, that the company will introduce a Panasonic GH1 competitor with "enhanced function for video recording" (Makoto's own words)
The camera will be mirrorless and Makoto claims that "these new models are starting to sell". Well I never would have thought it! (RED's Jim Jannard is right with one critisism of the Japanese corporations – nobody innovates with brave new concepts unless someone else takes the step first with success).
Nikon are aiming at 80% growth rate for DSLRs and are pumping greater resources into R&D to roll out the new mirrorless models sooner.
There have been various rumours of a Nikon mirrorless direct live view camera for a while now. One of the rumours concerned a 16mm sized sensor with c-mount sized primes. The camera will most likely feature a new lens mount as with all the other mirrorless cameras. It will be interesting to see what features of existing Nikon DSLR lenses will be compatible via the official Nikon adapter.
It is unknown what sensor size the final camera will have. I'd like to see two.
• A Sony NEX competitor – ultra thin, with smaller 16mm sensor and c-mount sized primes. Genuinely small lenses
• A professional metal bodied GH2 competitor with APS-C sized sensor and full HD with proper scaling, fewer megapixels and better low light performance, plus a decent codec. That would be the minimum requirement for me to make the jump from the GH1(B) or GH2.
I'd also like to see full AF and OIS compatibility for existing Nikon lenses on the new body, i.e. proper electronic contacts and not just an alloy lens mount adapter.
Screen wise, let's hope we get an articulating one and remember that with every new DSLR with video we get the chance to finally achieve some kind of live HDMI output, especially with the constant advances in electronics allowing faster CPUs and encoding chips.
That Nikon are officially confirmed as truly joining the DSLR video party possibly as early as this year, is a very exciting prospect.
The other possible implication I've spotted from this announcement of 'enhanced video functionality' is that since the 'new concept' Nikon camera would almost certainly by mirrorless and positioned lower than full frame cameras like the D3S, it may spur Nikon onto improving the video functionality on higher end models too, because to have a consumer model out perform a high end DSLR like the future D4S would be very wrong. So there you go – official confirmation of 1080p and RAW on the D4S (sort of, with wide grin!)