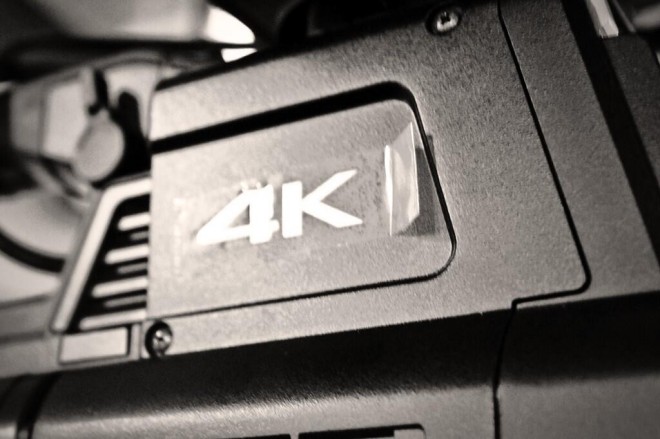 Last year Sony showed a prototype hybrid stills / 4K video DSLR along with a modular-looking 4K cinema camera. Now a few more clues have come around.
SonyAlphaRumors reports are saying the 4K DSLR will have an interchangeable lens mount for E-mount, A-mount and PL-mount. And yesterday US cinema gear rental / sales shop AbelCine teased the shot above, which may or may not be related – only confirming it's from Sony.
So what exactly do Sony have coming?
Let's throw one of my wilder pet theories out there…
The biggest threat to photographic cameras and DSLRs is not smart-phones, but 4K video. I prefer to pull my stills from 4K video because in photography timing matters, even down to a split second. The best sensor in the world right now according to DXOMark is the Red Dragon 6K CMOS made by TowerJazz who recently announced a joint venture with Panasonic and purchased some of Panasonic's fabs in Japan. The GH4 sees the fusion of stills and video really ramp up a notch. High end cinema sensors like the Dragon have caught up with photographic ones and indeed film itself. I have printed professional A1 sized stills from 4K video on the Blackmagic Production Camera (read my extensive review here) and the results were indistinguishable from 22MP raw stills printed the same day from my 5D Mark III. Suitable for a gallery.
Of all people Sony seem to have the biggest 4K push going, putting the full weight of their sensor technology behind it and even restructuring the whole company around 3 core parts with one of them being the imaging division. In their recent imaging product releases they have broken from the past – the F5/F55 design and the A7R being cases in point. Sony seem to have younger people in top positions.
The AbelCine photo above appears to shot a fan inlet of some kind but a relatively consumer-grade plastic housing. There's very little to give away what concept we're seeing here though.
SonyAlphaRumors reports that the 4K Sony DSLR will have 2 axis in-body stabilisation along with the interchangeable mount we saw in the original prototype pictures. Their source describes it as 'a F5/F55 in a DSLR body'. If that is the case performance wise this thing is going to be exciting.