[vimeo]https://vimeo.com/155747487[/vimeo]
The Blackmagic Micro Cinema Camera is the not-quite-a-replacement for the Pocket Cinema Camera.
Although lacking the ready to shoot straight out of the box form factor of that camera, the new model adds a switchable rolling shutter / global shutter mode as well as high frame rates.
10bit ProRes, 12bit RAW and 13+ stop dynamic range for $995 round out the spec.
Filmmaker and EOSHD reader Simon Shasha recently sent me his thoughts on the new Micro Cinema Camera. He was selected by Blackmagic for a test unit.
The footage you see above comes from the beta firmware so the image isn't final and the global shutter mode isn't available yet.
The Micro Cinema Camera is the wide dynamic range 2K model with internal ProRes and RAW codec, not the 4K Micro Studio version which lacks internal recording and is aimed more at broadcast people.
The Micro Cinema Camera also promises to be pretty handy in low light especially if paired with very fast glass on the Metabones Speed Booster BMPCC. Hopefully this still fits the mount.
The slow-mo in Simon's video comes from 1080/60p, something the processor in the older Pocket Cinema Camera couldn't handle.
It's rare to see 10bit ProRes / raw at 60fps for $995. Very rare.
Here's what Simon has to say about the Micro Four Thirds mount Micro –
"Ergonomics are rather unorthodox, but once put into a cage (like the CAME-TV cage I used), you can pretty much customize it to any setup you want; it's basically a sensor in a box and then you build your camera around it."

"I feel as though it is cleaner in low-light compared to my BMPCC, however, a more empirical test would have to be done to see exactly by how much. I wouldn't say it is leaps and bounds better in low-light. Regardless, I always found the BMPCC good in low-light – and I own an A7S and A7RII!"
I've asked Simon to do a full review of the camera. It certainly seems like a promising upgrade from the Pocket Cinema Camera, especially when paired with the Blackmagic View Assist.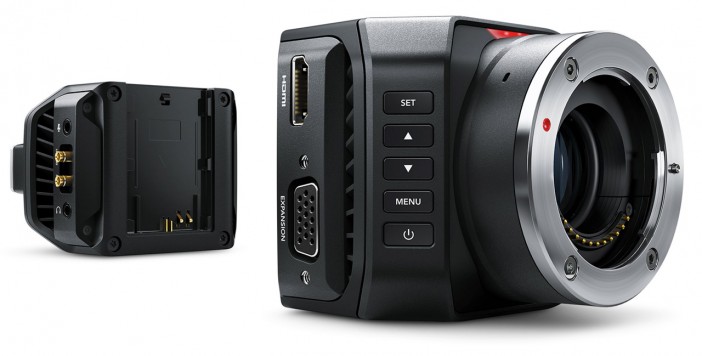 For me the Micro is a bit like a GoPro, with a better image. I don't know if Blackmagic had the action camera market in mind or if it is aimed more at the indie filmmaking POV crowd. To get into the menus you need to attach an SDI or HDMI monitor to the camera.

It would have been nice to have had the option of a smart hotshoe with EVF add-on. One idea which came up on the EOSHD Forum from Richard Gale of Dog Schidt Optiks I particularly like is to add an optical viewfinder to the Micro for framing, but the lack of screen makes this pretty difficult because you can't check focus or exposure. The lack of LCD info panel or menus screen is another omission. Even a GoPro has this. Just having to wire it up to a bulky monitor to check the frame rate or change the codec to ProRes is a bit silly. So I do hope Blackmagic do a proper sequel to the Pocket Cinema Camera at some point. They seem to have cooled off on the wider consumer market at the moment even though they have a surprisingly broad presence in professional photographic shops across the world.
I plan to check out the Blackmagic Micro Cinema Camera at BVE in London next week where I'll also be shooting with the new SLR Magic anamorphic primes. See you there!