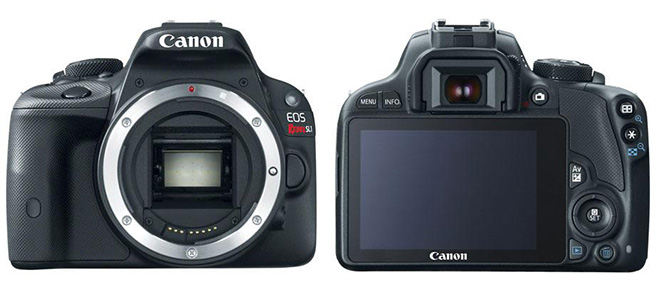 The Canon 700D / T5i is more a firmware update than a new camera. Indeed the only new feature in the hardware is that the mode dial now turns 360 degrees. If you are wondering whether to upgrade from your 60D or 650D, the answer may well come down to whether you find a use for that 360 degrees mode dial. You can now go from the M mode on the dial to Scene mode in just one click! Amazing I know.
Though cute  the new entry level 100D (above) offers a 25% reduction in size at the expense of handling and no articulated screen. There's seemingly no new functionality on this camera either in video mode, not even for stills! Owners of the 4 year old 550D from 2009 could be forgiven for not rushing to upgrade.
Canon T5i / 700D
It is a relatively swift introduction of the 700D and discontinuation of the 650D, which only went on sale around 6 months ago. Some quality control issues cropped up with that camera in particular a plastic grip which contained zinc bis. A chemical reaction saw a discolouration effect where it would turn white and become a potential health hazard, causing an allergic reaction when in contact with skin – this led to a global recall.
Canon have seemingly acknowledged that the 650D's build was a cut too far and have returned the 700D to a build quality more reminiscent of the 600D. The changes are:
Firmware update (creative filters previewed on the LCD)
Mode dial now turns 360 degrees
Quality assurance issues of 650D fixed
And that my friends is where my coverage of this completely uninteresting camera ends.
Canon SL1 / 100D
Canon's video mode has actually gone backwards from the 600D – they dropped the crop mode with the introduction of the 650D. Completely bizarre. If you're choosing an APS-C Canon DSLR for video I recommend the 60D or 600D both of which can now be had used for around the price of the new 700D or less. The 60D has the better handling. The 600D is cheaper and has crop mode, changing the field of view in video mode with minimal loss of quality, though neither are up the standard of the Panasonic GH2 and GH3 both in terms of video quality or features, or the Nikon D5200 / D7100 when it comes to image quality (stills or video).
The SL1 lacks an articulated screen, which I find important for video as spending long periods of time hunched over a flat screen on the back of a camera at awkward angles is not good for your back, and you can't use the optical viewfinder for video.
On paper the SL1 is essentially a 'low end' DSLR for that mythical customer 'stepping up' from a compact camera that marketing teams are so in love with – though they don't realise that most compact users stepped up to a smart phone long ago! So can it be seen as simply a cheap DSLR then? Well not really – it is $799 with kit lens and oddly £799 in the UK when the direct currency conversion should make it £475 + £96 VAT.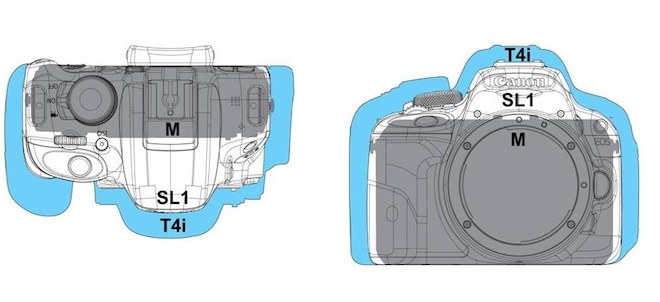 Above: The actual size decrease over the T4i is small in reality and Canon's own EOS M is far smaller than the SL1 but lacks a viewfinder
New sensor?
With the 100D / SL1 Canon are claiming a 'new sensor'. With the 650D Canon tweaked the existing sensor to add phase-detect AF points but the sensor pixel design and image quality was identical to before. With the 100D / SL1 they have expanded the phase-detect AF points to cover more of the frame. No other changes are announced which leads me to believe it is essentially the same 18MP sensor as before in terms of image quality and that it is just another AF tweak. If so this is the EIGHTH camera Canon has used the same sensor in and the AF speed in live-view remains unchanged according to DPReview's hands-on preview, making it one of the slowest phase-detect based AF system in the world (in live view) and the worst performing 2013 camera for AF in live view mode – like the EOS M before it.
Panasonic & Olympus have reached phase-detect SLR AF speeds in their live view modes – all thanks to modern sensor technology and more capable lenses.
Other side affects of using the old 2009 sensor pixel design is a cripplingly slow continuous shooting speed of 4fps. The fastest modern consumer camera sensor is in Nikon's mirrorless series and does 14MP in raw at 60fps in burst mode. That is unique for doing full quality at that rate, whilst other cameras can only do high speed burst mode rates above 20fps in low quality JPEG at low resolution. Like with Panasonic and Olympus, AF on the Nikon 1 series is almost as fast as phase-detect AF with an optical viewfinder, despite being in live view mode.
The video mode remains the same on the SL1 – there's no new features on the spec sheet – still no 1080/60p. Because Canon didn't put the new DSLRs into the hands of any filmmakers, image quality at this point is not known but I'm 99% certain it will be identical to the previous cameras and therefore long ago surpassed by almost all the competition.
[vimeo]http://vimeo.com/60135187[/vimeo]
The competition
The Nikon D5200 and D7100 now have a clear advantage over 2013 Canon APS-C cameras for image quality in both video and stills mode. What is more the D5200 is priced the same or cheaper compared to the 700D.
Canon's own 60D offers better handling than both the new cameras and identical image quality for similar money. If you have a 600D there's no reason to upgrade to either the 700D or 100D either.
Other competitors such as Panasonic offer better video functionality (1080/60p), better auto-focus in live view mode, more compact lenses and Olympus has the better stabiliser technology. The GH3 is of course strongest for video in terms of all round functionality, with an extraordinarily large range of features and codec options. Sony are way ahead of Canon in terms of EVF panel display technology and mirrorless cameras, auto-focus performance and sensor design. It all points to a very conservative and complacent Canon Japan HQ.
What is more of a concern is that Canon's higher end DSLRs have so far left very little room for the lower end to be improved, because they've been such conservative steps as well. Looking ahead it is unlikely the Canon 7D Mark II will be better than the more expensive 5D Mark III and since that is fundamentally similar to the 5D Mark II and a replacement won't be scheduled until another 3-4 years (likely) that means a grand total of 8 years of no real innovation from Canon in DSLR video, killing the whole enterprise stone cold dead.