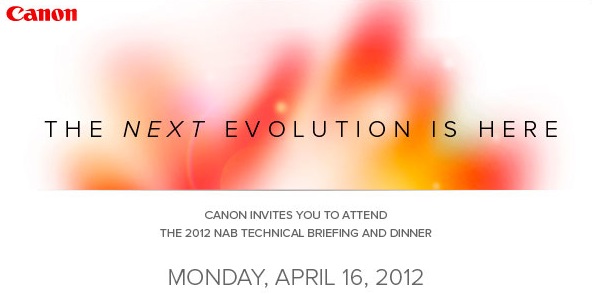 First the Story Continues now the Next Evolution Is Here. This is an invite posted by HD Magazine for NAB 2012. In it Canon asks a select audience to attend dinner, where they will unveil details of a new camera – widely speculated to be their debut 4K cinema camera to compete with Red.
This could be either the 4K EOS DSLR or 4K successor to the C300, more likely the 4K EOS.
Julian at HD Magazine speculates that this new camera will be priced between the 5D Mark III and C300, and possibly push out RAW 4K as well as recording in the mooted internal MJPEG codec – about the only thing Canon are on record for saying about the 4K DSLR so far, specs wise.
It will have tough competition from what I hearing.
NAB 2012 is going to be an interesting time with Canon, Sony and Panasonic all set to unveil new products.
My personal opinion is that Canon need to fix the lower end of the video market before pushing on with high end cinema cameras. Most people are very satisfied with their C300's, why upstage that camera so soon? Incredible to think that they may offer a 4K camera for less money! Not to mention in the body of a DSLR that is yet out of reach for most people and at the same time undercutting those loyal customers who just dropped over $16,000 on a C300 and accessories. Weird!