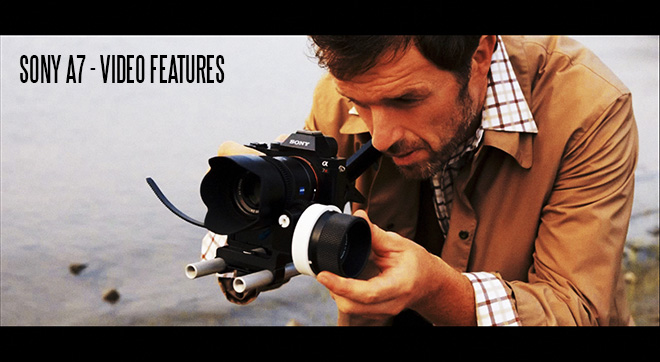 The full frame Sony A7 and A7R are disappointing for lacking 4K and a high bitrate codec (the time is now…), choosing to stay with 1080p and AVCHD from the last generation. However Sony have pushed on in other areas and are promising "pro-quality" video. Marketing speak or genuine breakthrough? Let's take a closer look…
Bionz X and "pro-quality video" with increased detail reproduction
The new image processor is Sony's most video orientated one yet. The processor takes a 14bit raw feed from the sensor. The HDMI interface has been upgraded to the latest spec and is capable of 4K output. However this resolution is only available in playback mode for displaying stills at 4K. In video mode we have an uncompressed 4:2:2 feed at 1080p.
I am not a user of uncompressed HDMI and external recorders. It offers no real gain in image quality because compression is not the enemy of video quality on DSLRs – the sensor output and low quality processing is. Sensors currently throw away too much data so you lose the colour, dynamic range and detail of a JPEG still. A JPEG is compressed remember. Also as we see with the 5D Mark III, the debayer of that raw sensor output is terrible, really drastically hobbling the image before it reaches the uncompressed HDMI output. If Sony have got the output right internally only then will you see a benefit from the HDMI port.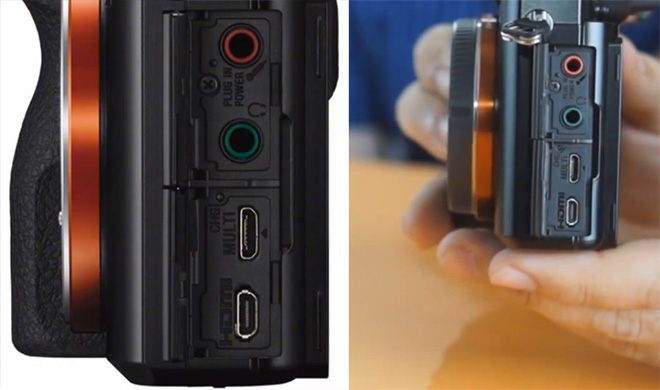 Compared to the 5D Mark III and D800, the A7 has a built in EVF, 1080/60p (rather than topping out at 30p) and an articulated screen. The only other camera to offer 1080/60p, an EVF and an articulated screen with full frame interchangeable lens mount was the Sony A99. Canon don't offer 1080/60p until the $6k 1D X and $13k 1D C.
What's interesting is that this is the first full frame 36MP sensor with 1080/60p – the Sony sensor in the D800 did not do it. Has Sony finally saw fit to optimise their sensor output for better video? The problem with video on all of Sony's previous cameras has been image quality. Lots of moire, horrible aliasing, very poor colour. The RX1 and VG900 were the worst yet and had full frame 24MP sensors just a generation back from the one in the A7. Sony will have to had improved this area dramatically for it to have any traction with video enthusiasts.
XLR audio jacks, mic AND headphone socket
Sony are offering a battery grip style add-on which gives the camera professional XLR audio jacks. Like the one rumoured for the GH3 but never materialising. I haven't seen any images of this grip in the press releases though, nor any specs.
Despite the small body size Sony have found room for both a mic socket and headphone jack. Unusual for a stills camera where usually the headphone jack for monitoring is missing. On-screen audio meters are offered with manual control of gain.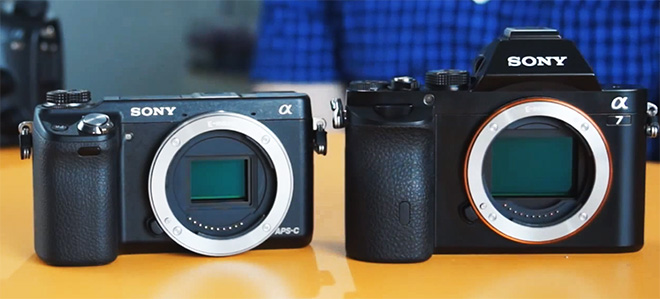 NEX branding and menus axed
This is a really smart move by Sony. I'm glad to see the end of the tri-navi dials, NEX menus and too many fiddly recessed buttons. The A7 and A7R have the Alpha menus like the RX1 and A99. According to reports there will be no more interchangeable lens NEX cameras from Sony. Everything will be Alpha from now on. Whether this includes future updates to the NEX-FS100 and NEX-FS700 video cameras remains to be seen. Ergonomically I like the look of the A7 and A7R – they're in the mould of the Sony RX1 with some useful additions and a larger rear control wheel. In terms of styling they are a cross between the RX1 and Olympus OM-D cameras.
The video record button has been moved to the side of the grip, on the right vertical edge of the camera. Thankfully there's a more accessible custom button on the top plate where the record button usually is, which you can assign video recording to. There's a movie mode on the mode dial which switches the live view display to 16:9 and gives you audio-meters, etc. should you so want them.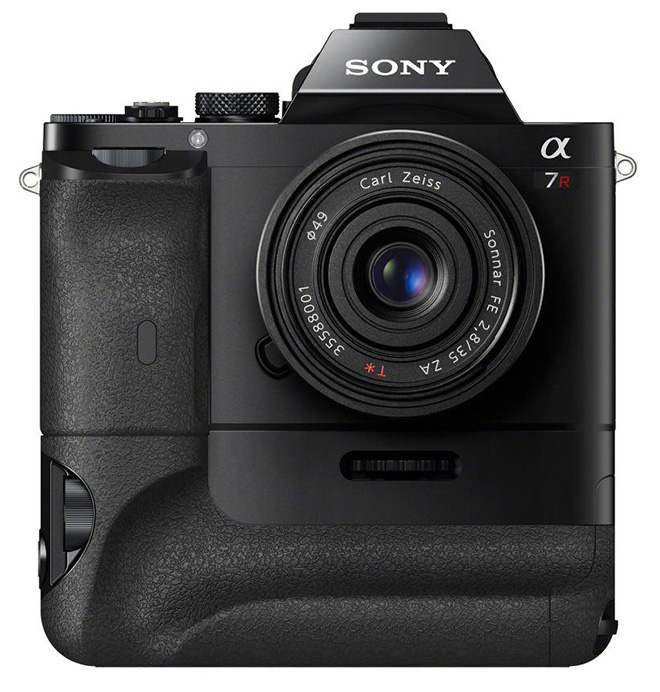 Thankfully the card slot is on the side, which allows for a battery grip to be attached (as shown above). Unfortunately Sony have not included a charger for your $2300 (A7R). The camera can only charge one battery at a time, slowly in-camera via USB. External chargers are available at extra cost. This is kind of insane don't you think?
Other handling improvements are somewhat a black box at the moment. Has the idiotic separation of stills and video in playback mode  gone with the latest Alpha firmware? There's no early indications this is the case.
RX10 gets high end camcorder features
Built in ND filter
Clickless aperture ring
Sony's other new camera, the RX10, has a few handy features not found on DSLRs. It takes the capable 1″ sensor from the RX100 Mk II (which does OK video), adds a mega 24-200mm F2.8 constant zoom and finds space for a built in ND filter with light reduction power of 3 stops.
The aperture ring has a switch which changes it from a standard clicking one to a stepless one, useful for changing exposure smoothly and silently during video recording. This camera could be a handy high end camcorder replacement if AF in video mode is much improved on before. Unfortunately the pricing is a little extortionate at $1300.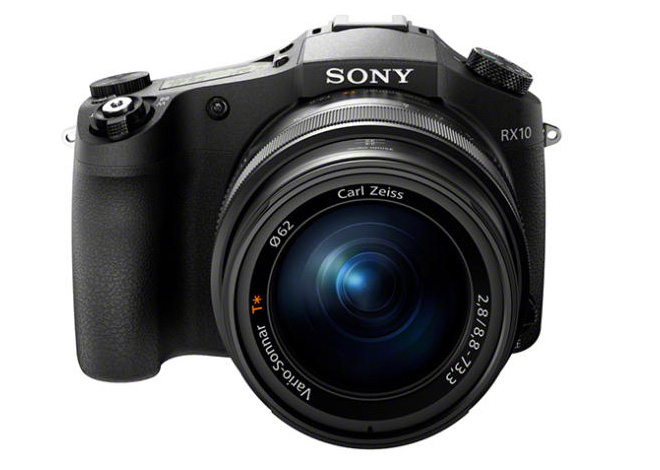 What's missing
The USB port is 2.0. That's nuts. Remind me what year it is again?
Sony have no adapter for Canon lenses. If they are serious about selling camera bodies they need an official adapter. It benefits Canon too. I see it is a win-win business decision but obviously the bosses in Japan don't see it as one. The Alpha lens range is going the same was as Four Thirds. E-mount and FE-mount lenses are the future for Sony but the range is too expensive and too limited. Until then I am using my Canon glass on it.
Built-in ND filter. This is hard to do on a full frame sensor in such a small body so we'll possibly let them off the hook here.
High bitrate codec. AVCHD is a serious pain in the ass and tops out at just 24Mb/s. The higher rate of 28Mb/s is reserved for 1080/60p and is actually more compressed looking than 24p at 24Mb/s since the available data rate is spread more thinly across individual frames. AVCHD can offer good image quality as seen on the FS100 with very clean shadows, little noise and low compression – for most shots close to what you'd get via uncompressed HDMI but video encoding quality has been terrible on Sony stills cameras to date. Apple offer terrible support in Quicktime X for playback. It is unrefined to the point of throwing error messages at the user when you try and open an empty AVCHD folder. Of course you can't see from the Finder in OS-X that it is empty and there's no thumbnail preview of clips. Windows is barely any better, and most users rely on the open source VLC Player for AVCHD playback. For editors, it makes the job of organising individual clips, files and folders all but impossible for AVCHD relies on a convoluted folder structure of it's own. Sony really do need to move away from AVCHD and onto XAVC / Quicktime for all their future high end cameras with video.
Both cameras will arrive in stores for late November 2013 / early December. The A7 is $1700 and A7R $2300 body only.