Some say Canon already have a fire-breathing small dragon in the EOS R5, but an official "Canon Komodo" mini RF mount Cinema EOS camera might indeed be planned for an August unveil if Canon Rumors are right. Interestingly, if you look back around 10 months to a Canon mini cine camera patent, the company can be seen to be already developing a very small Cinema EOS camera with active cooling system and Komodo-style form factor.
However in the patents, the feature-packed body is for a camera with XC10 style fixed lens. So this may point to there being two versions – one an RF mount body and one intended as an XC10 successor. Here is what Canon Rumors are saying about the specs of the rumoured small RF mount cine camera:
Same Super35 sensor as the Canon Cinema EOS C200
Internal ND filters (mechanical) up to 6 stops
2x Mini XLR inputs
Full-size HDMI
4K 4:2:2 10bit in ALL-I and IPB up to 120p
1x CFexpress Type B Slot
2x SD UHS-II slots
External RAW recording options up to 4K 120P
2x LP-E6NH batteries
Camera size smaller than the EOS-1D X Mark III
Price: $4499 USD
And this is how the existing patents look for a small Komodo-style Canon Cinema EOS camera:

As you can see it has some resemblance to the rumoured specs but looks to be smaller like an XC10 version, rather than the one with 2 batteries, internal ND and RF mount rumoured in the specs above.
Ironically given how the EOS R5 and R6 have turned out, the Canon patent talks about actively cooling both the image sensor and image processor:
Due to the recent demand for miniaturization of devices such as digital video cameras, cooling has become a major design concern. As the image quality of devices increases, the power consumption of image sensors and electronic components increases, and the amount of heat generated by the devices also increases.

As the performance of an image sensor generally decreases as the temperature rises it is necessary to exhaust the heat that is being generated.

If the temperature of the main control board rises and exceeds the guaranteed temperature of the mounted electronic component, it causes a problem that becomes impossible to control, and the result is thermal runaway.

Therefore, an imaging device equipped with a cooling fan and a duct to exhaust heat is required.
The internal cooling system is described in great detail in the patent which you can view here.
A fan vent is visible on the side of the camera near the lens below: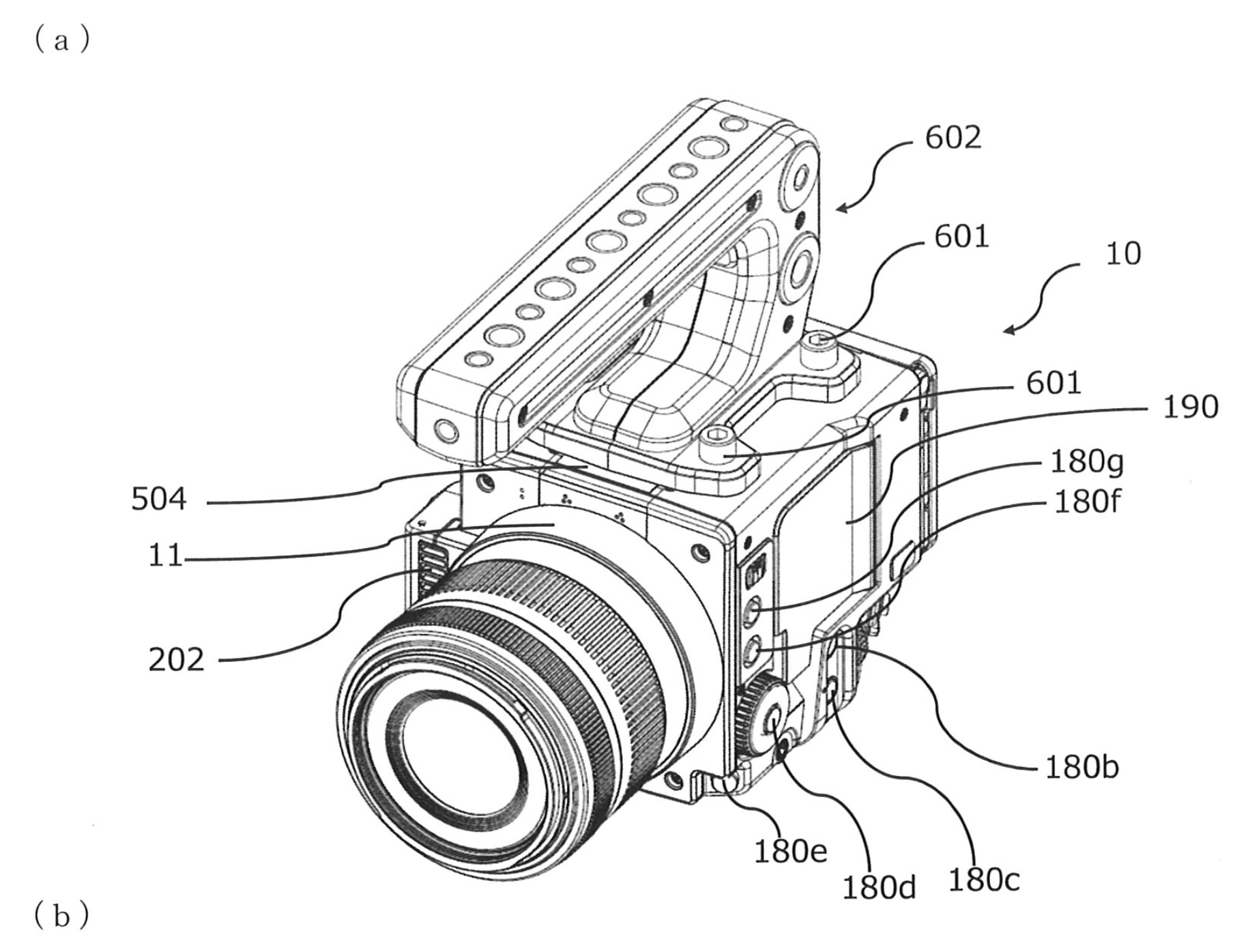 The patent for the camera's cooling system describes a forced-air (fan) cooling mechanism with a plurality of air inlets connected to "the optical axis" (i.e. sensor and lens mount). Two air inlets merge with an exhaust and there is a heat sink visible over a circuit board (see article 203 in diagram below):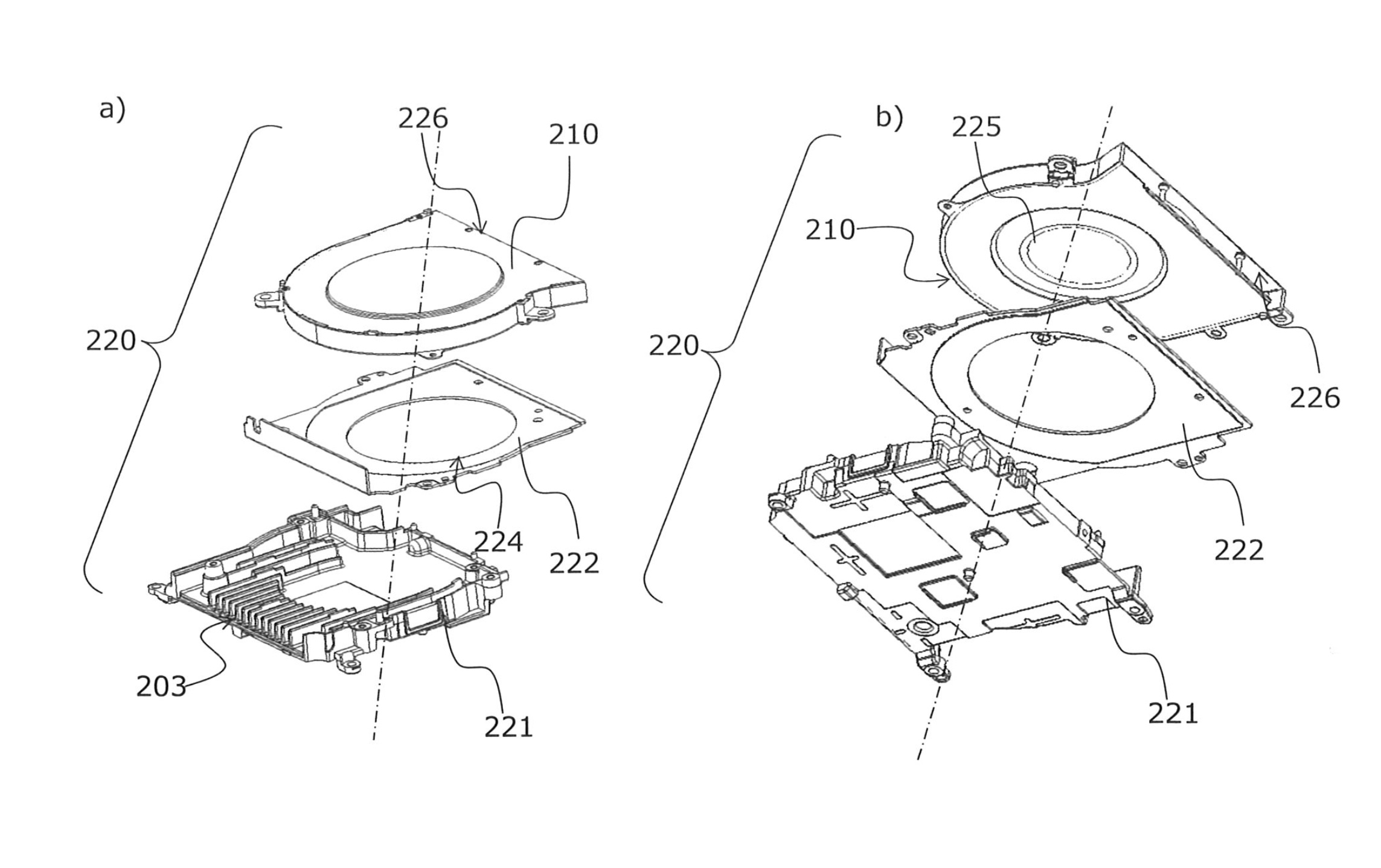 To go along with the mooted RF mount Cinema EOS cameras of the future, Canon allegedly has some lens adapters up their sleeve which surprisingly include a focal reducer (Speed Booster) for the full frame look on Super 35mm. Took a while for them to catch onto Metabones there didn't it!
Canon Rumors suggest the adapters are:
PL to RF with Cooke/i
EF to RF focal length reducer
EF cinema lock to RF
What is interesting about the patent is just how detailed it describes the small camera body and how closely the camera body resembles the Canon Rumours specs in terms of card slots and two XLR ports, although clearly the patent is for the fixed lens version of this body (XC10 successor) not the RF version. I do think there were two cameras in the works – Komodo-style RF cine camera and XC10 successor with fixed zoom lens – so I expect both will be released at some point and both featuring Super 35mm sensors, rather than the smaller XC10 1″ sensor, or a larger full frame sensor.
It would be really nice if one day we would see this concept come to the market especially at $4500.
But even better, a higher end model with IBIS and a full frame sensor that matches the video specs of the EOS R5 without the overheating complaints for around $6000?
In the meantime, on the subject of the EOS R5 there are still no more shipments arriving at retailers (accordingly I have had answers from B&H and many others) so it may be that Canon are putting shipments on hold while they debate what to do. In my opinion the Canon EOS R5 should go back and they need to bring it closer to delivering on what was promised in the initial announcement and all the marketing subsequently!
It may be that Canon however will let it fly and die as pro video tool – with the intention to sell us one of the rumoured "Canon Komodos" instead. I say, give your paying customers the choice and allow Cinema EOS users to buy both bodies. The EOS R5 will rack up a lot of sales as a second camera on a C300 III shoot for example.