Does it make sense?
The A9 is now out in shops but the lack of S-LOG or Cine gammas and that lofty price (£4500) mean I won't be getting it.
Sony A7R II, A7S II meanwhile are very popular cameras but the ergonomics and E-mount lens range I am not a huge fan of.
Is their some hidden virtue we are missing in the DSLR-style body of the A99 II SLT camera?
I'm a 1D X Mark II owner and the A9 is the camera Sony would like 1D X Mark II owners to switch to, mainly for photography. But we're looking at things from a video AND stills perspective, where both are important. The 1D X Mark II is not perfect for video despite the incredible 4K quality and Dual Pixel AF. There's of course no EVF, no articulated screen, no Canon LOG (unless you count my own custom C-LOG from EOSHD) and not to mention it almost bankrupted me.
The A99 II is Sony's equivalent to the 1D X Mark II.
The A9 is as well, but the A99 II is £2300 on eBay and has double the megapixel count, without sacrificing much in the way of speed (12fps!) or features.
It DOES have S-LOG 2 and 3 – also the Cine gammas.

The A7S II meanwhile, has always been at my side but if it was so great, why did I have to get a 1D X Mark II?! The reason is the A7S II is incredibly weak on the AF and resolution side for stills. The AF on this camera drives me insane. Furthermore I am not and never will be a fan of the ergonomics of Sony's mirrorless cameras unless they do a bigger re-vamp than the A9 although it did take a step in the right direction. The A99 II has ergonomics that more closely resemble the Canon and Nikon bodies which can only be a good thing in my view, if you combine the best of both worlds – the advantages of an EVF, with the speed and ergonomics of a DSLR. It's also similar to the rather lovely handling Samsung NX1 body.
The A99 II features the new Sony menus and you can even do such magic as assigning the Super 35mm mode to a function button. Why Sony don't give the A7S II and A7R II this capability along with the new menus is a mystery, but it's a big selling point for the newer models, which perhaps explains said mystery!
THAT lens mount
When the A99 II came out, I saw A-mount as a big disadvantage. I imagined they would do something innovative, like it would be E-mount without the SLT mirror, with a detachable A-mount which would integrate better than a wonky adapter. Sony missed a trick there. However the SLT mirror does bring some advantages with it… Superior AF for stills putting it right up there with the A9 and 1D X II, furthermore Eye AF is interesting for stills, something not even my 1D X Mark II has.
Recently I bought the Sony 35mm F1.4 G and Zeiss ZA 85mm F1.4 A mount lenses, which I use on my Samsung NX1 with manual aperture control and manual focus, via a Novoflex adapter.
Incredible doesn't even begin to describe the look from these lenses and they are much smaller and lighter than the equivalent Sigma ART primes for my 1D X Mark II.
In fact the Sony 35mm F1.4 G for A mount is smaller than the Sony 35mm F1.4 for E-mount!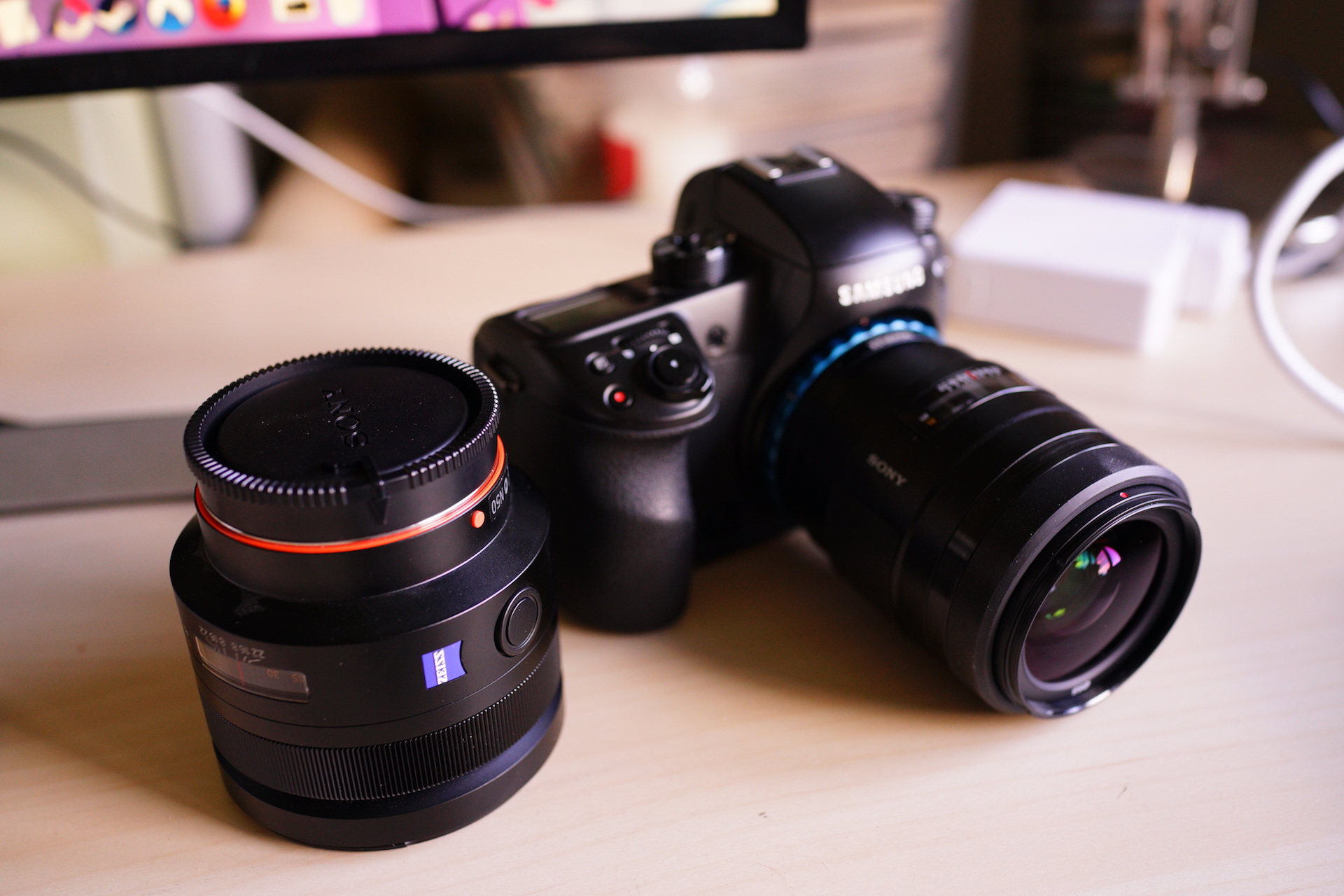 Conversely I have never wanted to buy very many E-mount lenses. Many don't realise just how good the A-mount range and how the selection of glass is still superior to E-mount even in 2017. A lot of these lenses are old and have many mechanical moving parts, but optically they are utterly superb and a lot of the fast primes like the Sony/Zeiss 24-70mm F2.8 and 85mm F1.4 are just as compact as the E-mount "Master" equivalents.
The A7R II meanwhile shares the most in common with the A99 II on paper but off paper it's a completely different camera. In this strange paradox, it mainly boils down to the ergonomics during a shoot, which are not my cup of tea on Sony's mirrorless cameras, be it A6500 or A7R II I just dislike shooting with them. Fiddly. The menus make me even more depressed and the A7R II lacks S-LOG 3. The A99 II brings the same 42MP sensor to a better handling body with S-LOG 3 and much bigger battery, without the added cost of jumping to the A9.
Speaking of cost, the fast A-mount primes are generally less than the newer E-mount versions.
Canon EF
Most videographers use the A7R II with Canon EF lenses, but we all know that the AF is not entirely reliable with bullet-proof performance in all sorts of light on the Metabones adapter, compared to the very best AF systems on DSLRs. If you get a nice range of A-mount glass (Dan Chung is a fan), would you forget all about Speed Booster? Well in terms of the LOOK, it will be similar to the GH5 WITH Speed Booster, WITH superior AF for stills, so in that sense no you wouldn't miss Speed Booster on the A99 II.
Speed Booster on the A7R II is a different matter… Of course I can shoot in the best performing 4K mode at Super 35mm and deliver the full frame look to Canon lenses on this camera so I may miss that capability for video on the A99 II, but if you're shooting 1080p there's no difference in full frame video quality between the A99 II and A7R II / A7S II. Only in 4K is it an issue. The A99 II and A7R II's full frame 4K is good at ISO 800 and under, but yes it does have some moire issues and a nasty noise texture after ISO 1600. The Super 35mm mode is much better, usable even at ISO 12,800 with very clean results and no moire.
I do find myself quite satisfied with the Super 35mm look for video, otherwise why would I be such a fan of the other crop sensor cameras like the Panasonic GH5?
Bonus feature or stupid feature, you decide!
For years we've used full frame cameras that can't do proper AF tracking in video mode. Then the 1D X Mark II came along and fixed that.
The A99 II un-fixes that, with it's baffling F3.5 limitation in AF mode for video shooting.
So you must either get angry and throw it in the trash or accept this mode as a bonus to a video tool that will mainly be used on manual focus.
I'm afraid it's programme-auto mode and F3.5-only when you enable AF on the A99 II in video mode. Your shutter speed and ISO will have a mind of its own! Lights will flicker. Shots will be ruined. You have been warned. And Sony has been warned to change this behaviour in a firmware update countless times and hasn't done so.
This is a bitter pill to swallow for 1D X Mark II users, unless you see that entire AF mode as a 'bonus' for video that will be handy only 10% of the time as long as you know its limitations.
It's still a bonus because most high-end 4K cameras like the GH5, A7S II, FS5 and 1D C don't track focus in video mode at all, or at least in the case of the GH5 and A7S II, not very well.
In fact if you instead see the A99 II as an upgrade from the excellent Samsung NX1 it starts to make more sense – a 4K Super 35mm camera with LOG, 5 axis in-body stabilisation and full frame 42MP stills? For £2300? Yes please. The A9 and 1D X Mark II obviously have an advantage for autofocus in video mode, but what if the A99 II got a firmware update soon to put it back into contention? Anything is possible. Then, it would be almost the perfect all-round camera for both video and stills.
Autofocus for stills is superior on the A99 II compared even to the A7R II. That is certainly another bonus.
You may only need 2 or 3 a-mount lenses
As the A99 II gives the sharpest 4K and best video low light in APS-C mode and you cannot use Speed Booster or Canon EF lenses. However if like me you can do a LOT of shooting at 35mm F1.4 and 85mm F1.4, it could focus the mind and simplify things to have just the Zeiss ZA 85mm F1.4 and Sony 35mm F1.4 G on the A99 II with the option of 50mm and 135mm in APS-C mode. That is a versatile range of focal lengths, with just two affordable super fast primes, without ever dropping your level of aesthetics to less than Super 35mm. For the wide-end, simply add the Sigma 18-35mm F1.8 ART for Sony A-mount. It looks like a full frame F2.8 zoom any way.
If you do end up using the full frame 4K mode you're in for a treat for action shots… it has less rolling shutter! It can be useful to have the option of that for certain shots.
So should you pull the trigger?
I've talked a lot about the A99 II from my perspective but what about you, your needs?
Say an A99 II comes along on eBay for the same price you can sell your mirrorless A7S II for. You don't have all that many E-mount lenses. You do have a chance to get some very good A-mount glass for around £500 each – and we're talking superb lenses here like the 85mm and 35mm I mentioned earlier, in addition to the Sigma 18-35mm F1.8, and you may not need very many more of them given the cropping potential of 42MP and the superb Super 35mm 4K mode.
But does it make sense to switch?
For A7S II and 1D X II owners – you gain a compact DSLR-like body much smaller and lighter than a 1D X Mark II but with a similar level of autofocus and shooting speed for photography. However for video you must give up the EF lenses and instead utilise the Super 35mm aesthetic more, especially in low light, with the A-mount lenses you just had to spend some money on. There are advantages to this – your Sony becomes more like a 1D X Mark II and less like a mirrorless camera that cannot focus.
For A7R II owners – you gain S-LOG 3, maintain 42MP stills, even better AF, better ergonomics, better menus and function button assignments, bigger battery and even a slight improvement in 1080p quality in Super 35mm mode. The rest of the spec and features remain the same, which is no bad thing. You have a wider range of native lenses than E-mount offers, without worrying about whether your Metabones adapter feels like working today. You also get to sell your EF lens range.
For A9 owners or potential ones, you avoid bankruptcy, enjoy EOSHD Pro Color and human flesh-tones rather than zombie defaults, 12fps with hardly any viewfinder blankout, which although a drop from the 20fps zero-blankout on the A9 is at least sane. Again the same advantages on the lenses side as for A7R II owners – superior A-mount glass, over the limited E-mount range, with just as good AF as the A9 but half the price and double the megapixel count. No brainer? Yes I am aware A-mount lenses can also go on an E-mount body with the Sony SLT adapter with AF motor inside but it makes the small body feel even worse ergonomically and less balanced – for what advantage? You also gain S-LOG.
For future owners of camera X depending on what you read on rumours sites. You're screwed. You're always screwed. Just as you think the A99 II makes sense, I am sure along will come an A99 III with the sensor from the A9, full pixel readout 4K from 6K, AF-tracking in video mode at F1.4 with full manual control, S-LOG (unlike the A9) and improved slow-mo 120fps plus a coffee grinder controlled by the shutter button. But it won't be £2200 used and it might even be light-years away. Then there's the possibility it may never even happen. If Sony feel like discontinuing the A-mount range, then the the introduction of the A9 hints strongly at that happening sooner rather than later because it's aimed at the same customers as the A99 II.
So, I pulled the trigger
Let's see if I regret it! If like me, you find yourself disliking the Sony A7S II and A7R II ergonomics and prefer Canon's bodies, but would like an EVF instead of an optical viewfinder and flippy mirror, and you love the A-mount lenses as much as I do, I think the compromises are balanced and the move makes sense…
OK, the AF tracking mode is borked. The Canon 1D X Mark II continues to do this so much better than everybody else. No full frame 4K mode with full pixel readout like the A7S II. OK, not ideal.
BUT…
Super 35mm 4K with clean low light up to 12,800 and EOSHD Pro Color, as well as S-LOG 2 and 3
Superb autofocus for stills
1D X Mark II style ergonomics but with an EVF and articulated screen making it much nicer to shoot video with
Much smaller 4K file sizes than the 1D X Mark II and 5D Mark IV
Superior resolution stills at 42MP vs 12MP (A7S II) and 24MP (A9)
5 axis image stabilisation vs none on the Canon 1D X Mark II
Make use of the lovely Sony A-mount range of lenses
Hang on… All this for the used price of £2300?
When you see the bigger picture it really is an amazing all-round package isn't it?
It replaces over £10,000 worth of other kit.
It replaces your 1D X Mark II and EF lens range with only 1 major drawback (the borked video AF) and several major advantages (42MP, EVF, etc.)
It replaces your A7S II or A7R II very handily. You can sell your E-mount lenses as well to save money or buy A-mount ones.
So I have a Sony A99 II on the way and we'll see how much I regret it (or not!) in the coming days.