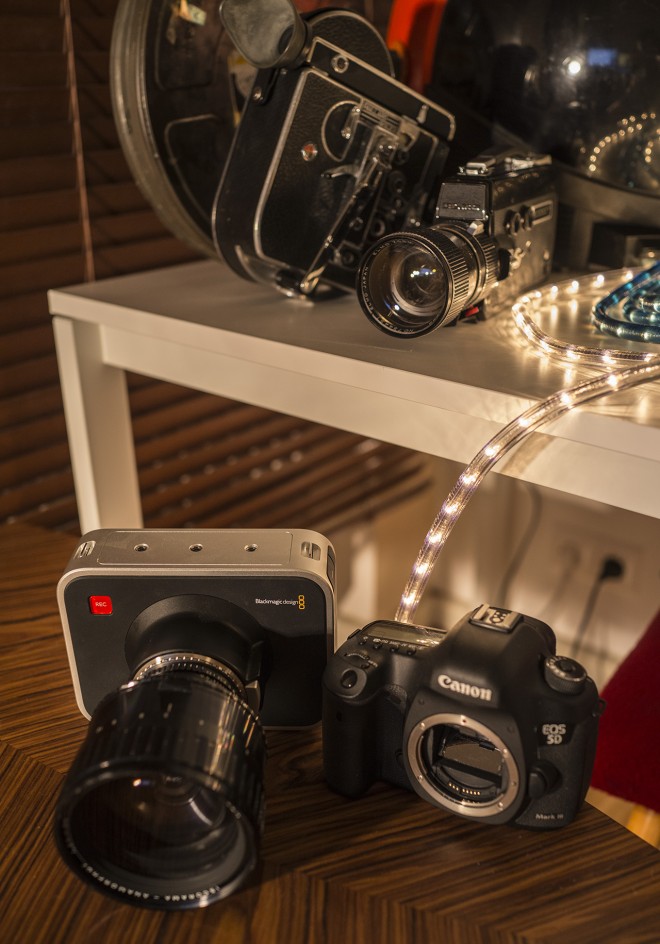 Blackmagic CEO Grant Petty has revealed he approached camera manufacturers in 2011 with the idea of producing a DSLR-style model with high dynamic range and increased video quality but was turned down.
"They don't care about the product. Their only goal is to extract as much from the business as they can. It's incredibly short-termist, and greedy".
I agree 100% entirely with Petty here. In my view, rather than moving the industry forwards with timely technological advancements, Canon, Sony and others are playing a short-term profit taking game. 2013 has been a particularly grey year for Canon, with no new interesting Cinema EOS or DSLR models to be released, the company ended the year with two cynical marketing attempts – a white 100D for the Christmas market and a Asia-only barely improved EOS M2 sequel to their poorly performing mirrorless camera. This in a year when Sony brought the 36MP full frame A7R mirrorless camera to the table and Blackmagic offered a 4K cinema camera for $3995.
In approaching the camera manufacturers in 2011 with the Blackmagic Cinema Camera concept, Petty said he was beaten back.
"They wanted to do their own thing. So we had to do it ourselves."
"I'm stunned at what is wrong with companies when we acquire them and we can examine them internally. There are so many pressures on businesses just to be bland, never to take a risk."
"We've never taken any outside investment at Blackmagic and we have no debt. As soon as companies do that they are beholden to a new master."
4K camera shipping soon
Blackmagic themselves have taken a lot of criticism, for delays and short supply of cameras but when you stand back as an observer to look at what they've done, I think it's a monumental achievement.
"What's healthy is feeling you did something rather than just sat in meetings all day"
"We are not psychotic about making money at all costs or hardcore sales. We are unashamedly geeky. We want to be friendly and be of service."
In the feature at TVBEurope, Petty describes his company as having a "healthy work ethic", with only 350 employees, and until recently Petty himself was involved with every aspect of every product even writing his own marketing copy.
"My job is to bind it all together and set the culture. I wish I could do more. I don't have any grand vision and I'm surprised and delighted when it works. When we announce something that surprises the market at a trade show, it's often because we ourselves have only made the decision to go for it a couple days earlier."
And obviously that has implications for the timeliness of their launches sometimes, but it's still an approach that does more for me as a customer than almost any other company.
Petty continues…
"You get really nervous when you do something creative because you can get it utterly wrong. Sometimes I'll have an idea and I can't sleep for weeks, wondering if it will work and if we can get it out the door before someone else does. I constantly feel we are not good enough, that there are so many thing sot fix, and not enough time. But I am overwhelmed and grateful that people like what we do."
As Blackmagic will discover soon enough (as Apple did under Jobs) – if you genuinely set about to change the world, profit begins to flow naturally as a consequence of that, rather than as a consequence of pure profit-chasing.
Of course not every company thats sets out to innovate and change the way we use technology succeeds.
But if one company deserves to it's Blackmagic.