Cameras and displays have come a long way since the old standard definition Rec.709 standard came to be.
From today, Sony's colour science now gets a cinematic overhaul on the A7 III and A7R III.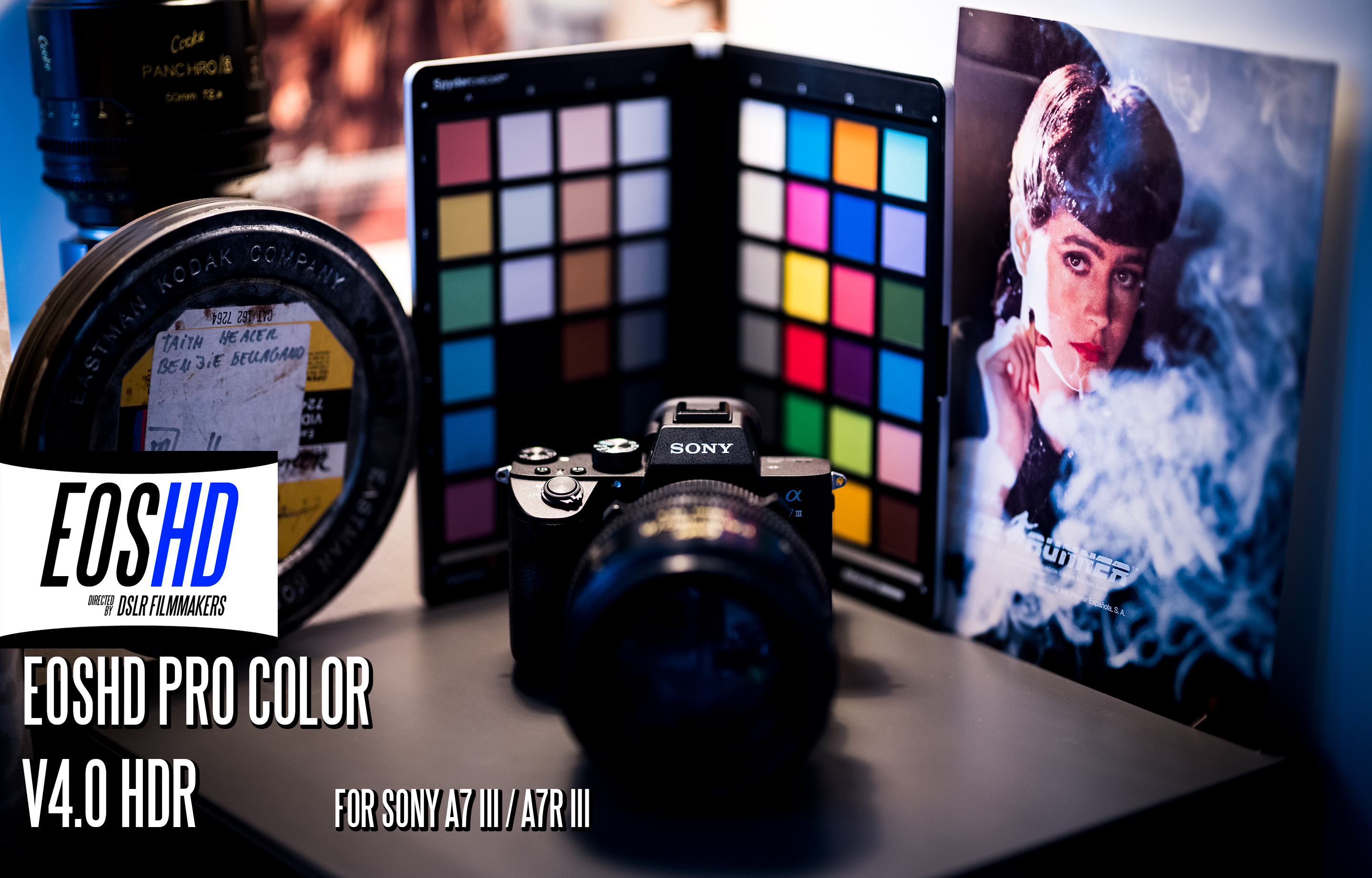 In the lab and with test charts, Sony's engineers designed their camera colour profiles to be accurate. As Sony will now be the first to admit (with their superb high-end VENICE colour science) accurate is not always cinematic and can be far from flattering in real-world shooting scenarios. A camera with accurate Rec.709 colour for a test chart does not equal healthy skin-tones and cinematic tonality.
Further, times change! Today's screen technology with Display P3 wide gamut iMac 5K and OLED televisions has moved on dramatically since the standard definition era. Sony first developed their Creative Styles and Rec.709 Picture Profiles for stills and video cameras a very long time ago, and although Sony brought their straight-out-of-camera colour up-to-date with VENICE they did not do so on the A7 III and A7R III.
This is where EOSHD Pro Color V4 HDR comes in.
Building on the success of the previous Pro Color releases, my custom profiles are designed to overcome the standard definition broadcast colour and lack of filmmaker feedback inherit Sony's ageing default Picture Profiles and Creative Styles – occupying as they do the unenviable spot of last position behind Canon, Nikon, Fujifilm and Olympus.
The improvements
With the EOSHD Pro Color V4 HDR settings there's a lift to the red channel in the mids, to revitalise skintones and faces for a more flattering look, in addition there is a wider colour space used, to better match the higher dynamic range of a modern camera and display, giving a smoother colour rendering and a new gamma curve to give a silky smooth roll off to the highlights and shadows. This reduces the likelihood of a shot suffering that classic 'video' look of a burnt yellow highlight on the cheek or nose of an actor!
In addition, the prime colours red, blue and green are given a deeper tonality which improves the look of landscape and scenery shots.
The wider colour space together with the saturation and luminance of individual colours in bright highlights has been tamed which helps the cinematic look by preventing that traditional video colour bloom (where a bright blue would clip to neon green on bright highlights).
All this is done in-camera.
New for this version is a second profile – Pro Color HDR – that increases dynamic range in the highlights by as much as 2 stops. No grading is required on either profile.
This is the first time ever such a big increase in dynamic range and latitude has been possible with Sony's straight out of camera colour, with no LUT correction required in post or 0-255 adjustment in your edit. You can see the huge benefit this brings to the image in the example video above.
With the 'special sauce' of EOSHD Pro Color on your Sony A7 III or A7R III you will find that elusive balance between high dynamic range and satisfying punchy contrast and colour.
Finally, ALL the previous advantages of EOSHD Pro Color are carried forward and look better than ever before.
Summary of advantages
Skintones, faces and people given a more flattering treatment
Reduced colour clipping (prevents luminous blues burning out to neon green)
Maximum colour fidelity and dynamic range with EOSHD Pro Color HDR
Truer, deeper reds and warm tones
Greater separation of green hues for richer looking landscapes
Greater separation of blue hues for better skies and deeper cool tones under artificial light
Makes the camera better in mixed lighting situations, with better look to both warm AND cool light in one shot
Smoother and more film-like roll off to highlights and shadows
Confidence on a shoot you have expertly set colour with no unpleasant surprises
Works with 4K and 1080p video
Works with JPEG photos
EOSHD Pro Color is designed for straight-out-of-camera results, but you still have a lot of freedom to tweak things in post. One bonus feature included with your purchase is a new EOSHD LUT for Pro Color HDR as well called "EOS Match LUT" to even more closely match the standard EOS Picture Styles on Canon cameras. This is particularly useful if you want the Canon look to skin tones or are intercutting between Sony and Canon cameras on a shoot.
Enjoy!