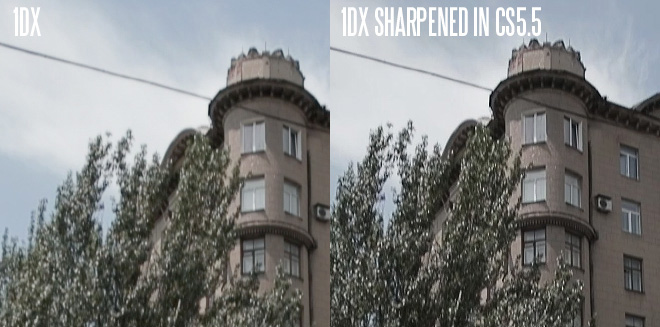 Battle of the flagships
We had a small glimpse at what the 1D X was capable of last week. Now Associated Press shooter Ivan Sekretarev has very kindly provided his raw test clips to EOSHD. Here's my view on them…
Vimeo does not yet take the native Canon ALL-I footage which I uploaded earlier. Their server side compression does not recognise it and Canon didn't even send Vimeo samples before release so they could prepare. This is not good for press guys. The good news is that Vimeo are looking into it with my tweet passed the way of their tech team. It should only be a matter of time before it's solved. Until then I can't offer them for viewing or download unfortunately!
I've been looking over Ivan's 1D X footage today and here's my take
The 1D X appears to be slightly sharper out of the box than the 5D Mark III but I'd say it too flattering to say "more detailed".
When you digitally sharpen the image in post to improve clarity, the image shows more aliasing than the 5D Mark III with more high contrast edges and halos around small details.
To be honest I am surprised about this, considering that the 1D X is much more expensive and has a whole image processor devoted to compression.
It could be that there's no significant improvement in image quality at the sensor end and that the sharper, more coarse image comes from a weaker vertical (correction: horizontal) anti-aliasing filter. There's some evidence for this with Dan Chung's clip as pointed out by JCS on the EOSHD forum here.

As you see above, very fine detail like grass still looks like it is painted on rather than actually grass. I really dislike the plastic look to fine textures that Canon DSLR video modes have relative to the fine detail present on the Sony FS100, Canon C300, Panasonic GH2 and others. Conversely this is actually helpful for skin tones. So it is not an entirely stark win or lose situation, rather about choosing the right camera for the right shot.
Compared to its predecessor, the 1D Mk IV which was until now the low light king of Canon DSLR video the image is however much improved showing more detail and no moire. Here's a comparison at 200% magnification…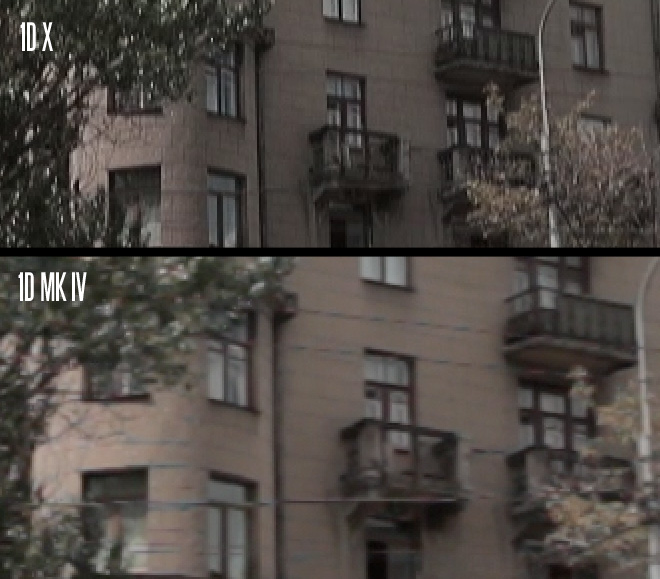 You won't notice on a still frame grab but those phone lines really look animated with false colour on the 1D Mk IV shot.
One thing I noticed when +20 sharping in Premiere CS5.5 for the 1D X footage was that it began looking too digital at roughly 40% earlier than the tipping point for the 5D Mark III. This is because of rather rougher detail in the image prior to post, so this leads to it sharpening more harshly too.
All in all if you're thinking of paying double for the 1D X in order to get a more detailed image in video mode, don't bother.
Simply sharpen the 5D Mark III in post until Canon can provide us with something better for the $6k mark, or preferably the $3k mark.
Picture profile settings and lenses used
Here are Ivan's settings which the above examples were shot with. Picture style is Neutral, sharpness 0, contrast and saturation –4. Shot in 1080/25p ALL-I mode (highest quality) with Canon 16-35mm F2.8L stopped down and Canon 50mm F1.4.