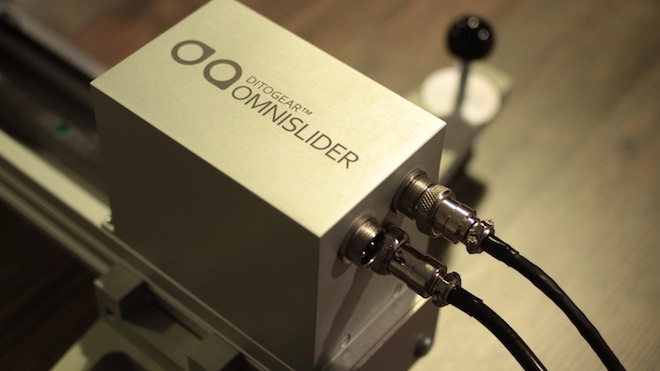 For the price and full spec visit DitoGear here
DitoGear are a relatively new arrival on the DSLR scene yet a creative and exciting one. They've begun to make something of a name for their sliders and I've taken some notice. Here I try their cutting edge slider for the first time.
What do I think of it?
It is solid, and very powerful. You can stand it vertically and the motor has enough torque to move the camera upwards as if it were flat! That means that with the right support, you don't just have a horizontal slider but a vertical one. Since this isn't a hand operated crank slider, it has a powerful motor and a lead acid battery – so you can do perfectly steady timelapses on it.
Since a motorised slider 1m long is never going to be ultra portable, I'm glad they've given us a big battery rather than a low amp lithium ion one, and a very powerful motor indeed. The slider weighs in at about 7KG. Despite it's power it's capable of running for 3 hours in video mode, 10 hours in timelapse mode and carrying two DSLRs at once. This is a professional piece of kit.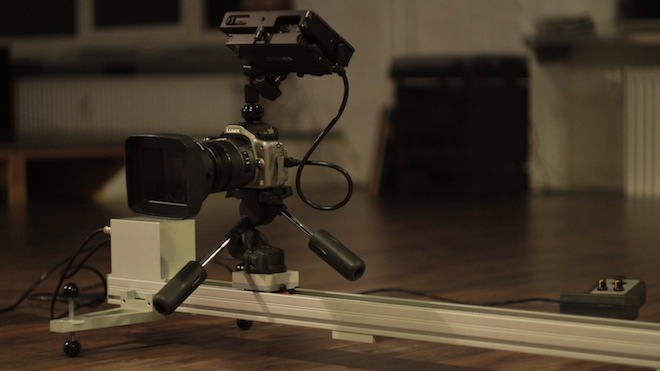 I have a few extras with my kit – the dual-DSLR baseplate capable of holding two DSLRs at once and some very nimble support feet which reduce vibration and help with levelling the slider on uneven ground. Each foot is height adjustable, very well made and precise. The whole kit is something I feel will last for years.
Now the heart and soul of the OmniSlider is the box of tricks with a joystick and LCD panel.
You can control the trolly completely remotely via the handset and it makes an awesome sci-fi style noise as it drifts along, driven via the belt and motor. It's far from silent but in timelapse mode or for music videos it's not an issue, obviously.
The OmniSlider came with two remote leads for timelapse intervalometer functionality – they suit Canon (5D Mk II as well as the 550D, 60D and 7D), Nikon and RED but not yet the Panasonic GH2. I hope to see that cable soon and a firmware update.
The big benefit of having a programmable motorised slider is that you can program it to do repeatable movements. This opens the doors to a world of creative possibilities, like compositing, green screen work, high dynamic range timelapses and even HDR video tracking shots because you can overlay the repeated shots.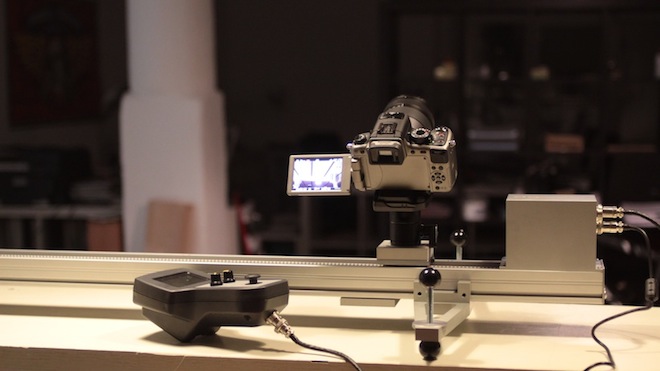 In video mode since there is a powerful motor and an ultra tough conveyer belt on the unit, vibration can be an issue at certain higher speeds where oscillations go up through the trolly and out through the camera but this only occurs when you're using the slider on a hard floor with a long focal length lens. I recommend a wide lens.
On grass or a softer carpet this helps vibration and you can dial out the oscillations by adjusting the speed dial slightly. Vibration and quietness are evolutionary areas of improvement, but already the OmniSlider does very well I feel. I've not had a chance to try Kessler's rival the ElectraDrive yet but I expect that isn't completely silent either?
The beauty of tracking shots and timelapses is that they move slowly and smoothly – vibration and noise is much more of an issue when the trolly is moving fast. I find I rarely need to go above 40% of it's speed capacity – short 1m whip slides are just ridiculous looking. There is also a built in inertia control, via a dial where you can set damping like on the ElectraDrive so the shot can come to a steady standstill in video mode. Usually however you'd just edit out the stopping point and keep the slide.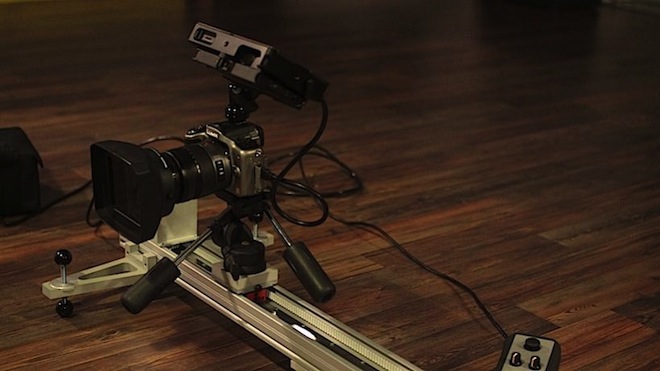 There is an absolutely awesome underground tron-style mini-golf course nearby my studio which I intend to bring the slider to, if allowed – Have you ever played a round of golf behind someone who is an incredibly slow player? Well I'd recommend avoiding the course in Berlin if I am there with my GH2.
Here I am testing the slider with my GH2, Small HD DP6 demo unit, 14-140mm kit lens and anamorphic LA7200 adapter.
I plan to go in-depth into the creative possibilities offered by this motion control slider and write a full two part review this month, so plenty to look forward to – especially the anamorphic tron-golf.
Check out the great short 'Winter' made by DitoGear themselves on the OmniSlider
[vimeo]18849712[/vimeo]