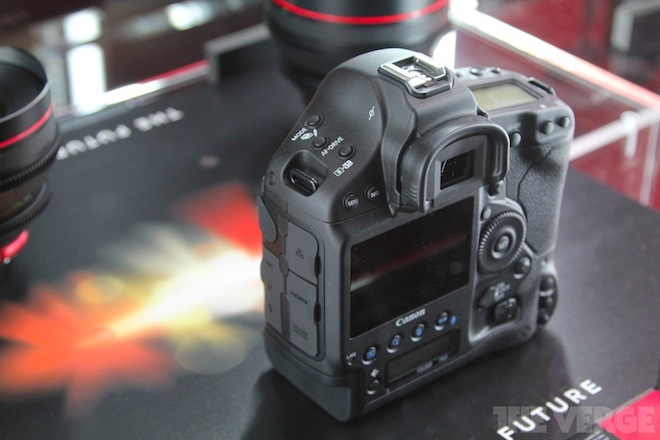 Canon's Chuck Westfall has said the new 4K concept DSLR will be on the market within 12 months. He made the comment in an interview with The Verge magazine. The rear of the camera gives us some other clues – it has a wide 16:9 screen rather than the usual 4:3 or 3:2 screen on normal DSLRs.
I also think that this full frame DSLR with be mirrorless. In order to work with PL mount lenses, a DSLR cannot have a mirror in between the mount and the sensor. Also in a cinema orientated DSLR an optical viewfinder is totally useless for motion. Removing the mirrorbox would be totally necessary, and Canon have already pictured the DSLR with a PL cinema lens attached.
It may be possible that Canon will still stick to the EF mount on a mirrorless camera to encourage the use (and sales) of EF lenses but without a mirror. What would make more sense is a new lens mount and adapters for EF & PL lenses. A new mount would allow lenses with video optimised features similar to those Panasonic produced for the GH1 and GH2. Full auto, silent OIS, aperture and AF are all necessary features for run & gun documentary and news people, so the demand is there.
The C300 was developed partly by XF305 engineers, partly the 5D Mark II team. Canon say there is a possibility of the C300 technology filtering down into an EOS DSLR. This from an interview with Imaging Resource:
IR: Do you see any areas in which technology developed for these new cameras may transfer into your SLR product line?
Larry Thorpe: There's always possibilities of that, and there's now more cooperation between the engineers… [In the past] the video who did the XF camcorders and the EOS; they lived in a separate world. This project brought some of them together, and Mr. [Masaya] Maeda, he was banging heads to make sure that as we go forward, you're going to see more and more of that, so there's going to be a lot of cross-fertilization.
The DSLR folks, when they design a sensor, they've got criteria – you know, they're looking at ISOs of 200,000 – and we don't worry about that sort of thing in the motion side. But, you know, great technologies come from both, and this new sensor was developed by the group that normally had two separate groups, doing a little 1/3 inch and the others doing the EOS, and they came together with some great ideas, and came up with this, what I think is a brilliant architecture.
In others news…
Added value
In an interview with The Associated Press, Fujio Mitarai (Chairman) said Canon's move into expensive high-end products for professionals comes in response to the rising yen and the movement of manufacturing to cheaper-labor countries abroad. "Anything without high added value is now being manufactured in southeast Asian countries and China. So we need to shift into an era where all our products have an added value," Mitarai said. "That is one major trend in meeting the difficulties posed by the strong yen."
Bryce Dallas Howard shoots 5D Mark II and C300 short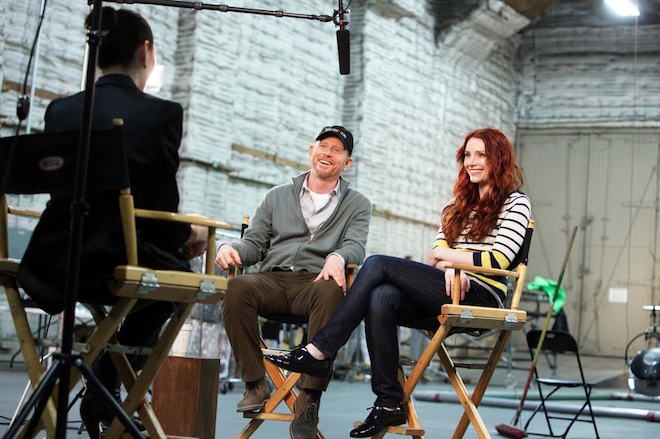 Actress Bryce Dallas Howard has directed a 25 minute movie using mainly the 5D Mark II called When You Find Me for the EOS Movie / DSLR marketing campaign Project Imagination. The film is due out on the 15th November and the campaign with Bryce's dad Ron is set to climax in New York at the same time. This could be a good time for a 5D Mark III launch and to take the Christmas market. Here's some more on the movie:
When You Find Me is the story of two sisters who find their carefree lives on the farm shattered by the sudden loss of their mother. Lisle, the younger and more imaginative of the two, becomes fixated on the idea of finding a spaceship in the woods which will transport them to heaven so they can reunite with their mother.
Racked by a private guilt, Aurora, the older sister, is unable to share in the young girl's naive conviction. Their opposing beliefs lead to a rift which continues to haunt them well into their adult lives. Alternating between past and present, When You Find Me is an emotional fable of two people coping with tragedy in very different ways, and what it takes to find peace and reconciliation within yourself and the ones you love.