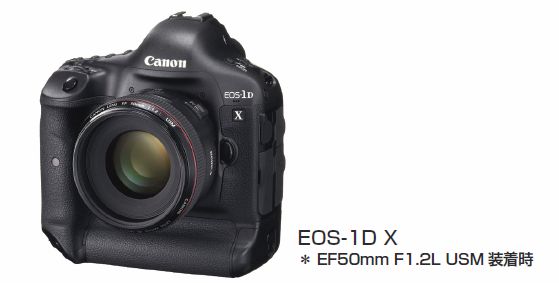 I have been leaked the full specs and features of the new Canon 1D X full frame professional DSLR. Continually updated…
UPDATE #5
Intra-frame codec!
File-spanning mode allows longer maximum takes. From the Japanese translation: "Automatic partitioning features that can continue to record and automatically create a file."
Recording modes
1 ALL-I is composed of all I frames.
2 IPB is I, P, B frames are composed.
UPDATE #4
Up to ISO 25600 in video mode!
UPDATE #3
Video mode has timecode feature. From rough Japanese translation: "When shooting SMPTE (Society of Motion Picture and Television Engineers) to record time code to a file conforming to streamline the editing process."
UPDATE #2
Video recording modes
Variable MPEG-4 AVC/H.264 (average) bit rate scheme
1,920×1,080(フル HD):30p/25p/24p
1,280×720(HD) :60p/50p
640×480(SD) :30p/25p
*30p:29.97fps、25p:25.00fps、24p:23.976fps、60p:59.94fps、 50p:50.00fps
UPDATE #1
As always the rumours site got there first. CanonRumors has a leaked press release regarding the new Canon 1D X. It represents the amalgamation of the 1DS and 1D for the first time, and has a full frame sensor.
Canon.com has now leaked a mention of the new camera in this press release about celebrating a landmark 50 million EOS SLR cameras in their history.
"This lineup has further expanded with the addition of the new high-performance EOS-1D X, Canon's new flagship digital SLR camera, scheduled to go on sale in late March 2012."
Low light performance is potentially out of this world, with only 18MP on a new sensor, and full frame at that. The new Dual DIGIC 5+ image processor is 17x faster than Dual DIGIC 4 which is very good news for video. The press release states moire and aliasing are fixed:
Featuring advanced video-capture capabilities, the Canon EOS-1D X's upgraded imaging system and Dual DIGIC 5+ deliver greatly enhanced movie quality. In particular, the camera minimizes the occurrence of color artifacts and moiré, and enables the shooting of low-noise video even in dark conditions.
The Canon EOS-1D X will be available in Japan from late March 2012 at an open price. Canon has set initial production at 7,000 units per month.
The camera even has a 14fps continuous burst mode outputting 18MP JPEGs with an electronic shutter (hardly any rolling shutter noticeable due to the speed of the sensor). That bodes very well for video quality too.
More news as it comes…