I've recently had a Video Assist 4K 7″on loan from Blackmagic. Here are some observations on this newcomer to the 4K recorder party.
The Blackmagic Video Assist 4K is a $895 entry-level 4K recorder and 7″ monitor, laying down 4K ProRes to humble SD cards (ok, not so humble – they do at least need to be very fast ones).
Since it's offered at just $895 it doesn't support some of the features offered by the high end recorders around the $2k mark. The Odyssey 7Q+ is the current pros choice (currently $1795 bundled with Convergent Design 256GB SSD) and the new Atomos Shogun Flame at $1695 is another option I'll be looking into on EOSHD soon.
The latter take the Sony and Canon RAW outputs over SDI, so if you're a Sony FS5, FS7 or FS700 owner, a Canon C500 or C300 Mark II owner, the Video Assist 4K won't give you the most optimal image.
However it's perfect for mirrorless cameras or getting a standard 10bit YUV 4K image out of the cinema cameras.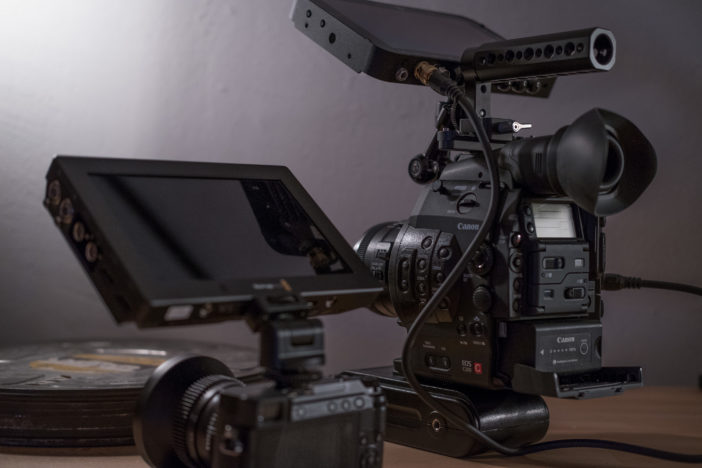 The Video Assist 4K doesn't just disquinish itself from the 5″ model with a "4K" badge. Like with "full frame", there's a tendency for users to get blinded by the pure simplification of all the arguments regarding image quality down to one spec! The reality is different – an image is a multitude of complex interlinking aspects all coming together.
Likewise the Video Assist 4K is not all about 4K. An advantage over the smaller 5″ full HD Video Assist is the much larger 7″ screen, it's great to pull focus from, then there's the twin mini-XLR jacks. The smaller 5″ Video Assist lacks them. It's a great way to add professional audio capture to a consumer camera as a bonus, without having to buy an XLR adapter for the GH4 (the ungainly YAGH box) or the somewhat pricey Sony adapter. There's no need to sync in post, as you would do with a separate dual system audio recorder. The Video Assist 4K tracks the audio from the 2x XLR inputs directly onto the ProRes recording. A further advantage is that it gives the Panasonic GX80/85 a headphone jack, which makes monitoring audio much easier on cameras that lack one (but instead send audio signals the HDMI output). Also the Video Assist 4K is the only device I know of which records 4K ProRes to tiny SDXC cards rather than physically much larger SSDs. I think the days of 2.5″ SSDs are numbered and that SD & CFast cards will eventually offer the same price / performance ratio.
The great thing about ProRes is that it's a proper editing format. You will get fluid editing performance in 4K this way, unlike the choppier 4K H.264 codecs from Sony or Panasonic (or the computationally intensive H.265 on the Samsung NX1). If you have multiple effects and tracks you will be thankful for ProRes or proxies recorded using the Video Assist 4K.
Blackmagic's user interface is simple. Mainly works on gestures – a horizontal swipe brings in or dismisses the setup menu. A vertical swipe clears the playback controls, audio meter and histogram off the frame. Timecode and other info remains at the top outside the frame as the screen is 1920 x 1200 – extra room at the top over a 16:9 image. Tapping the codec in the top display allows you to quickly get to that menu. Very logical, clear, straightforward.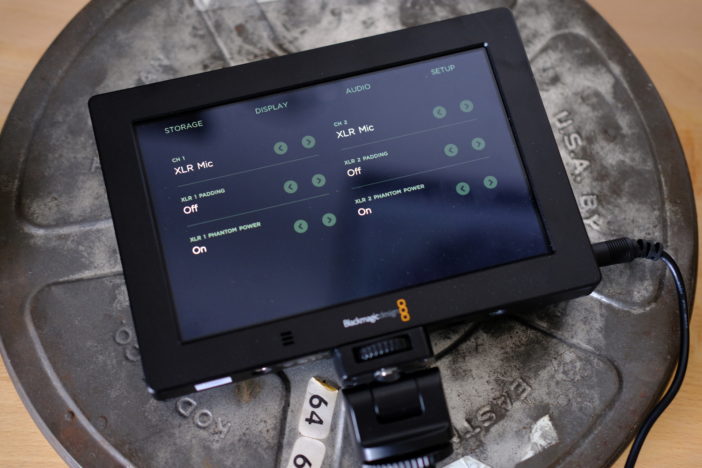 Image quality
What about an image quality advantage over the internal 4K codec of cameras like the Sony A7S II / A7R II, A6300, GH4 and NX1?
Here I am less convinced but to be fair, it isn't the fault of the recorder. There's a very slim image quality difference between 4K uncompressed HDMI and internal 4K H.264 when it comes to most mirrorless cameras. In fact 'uncompressed HDMI' is not really 'uncompressed' at all. The reduction of bit-depth from the sensor output of 14bit (i.e. 5D Mark III) or 12bit (i.e. GH4) to 10bit or 8bit is a form of compression. The difference between 444 and 422 colour sampling – also a form of compression. The difference from RAW data to YUV is massive compression. Even from RGB to YCbCr is a further form of compression. So an 'uncompressed' 8bit 4:2:2 YUV HDMI picture is actually quite a heavily compressed image squeezed out of the uncompressed raw sensor output.
'Uncompressed HDMI' only refers to one aspect of image compression and that's the data-rate of the in-camera codec. A codec allocates a certain amount of bytes (the bitrate per second) to store a compressed group of pictures (Long-GOP) or one individual frame after another (ALL-I). An external recorder using ProRes uses the same kind of compression in the end to store the 'uncompressed' HDMI image. So forget about uncompressed. What you get is a bitrate increase. If you want a real uncompressed image, you have to shoot RAW.
It's still a chopped down YUV signal, debayered in-camera. As for 8bit vs 10bit, there are very few mirrorless cameras that send a TRUE 10bit signal over HDMI. I doubt they even send a true 4:2:2 one.
So the image quality difference relies mainly on bitrate alone, an increase from 4K H.264 100Mbit in the case of the A7S II to ProRes at 220Mbit. The improvement isn't noticeable on a largely locked down shot unless you're really pixel peeping. The noise grain at high ISOs is a little bit finer. Only when the entire frame has a lot of motion blur and camera movement does the image suffer less macro-blocking from compression.
Will Blackmagic do a truly professional Video Assist?
The Video Assist 4K is $895, which is a great bargain, but there needs to be a higher end version to compete with the Odyssey 7Q+ and Shogun Flame or Inferno.
Whilst it offers a 4K editing format, large screen to focus off, mini-XLR jacks and a headphone jack, it doesn't impresses me quite as much with my pro hat on. With the Canon C500 not only did it not take the 4K RAW, it didn't take the 2K RGB either, or the slow & quick frame rates up to 120fps.
I have some question marks over support too. My contact at Blackmagic asked their customer support team about this RAW support – they should have asked an engineer because the person in support didn't even know there were any cameras out there that sent a RAW signal over SDI. I fully expect such gaps in knowledge be ironed out.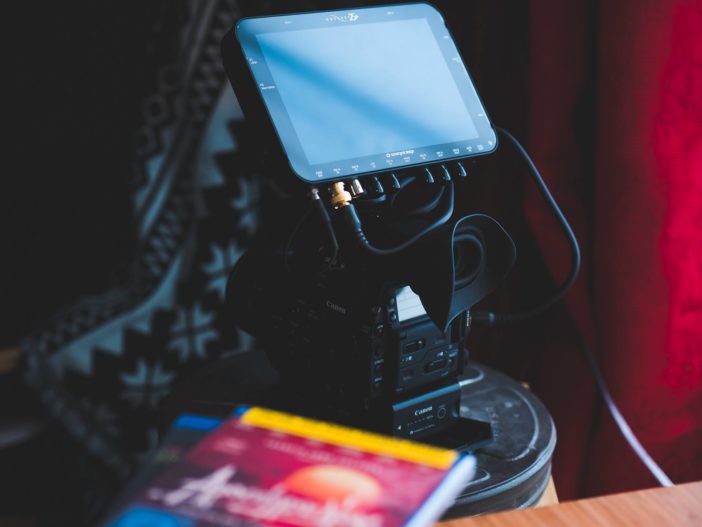 The other issue for pro cameras is that Blackmagic only has one single 6G-SDI input and cameras like the Canon C500 send their 4K RAW at frame rates over 30p (i.e. 60p and 120p) via two 3G-SDI jacks. For 4K RAW @ 24p it uses a single 3G channel, just one cable to the recorder, but for the Video Assist 4K to give a picture at all I had to drop the quality of the signal down from 4K RAW to 1080p 10bit YCbCr 4:2:2 just to monitor off. Not much point recording that, may as well use the internal MPEG 2. I had at least hoped to get 2048 x 1080 60p out of it, if not in 12bit then 10bit.
Something the Video Assist 4K is bound to be compared with is the original Atomos Shogun which can probably be had for around $1000 used now the Flame and Inferno are out. I don't have one any more so I'm not best placed to comment on it, but from memory they feel similar, with a definite edge to the Blackmagic on rugged build quality. However, neither are a patch on the Odyssey 7Q+.
The wrap-up
Remember the less bulky and even cheaper full HD Blackmagic Video Assist, which I looked at earlier this year and rather liked. This is a great monitor, especially for the Blackmagic Micro Cinema Camera and a bargain recorder using SD cards instead of SSDs. The 4K version however is about more than just adding 4K to the HD model. Certainly the larger screen, Mini XLRs and ability to make 4K editing more fluid, the ability to record lower res proxies from a mirrorless camera make it quite a complete solution at a very very reasonable price for mirrorless camera owners.
Blackmagic's price of $895 for the Video Assist 4K makes it the cheapest 7″ 4K monitor-recorder out there in fact, with the cheapest media costs. 6G-SDI, 10bit HDMI and Mini-XLRs are very nice to have at this price.
Furthermore the dual-SD card slots are unique in the world of 4K ProRes recorders. You'll need fast cards, but still, much less bulky than carrying a bunch of SSDs.
To that end I'm willing to overlook the lack of pro-credentials when it comes to the single SDI input, lack of RAW support and lack of HFR 120p, 240p, etc. I suppose Blackmagic would rather you buy an URSA 4.6K for this rather than a Sony FS5 or a Canon C300 Mark II anyway, and they are very competitive on price in that market too.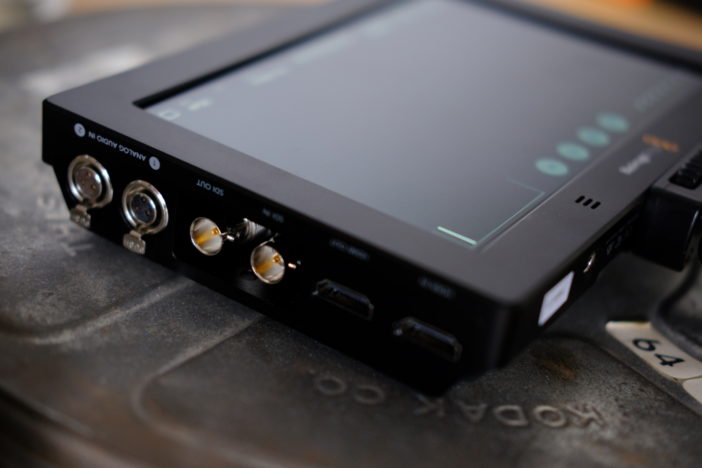 In the end, the conclusion is pretty straight forward…
If you're on a low budget, you have a 1080p camera and don't have any XLR mics, get the standard 5″ Video Assist. (The exception being owners of the original Sony A7S who want the 4K image over HDMI).
If you have a 4K mirrorless camera and need an edit-ready codec for heavier projects which involve multiple colour grading effects like a LUT, RGB curves and other tweaks, also consider the 7″ Video Assist 4K or Odyssey 7Q+. The larger 7″ screen makes critical focus in 4K much easier and ProRes will make your timeline less choppy. You could also use the Video Assist 4K to record lower-resolution proxies.
If you have a 4K mirrorless camera and are willing to pay for the absolute best recorder / monitor out there at the moment, get the Odyssey 7Q+. If you are a pro with a C500, Sony FS or other cinema camera, the logical choice also remains the Odyssey 7Q+.
Pros
Low price
10bit 4K ProRes
Both HDMI or SDI input
Headphone jack and Mini XLR ports embellish lower-end mirrorless cameras with proper audio like GX85
Dual SD card slots
Powers off Canon 5D batteries
12v d-tap input for powering off V-lock battery or A/C
Remote lan control socket
Simple UI
Solid build quality
Quiet fan
Cons
Lacks high end recording features – RAW, high frame rates, Sony FS-RAW and Canon RAW have to drop to YUV picture – and not even 4K or 2K in case of Canon C500)
Screen could do with better anti-reflective coating for visibility in bright light
Heavy and large object compared to a lot of the mirrorless cameras it will be attached to
Recessed SDI jacks make it fiddly to lock the cables
Tiny, fiddly power-on button (wish these were a lockable dial instead – press to unlock, turn to power down)
Availability
The Blackmagic Video Assist 4K is now available at B&H – $895
Convergent Design Odyssey 7Q+ at B&H – $1795
Atomos Shogun Flame at B&H – $1695