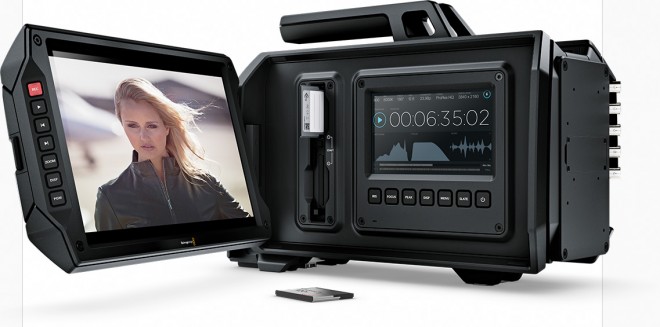 Blackmagic are launching not none, not one but TWO new cameras at NAB 2014. One as you can see packs quite a punch with a quite revolutionary design. The aim of the URSA is to take all the accessories you'd normally rig onto a Blackmagic Cinema Camera and integrate them. That is a sensible idea. However the execution looks to have produced a 7.5KG monster. There's even an HDMI version of the URSA which has no sensor block or lens mount but a cradle on the front for any camera with HDMI output, such as the tiny Sony A7R. That would give you a full frame 4K URSA recording to CFast cards.
The URSA is aimed at a large crew, large scale productions with multiple operators on one camera – and in doing so somewhat does a u-turn on Blackmagic's existing user base. It is disappointing to see so much effort having gone into the URSA but not even histograms or format options in firmware updates for the BMCC, Pocket and Production Camera.
Here is the URSA in HDMI variant –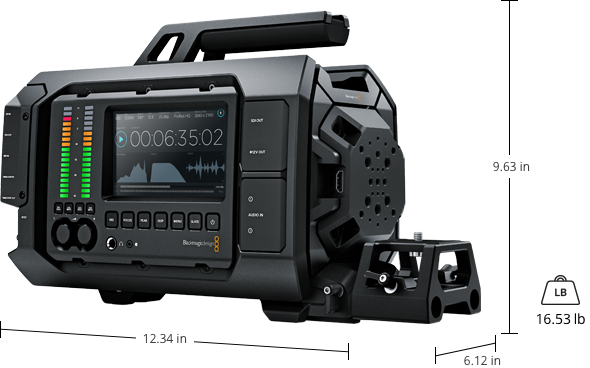 As you can see this monster could sit behind the Sony A7S.
It provides an impressive array of features.
There's no shortage of screens – three of them. Potentially useful for different operators in a crew – focus puller, operator, sound man.
The main screen is articulated and flips out from the side but it is enormous. 10″ and 1920 x 1200. How that effects balance and how much juice it will take from the external v-lock battery remains to be seen. With the usual rig you have freedom to place 7″ monitors anywhere and they are lighter.
There's a further 2 x 5" screens at 800 x 480 and these are touch panels.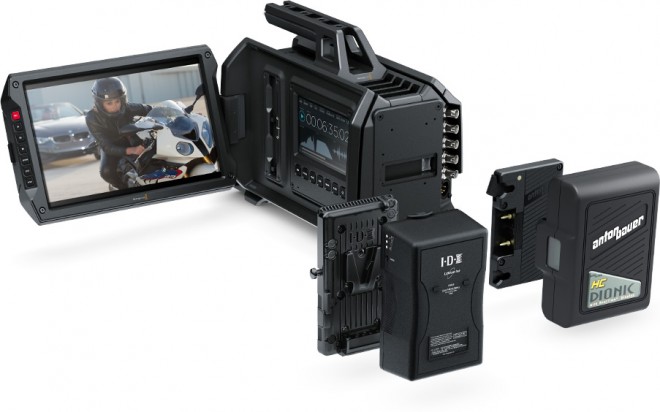 In total the URSA with 4K sensor block (likely the same sensor as featured in the Production Camera) weighs in at 7.50kg. That is even heavier than an Alexa which still comes in under the 7kg mark with viewfinder attached. The URSA compares to around 2kg for the 4K Production Camera.
The question I am asking is why attach 7.5KG to a tiny camera upfront on the HDMI version, when I can simply attach an Atomos Shogun to the A7S and go and shoot?
The crux of it is, this camera is aimed at large scale production and crews. It is aimed at jobs which would usually necessitate tons of gear and an Alexa or Epic. It is aiming to make these jobs simpler and more streamlined, but it does remove some of the flexibility that custom rigging provides.
In terms of the overall market I really do not understand Blackmagic's approach to cameras, it gets stranger by the day.
On the one hand you have the small Pocket Cinema Camera which is the total opposite of the URSA. People had been rigging up this to the hilt and to me that made no sense at all. Blackmagic now comes along not with an upgrade to the Pocket Camera or a much needed firmware update to the Cinema Camera but a camera apparently in full agreement with the people rigging up their small cameras to unnecessarily clunky degrees.
So exactly who does Blackmagic want to target?
Is it the consumer as their affordable prices would suggest? Is it indie filmmakers as their high specs combined with affordable pricing would suggest?
Or is it cornering the broadcast market that Blackmagic are really interested in?
Maybe the Blackmagic of 2012 and 2013 is no longer quite with us.
The URSA is certainly not a single-operator camera, like the previous cameras with their small and light form factors.
[vimeo]http://vimeo.com/91367875[/vimeo]
In the flesh the camera does look nicely designed and well built, with a lot of features in the UI smoothly operating which should have been in firmware updates for the other cameras by now. Histograms, audio levels, all sorts… The quality of the LCDs themselves looks very good.
On CFast cards with the URSA (currently these are around $600 per 60GB) Blackmagic record 4k at ProRes HQ file sizes… 800Mbit/s and 8x larger than 4K on the GH4. This is simply overkill for me and even crews on large productions would prefer to at least have the option for ProRes LT or heavier compression. There is not that option yet.
In terms of frame rates, the 4K sensor that is meant to ship with the EF and PL mount version of the URSA only goes to 30p in 4K but the URSA's beefy processing units can handle up to 100fps – though it's not clear whether this is in 2K or 4K. The idea is that Blackmagic will bring out new sensors in the future and you will simply slot them into the URSA.
Conclusion
I have a sombre prediction for Blackmagic's camera business and it doesn't come from my heart but from logic. I feel their existing Cinema and Pocket Camera user base is lost. These users will switch to the Panasonic GH4 and Sony A7S. The question I have to ask Blackmagic – why go to all this effort of building up a loyal customer base only to not do anything to keep hold of them?
With the URSA I think it certainly bucks a few trends in camera design. It is more like a Sony F3 when the industry had been headed to F5 and Epic style form factors.
I think for 2K the Canon C100 or C300 will still be the go-to camera for production teams and content creators… if they need 4K there's now far more options out there as well.