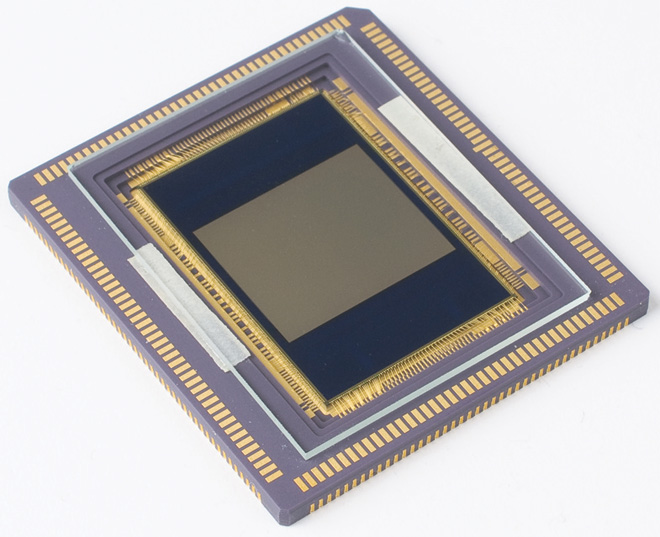 Made in California – there's a sensor that perfectly matches the specification of the Blackmagic Cinema Camera on the market. It is called the BAE Systems sCMOS (designed by silicon valley semiconductors company Fairchild Imaging who were acquired by BAE in 2011).
It is capable of up to 100fps at 2.5K and features a global shutter, a sensor so powerful it is vacuum cooled.
It is not yet known whether higher frame rates (it is also capable of up to 240fps in 720p) or global shutter will be enabled in the final Blackmagic Cinema Camera when it hits the market in July – but I'd say this is unlikely as the image processing ASIC would have to be significantly more expensive to deal with these features.
But what it does show is that the sensor used is an extremely capable one.
Built for industrial imaging (arguably the most demanding type) and broadcast TV, the sensor has the following specs:
2560 x 2160 pixels
6.5µm x 6.5µm pixel size
21 diagonal and same dimensions to the mm as the Blackmagic CMOS.
Readout noise less than 2 electrons
Dynamic range: > 16000:1 (according to Blackmagic this is 13-stops)
Rolling or Global Shutter
The noise and dynamic range specs are rather obscure by photographic and motion picture standards so maybe someone can translate these to see how it compares to Red's latest CMOS sensor in the Scarlet and Epic. The sensor is designed to deliver the image quality benefits of a CCD with the read-out performance of a CMOS.
"Called scientific CMOS, or sCMOS, the technology doesn't have to make the tradeoffs in key performance parameters such as sensitivity, speed, dynamic range, resolution and field of view that today's other imaging detectors do"
Although the sensor was first released on the market back in 2010 it is on the bleeding edge of CMOS and is a very different kind of CMOS to that produced for consumer cameras. It is an industry part rather than something built purely for a profit and battery power economy. It is kept refrigerated due to the high data rates.
Thanks for the EOSHD forum users for pointing this out
Disclaimer: please bear in mind it may still be possible that Blackmagic are using a different sensor or a customised variation on the sCMOS. More info on the sensor technology at Fairchild Imaging here