Few the full Apple Press Release for Mac Pro and 6K Pro XDR Display here.

Apple have been criticised in the past for being too consumer focused. Nobody can accuse them of a watered down approach when it comes to the new Mac Pro. It's an outrageously expensive machine aimed at businesses and Hollywood. The new Mac Pro also features Afterburner, which is a FPGA hardware accelerator card exclusive to Apple. This custom hardware with over a million logic cells, handles no less than 3 streams of 8K ProRes RAW and up to 12 streams of 4K ProRes RAW.
Apple expects significant bulk orders from corporate clients with this new machine. Movie studios, companies like Adobe, Pixar and CGI firms will be top of the list.
Those hoping for a $2k-$3k machine to compete on value for money versus top of the range PCs can forget it.
There's nothing controversial about the first two paragraphs in this article, but the last sentence is proving so. I think Apple have made a bit of a misjudgement in not providing a competitive desktop Mac for the masses and smaller creative studios. YouTubers, single operator pros and power-users had expected something to go beyond the MacBook Pros and iMacs they currently use. There is the iMac Pro, but that's hardly very competitively priced for the spec.
I think Apple will introduce a mid-tier $3000 base-spec of the Mac Pro in time, and until they do – I think they are really going to get it in the neck.
$6000 base spec price, $5000 display, and AMD graphics based around $200 consumer card
The reliance on AMD for graphics in the Mac Pro will also prove controversial. AMD are currently behind Nvidia on cutting edge GPU technology, at least in the the PC world. How the Radeon Pro Vega II GPUs perform in the new Mac Pro (you can have up to two) remains to be seen and the $6k base spec card is incredibly modest – a Radeon Pro 580X. Although a "pro" card it's related to the consumer 580X GPU which currently retails for just $199. What's more, the 2017-vintage Intel CPU Apple have used in the base spec $6k Mac Pro costs just $400.
Controversy also surrounds the new Apple display. A stand-alone but relatively modest upgrade over the iMac 5K display which has been around for years, it remains an LED backlit IPS panel rather than OLED. What's more, it tops out at 6K rather than 8K, and doesn't even come with a stand. The stand is sold separately for an extra $1000, which prompted roars of laughter in the audience at the Apple WWDC presentation. The display itself is $5000!
Of course in the Netflix content production world where $50,000 for a camera is a necessity and when money is simply no object for mission critical professional tools, the new 6K display and Mac Pro presumably do their job.
That least me to ask the question – what will they edit on?
Surely not Final Cut Pro X which is a $200 piece of consumer software?
iMovie perhaps?!
And since Davinci Resolve, Avid, Premiere and more are all cross-platform, wouldn't even a large business look very closely at the cost/benefit of PC rigs vs all-new Mac Pro?
It will be interesting to see how successful the Mac Pro and 6K Pro Display will be at getting Apple (and Mac OS) back into the really high-end pro market. Hopefully more successful than Jobs was with NeXT.
Andrew Reid's Opinion
It's my belief Apple lost a hefty chunk of professional video business since the release of FCPX.
A big architectural overhaul of the NLE was necessary for performance reasons, but the bare bones feature-set on release, lack of built in colour grading tools and LUT support, as well as many other missing basics put a lot of people into Adobe's hands and their evil subscription model. The mind-bending magnetic timeline proved devisive, between those willing to put the time into learning it reaping some dividend, and those who found it instantly off-putting and going to Premiere.
Now, a lot of pros are reconsidering their affair with Adobe, after at least 4 consecutive years of appalling reliability issues. Apple has a real chance to grab the high-end pro video market again, but to do so it will take more than a new Mac Pro and a fancy display with $1k stand. It will take a complete overhaul of FCPX: a truly professional version that doesn't rely on flaky third party plugins for fundamental features or advanced colour grading.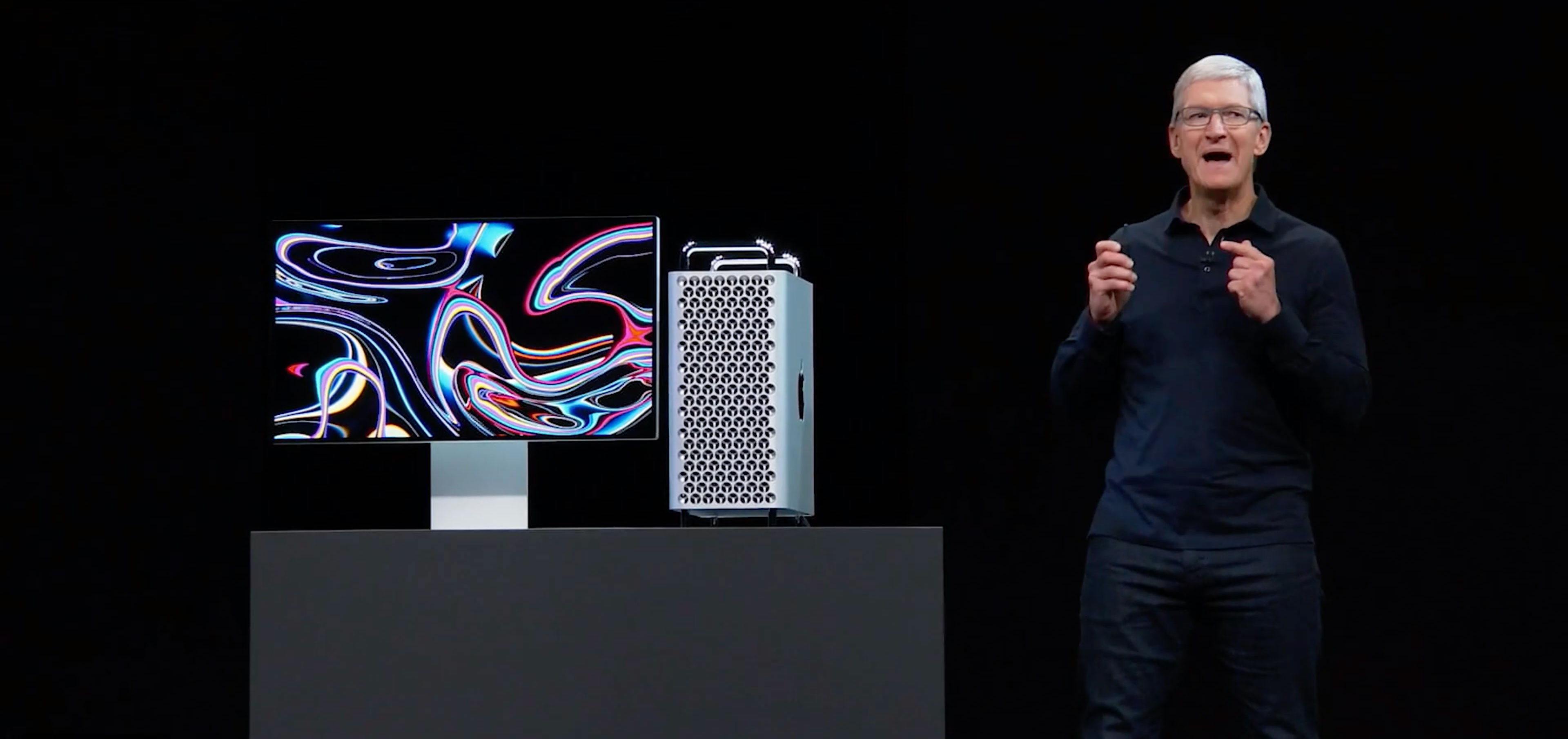 Here Blackmagic comes strongly into play. Davinci Resolve is the only complete package which is actually taking a leap year on year while competitors do their best to go backwards or focus only on editing. Audio for example in Adobe Premiere is frankly a joke.
Moving on from the very highest end of the pro market…
With most DSLR and mirrorless users (indeed anybody who doesn't have a spare $50,000 to spend on a camera) I detect Apple have seriously upset us. People were expecting a prosumer desktop Mac and new Cinema Display at the very least. Spending $6000 on a business workstation computer which year-on-year gets outgunned at a frightening rate on it's way to total obsolescence within 7 years is a nutty thing to do. None of the prosumer market needs a $6000 base-spec desktop Mac which will actually probably end up costing over $12,000 when specced out appropriately for 4K RAW and future-proof enough for 8K.
What we DID need was an alternative to the iMac 5K and iMac Pro with easily upgradable components.
Upgradability is immensely improved on the new Mac Pro compared to the 2013 dustbin concept, with no less than 8 mini PCI Express card slots, two MPX bays, 3 extra full-length PCI Express slots for GPUs and larger cards, while the I/O card is swappable (sat in one extra half-length PCI Express slot). This I/O card however has just two USB 3 ports, two USB C ports (Thunderbolt 3) and a pathetic 3.5mm audio jack.

You would think a pro machine like this would have as many high-end ports as possible and I don't even know why they bothered with the audio jack, when pros use a high-end external DAC for audio.
I think Apple have done a good job pleasing RED users, Adobe and Netflix but what about the rest of us?