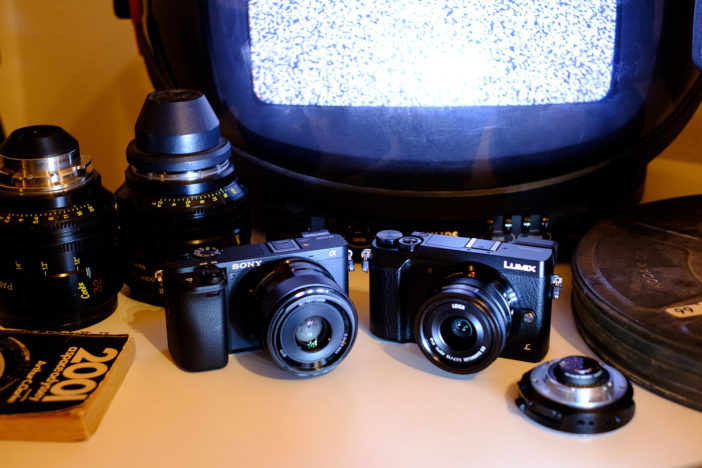 [pullquote]

[/pullquote]
The camera which Panasonic can't decide what to call (GX80 in Europe, GX85 in the US and GX7 Mark II in Japan!) really excites me.
It's the first time that anyone has put 5 axis in-body stabilisation in a 4K camera which exceeds the performance of the stunningly good Olympus 5 axis system.
It's not quite as effective as a gimbal for sweeping handheld movement, but that pain-in-the-ass tripod you can certainly dispense with now, along with that Olympus 1080p mush whilst we're at it.
This is not a full review as such, more the first bite of the cherry kind of article. I'll be splitting things up into shorter but more regular blog posts…
Now even millennials whose idea of reading the internet is to swipe through content in 2 second chunks on the way to work on their f***ing phones can also enjoy the blog.
Ah, no… seems we have a long article again. Oops. Grab a cuppa tea!
Well the GX85 has got me excited, I must admit. There's the price, which is nothing short of incredible especially the body only in the UK and Europe which costs £500. There's the world of Micro Four Thirds lenses that has now matured to such an astonishing extent that most of the disadvantages of the 2x crop are consigned to history. I remember in the GH2 days people used to complain about a lack of fast wide angle. Now we have the stunning SLR Magic 10mm T2.1, Voigtlander 10.5mm F0.95, Olympus 12mm F2 and many more. Then people had a go at the sensor size, saying why the hell would you want to shoot on a 2x crop sensor compared to a 1.5x Super 35mm sensor or 1.0x crop full frame? The Metabones Speed Booster XL 0.64x changed all this, giving APS-H 1.28x crop stills, 1080p and Super 35mm 4K on the GH4.
For all intents and purposes the GX85 is a Super 35mm 4K camera… and more.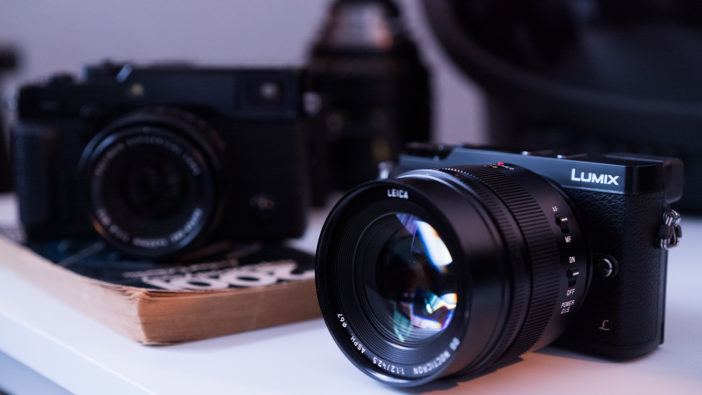 Then people nearly ran out of things to complain about, but took aim at low light especially since the A7S came out. I must admit I was guilty over this myself!
However with the Speed Booster or a fast F1.2 lens the GX85 can shoot comfortably at the brightness equivalent of ISO 12,800 compared to a full frame camera, without noise becoming too much of a problem. (For an upper limit, that's not a bad one).
People were pretty quiet at this point, with just some Sony and Canon users muttering in the background about ergonomics. Why shoot video on a Micro Four Thirds camera, they'd mumble, then you can easily pony up $20,000 from under the couch, thus sorting out all the ergonomic woes preventing filmmakers making films. You'd always want to shoot 4K on a Canon C300 II or Sony FS7, wouldn't you?
David Attenborough
I've been catching up with Zoo Quest in Colour on the BBC recently, the earliest 1950's nature programme from Sir David Attenborough.
In case you've been living under a rock like one of Attenborough's subjects, this guy is the finest producer, presenter and natural history filmmaker on the planet. I am at the moment seeking inspiration from his work, bored as I am of shooting contemporary music videos and street cinematography mood pieces.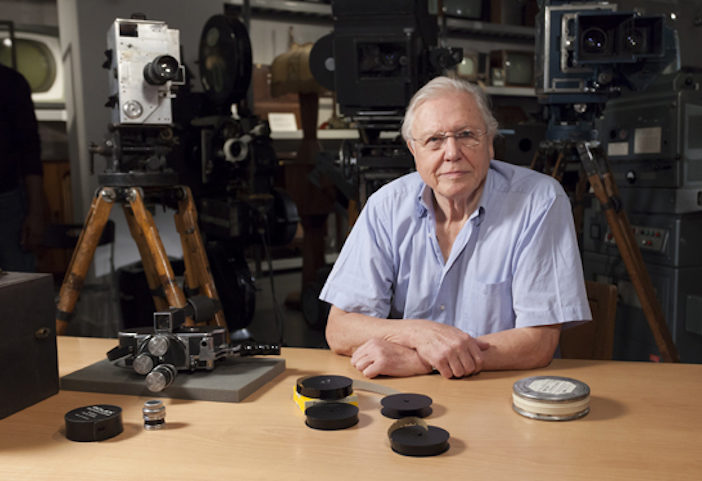 Zoo Quest was to be shot entirely in black and white since the monochrome film stock of the day provided better low light sensitivity. However Attenborough's cunning camera guy (there was only one, and Attenborough did the sound), had other ideas. He'd also brought some very advanced colour Kodak 16mm stock on some of the shoots, which was a brave thing to do considering colour TV didn't exist yet. For obvious reasons 1950's Zoo Quest wasn't transmitted in colour, but then for less obvious reasons the BBC managed to lose the colour footage entirely, only discovering it a box last year.
Finally remastered from the Kodak stock, the footage shot with Kern Paillard lenses on a 16mm Bolex camera (interesting article here) has an astoundingly cinematic quality considering the decade it comes from and it reminds me so much of the overall 'look' and 'utility' of Micro Four Thirds. The whole purpose of this system… A light camera you can sling on your shoulder, go travelling with and shoot film-like footage with. You can even use the same Kern Paillard c-mount lenses on the GX85 to really get into the spirit of things.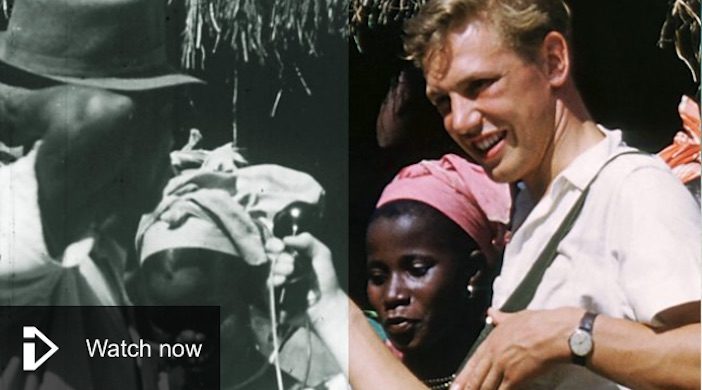 Most of the time the BBC team had to carry their gear on foot through some of the most inhospitable regions on Earth, prioritising all that colour stock over carrying more food, even in the knowledge that it wouldn't be transmitted in colour. Another luxury Attenborough's cameraman didn't have when he was making those early genre defining films which now rank as some of the most important natural history documentaries ever made, was any kind of image stabilisation or sound sync.
Well, the sound sync unfortunately remains a problem 60 years later thanks to this silly segmenting the market by removing headphone and microphone jacks from lower-end models, which sadly is the case with the GX85/80, but at least the stabilisation they have sorted!
Anyway the point is, if David Attenborough's Bolex adventures still stand up today, there's absolutely no reason you need to drop $15,000 on a Canon C300 II for the ergonomics. A camera of this size would scare away all the interesting wildlife, frighten the native tribes and get you a spear in your back from the local Canon-hating EOSHD tribe that lives in Papua New Guinea (true fact).
What could be more simple than a small box you hold in your hand, reeling off ultra steady shot after steady shot in 4K, with direct physical controls and twin dials assisting very swift changes in exposure, focus and white balance? No ND filter? So what? Use the shutter speed. There's far too much perfectionism, comfort and margin going on in the heads of today's camera operators. Just be bold, find some great subjects and go and film them with a GX85.
None of the ergonomic ugliness of the Sony A7 series are present on the Panasonic either. It is the fastest shot getter in the west. Tidy menus, responsive controls all well positioned, very sharp punch-in for manual focus. It's small too. The GX85 is only a little larger than an LX100, charges conveniently over USB on the go and doesn't scrimp too much on the quality of the EVF.
You can XLR audio inputs with the Blackmagic View Assist 4K
So they left the mic jack off? So what?
One thing they surprisingly did NOT leave off the GX85 is a clean uncompressed 4K HDMI output.
I've been trying out the new Blackmagic View Assist 4K with the GX85/80, it works superbly with native 4K 30p, 25p and 24p from the camera, has a great audio feature too – twin XLR jacks. These are of the mini-XLR type, with a supplied cable adapter to full size XLR. These inputs mean you can rig your professional mic to the GX85 and have sync, not to mention 4K ProRes HQ image quality. Suddenly the lack of 2.5mm audio jack and crappy preamps don't seem to matter much.
Here's a side profile shot of the XLR ports (I've not rigged it up to the camera yet) on the View Assist 4K: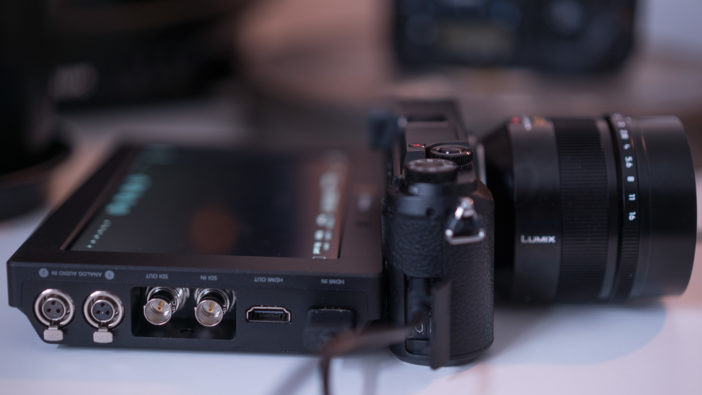 But there's more… the camera's new processor can record 4K to the SD card internally at 100Mbit/s AS WELL AS outputting the full 4K 422 feed to an external recorder for high bitrate ProRes at the same time. The recent G7 did not do simultaneous dual-stream 4K recording (and I thought it was generous of Panasonic to put a live 4K output on that at all!) This is unheard of in a 4K camera costing £500. Not sure if it is 8bit or 10bit yet though. I suspect 8bit but it looks damn nice, just like the GH4's 10bit.
It's worth noting however – that when connected to an HDMI recorder or monitor, the sensor must always be in 4K video mode, so when you switch to stills mode the field of view remains 2.2x for 4K video, rather than 2.0x crop for stills and AF runs at the speed it does when recording 4K video, rather than the lightning quick speed it operates at during live-view for stills. That's because the sensor must do a full pixel readout for the 4K HDMI feed all the time, rather than the super fast 240fps sampling mode for AF and live-view when no HDMI device is connected.
Dual IS mode
The Panasonic 5 axis stabilisation system performs better than the Sony equivalent, especially on sweeping handheld pans, even though the technology is essentially very similar. The smaller sensor in the GX85 has move room to move around, whereas the heavier and larger full frame sensor in the A7R II butts right up against the physical constraints of E-mount. Panasonic's new system (forget the first effort on the GX8) is right up there with the famed Olympus cameras, like the E-M1 and E-M5 Mark II, but in glorious 4K.
What's more with Panasonic lenses that feature the latest firmware and Power OIS, stabilisation gets even better, surpassing the performance of the Olympus system. Now you may think that now you have in-body stabilisation, that isn't needed. But it turns out this still has a role to play on the GX85/80.
Dual IS mode uses a combination of sensor and optical stabilisation. Optical elements are better at correcting for yaw (twisting side-to-side around a vertical axis) and pitch (tilting up or down). The sensor can do this too but you get some distortion and the sensor must correct for 3 more axis – Y, X and roll (which a lens can't do). Here is where the system is far superior to just Panasonic OIS or Canon IS on their own. Optical image stabilisation does not stabilise up/down (Y) movement, sideways jitter (X) or rotation (roll). It's the whole 5 axis stabilisation that gives such a locked down handheld shot.
On top of all this you can choose to enable electronic stabilisation (EIS) in video mode too. However so good is the 5 axis system, you simply don't need to. There's no crop penalty for using the 5 axis stabilisation without EIS enabled either.
So we have 5 axis stabilisation on the sensor with any lens.
We have 2 axis on the lens + 3 axis on the sensor for 5 axis with even better performance.
Consequently we have the best stabilisation system on the planet at the time of writing.
The Nocticron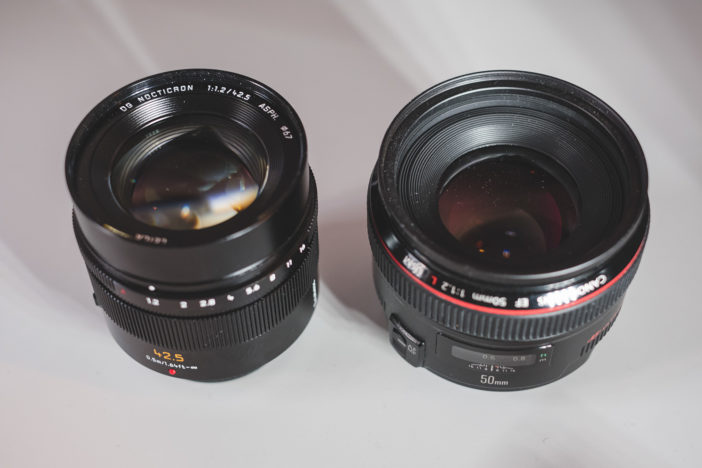 One of the best lenses to take advantage of 4K video and the amazing Dual IS stabilisation is the Nocticron 42.5MM F1.2.
Indeed I'm having a hard time thinking of another F1.2 prime lens with optical image stabilisation synced with in-body stabilisation!
It's an enormous aperture 85mm equivalent prime without the weight or sluggish focus of one. It's also a LOT sharper than the Canon 50mm F1.2L and a LOT smaller & lighter than the 85mm F1.2L.
Most of the time I think Leica are just adding their know-how and branding to Panasonic's Leica lenses and that's certainly true.
However with this lens they have done something different – they have added the Leica look as well, and not just any old Leica look.
This lens is the first Micro Four Thirds optic to inherit the look of the $11,000 Noctilux.
The distinctive bokeh, swirl and uncanny focus fall off, magical out of focus rendering, superb contrast wide open and an ultra large aperture. None of the actual full frame F1.4 or F2.0 Leica M primes, many of them costing double, triple or even quadruple have that same distinctive 'Nocti' look.
Even the crappiest fountain in Berlin looks great in Nocti-vision: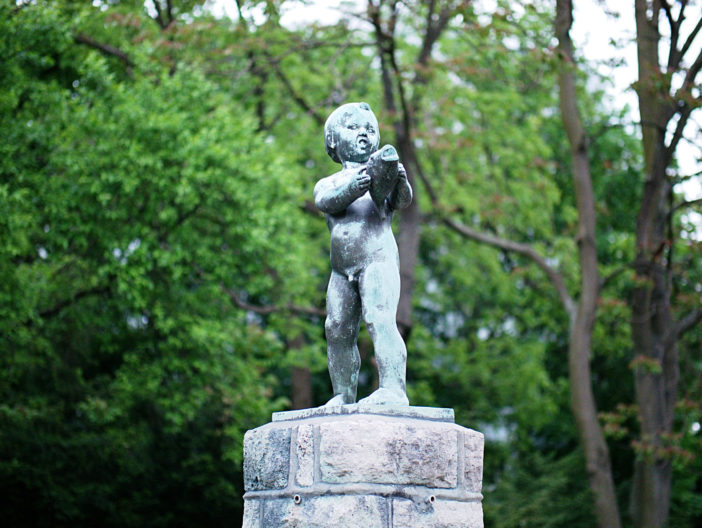 It is literally like being able to reduce the price of the unobtainable $11,000 Noctilux to a $1300 street price and adding the best stabilisation system in the world, along with pro-DSLR speed AF.
No, it isn't a full frame lens. No, that doesn't matter, because it has the same look as the Noctilux and when it doesn't, it's your fault.
Furthermore, this lens marries the speed and convenience of AF and stabilisation with a look that would otherwise be a case of slow-as-hell manual focus and slow-as-hell tripod fiddling. To simply walk into a beautiful buddhist temple in Japan and start shooting cinematic footage from the palm of the hand that looks like a moving Leica M still makes the high price of this lens worth it, especially when you take into consideration how cheap the GX85's body is.
I've compared the lens to my favourite fast 85mm full frame lenses – good competition though they are, neither of them could give me the Noctilux-style of rendering. The Canon 85mm F1.2L is also MUCH more prone to flare and although the image truly is a thing of beauty on the A7S II with this lens, the stabilisation system is less effective, the AF is a joke and the sheer bulk of it makes for a tiresome handheld shoot. The Zeiss 85mm F1.4 ZA is also a truly top class full frame lens as is the Batis 85mm F1.8, both much less prone to flare than the Canon as well as being much lighter and less bulky. However again the same situation – neither have as good AF or stabilisation performance of the Nocticron on the GX85.
Neither are they very much cheaper!
In fact the Batis and A7S II combo will set you back over $4000 whereas the GX85 and Nocticron together cost half that at just under $2000.
I even prefer this lens to the Voitglander 42.5mm F0.95. The Nocticron is far sharper wide open, punchier contrast, super-fast AF and has more of the authentic Noctilux rendering.
You can touch the screen whilst recording to rack focus. It works well but not quite as well as Dual Pixel AF on the 1D X Mark II since there's a millisecond of a shimmer at the end of the rack. Contrast detect AF doesn't yet eliminate hunting.
Nevertheless if you don't feel like investing so much money in a Micro Four Thirds lens which can't be used on any other system, Canon EF lenses are the way to go. On the Metabones Speed Booster XL 0.64x the Canon 50mm F1.2L turns into a particularly nice 32mm F0.768. It looks the same or even slightly sharper than it does wide open on a Canon C300 Mark II, but the Panasonic GX85 costs £500.
EF lens compatibility
I've been trying quite a few non-Micro Four Thirds lenses on the GX85.
They roughly fall into 2 performance categories. Magic, completely broken and somewhat broken.
Magic
Sigma 18-35mm F1.8 (this in particular works beautifully and looks equally beautiful)
Sigma 20mm F1.4
Canon 50mm F1.2L
Completely broken

Canon 100mm F2.8L IS
Tamron 85mm F1.8 OIS (works backwards!)
Various others (still testing)
Somewhat broken
Canon 35mm F2.0 IS
Unsurprisingly since the GX85 hasn't been around for much more than a week, the latest Metabones firmware has trouble marrying the in-body stabilisation system to the IS on the lens. They seem to both operate and ignore each other, leading to problems. If you try to turn off the IS on the Canon lens itself, it turns stabilisation off completely in-camera too and the options are greyed out in the menus.
Some lenses like the Sigma 50-100mm F1.8 seem to be adapter firmware dependant. I have updated my Speed Booster XL to version 2.2, the latest. AF works perfectly with the Sigma 50-100mm F1.8 on that but stabilisation switches off. Swap this lens back to the older Speed Booster adapter running version 0.5 and in-body stabilisation works (even when zooming) but AF doesn't!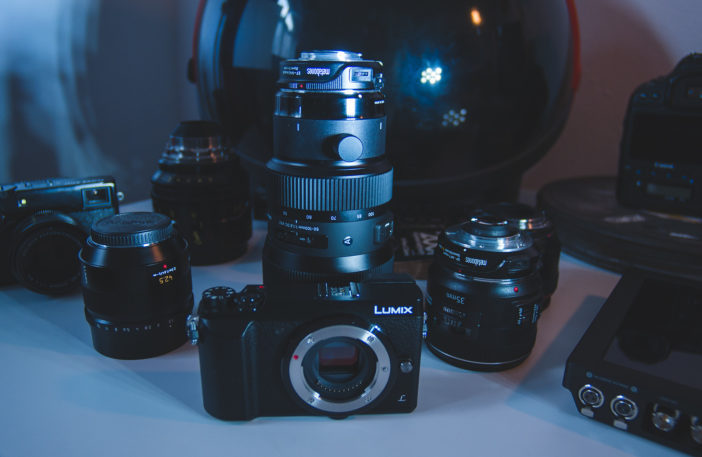 The Canon 100mm F2.8L Macro with Ultrasonic Image Stabilisation is a bit jittery as is the Canon 35mm F2.0 IS so something isn't right with those, but I am sure once or twice I have seen the 35mm work ok. Still, I'd avoid using it for now on the GX85.
Stabilisation on the new Tamron 85mm F1.8 for full frame Canon bodies seems to compensate for movement in reverse, so strike that one off the list for now too.
Hopefully Metabones will address all these issues and more with future firmware updates.
With non-Canon manual lenses which adapt non-electronically, or native manual lenses like the Voigtlander 25mm F0.95 or SLR Magic 10mm T2.1 all you have to do is dial-in the focal length of the lens into the camera menu and they work in full 5 axis mode using the in-body stabilisation.
Bargain bomb
I used to be resigned to wait until Photokina 2016 for a 4K shooting Olympus E-M1 Mark II with 5 axis IBIS, low and behold Panasonic have given me exactly that for £500 now.
I'll look into video quality next on EOSHD. It's good.
At first glance it seems very similar to the GH4, even slightly less of a sensor crop in 4K mode.
There's no CineLikeD or V-LOG but colour in the Standard picture profile is very pleasing, better than Sony's non-LOG profiles and no fuss in post.
In low-light ISO 6400 is perfectly usable and the Speed Booster will mean you can drop that to 3200 versus a normal camera at the same aperture.
The 4K codec is 100Mbit/s 30/25/24p so same as the GH4, however the 1080p codec is at a lower bitrate. 28Mbit/s in 60p and 20Mbit/s in 24p. This makes for some nice small files but there's no ALL-I or high bitrate option like on the GH4. Just shoot 4K for best quality 1080p delivery, or an external recorder.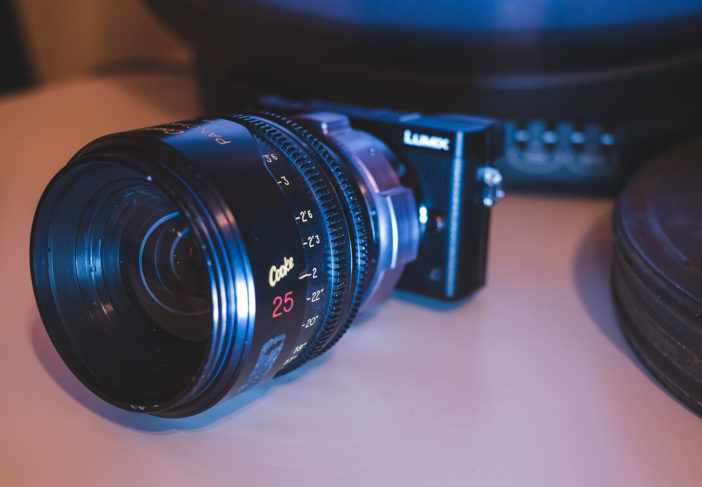 This is also the first time I've been able to shoot 4K resolution with my Cooke PL lenses handheld with 5 axis stabilisation. I am pretty happy with that too!
More on the GX85 soon.