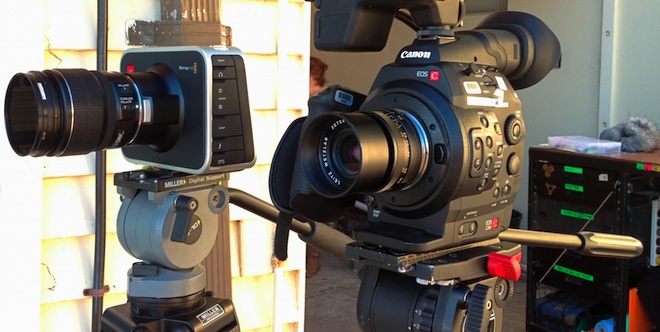 Blackmagic Cinema Camera – meet Canon C300. Pic by BMD tester John Brawley on Twitter
Blackmagic paid a visit to British pro video camera dealer CVP this week. CVP are the people I have my pre-order with and the expected shipping date of the first few units is fast approaching.
Here's what CVP had to report about the 2.5K raw shooting marvel.
Heavier than a DSLR
The weight of your Blackmagic rig especially when the external power supply is taken into account will be pretty hefty. This is good for stability but I think DSLRs will still be more convenient for certain shoots where weight is a factor. Compared to an Epic, Scarlet or Alexa however the BMD is still much lighter.
"This morning Craig from Blackmagic popped in to the CVP Midlands showroom in order to let us have a quick 'play' with a prototype of their Cinema Camera… It's a fairly chunky unit that weighs in at a hefty 1.8Kg for the body only. At this weight it's far heavier than an SLR and the lack of any natural handgrip position means that in standard form it's really suitable for tripod mount use only.  BMD are offering an optional pair of 'cow horn' style handgrips which will facilitate comfortable handheld use, however with both hands on the grips any kind of on-shot camera adjustments will be impossible without a focus puller and / or a (yet to be invented) BMD Cinema Camera remote control system!"
It can do low light
Raw (and even ProRes compared to highly compressed DSLR footage) allows you to bring up a hell of a lot of shadow detail. So even with a sensor rated at a native ISO of 400 relative to the native ISO of 800 on a DSLR or FS100, this is not so much of a problem. With gain applied to reach ISO 1600 and a fast aperture lens, I am sure the Blackmagic Cinema Camera will look great in low natural light conditions. Here's what CVP had to say:
"The Cinema Camera's native sensitivity is a healthy ISO400 and at f/2.8 it delivered fully exposed images in our fairly dimly lit studio set.  Sensitivity can be increased to ISO800 and 1600 for lower light environments and the increase in noise was minimal.  Adjusting the EF lens' iris is easy using the |< and >| buttons, however it is stepped, so for precise or in-shot iris adjustment you'll need a proper manual iris lens."
Peaking and 5″ 800 x 400 seem very usable
Although the screen resolution is not up there with a Small HD DP-6 and you cannot expect a retina level pixel pitch, the good news is that it is decent to use and you get peaking to assist with manual focus. What about a punch in focus assist? The camera is supplied with a hood for shooting outdoors but you'll probably need an external EVF for offsetting on a rig and shooting in very bright sunlight. What could be awkward is changing touch screen settings when shoulder mounted. The lack of physical buttons means you cannot twiddle nobs or buttons blindly like you can on a DSLR.
"The camera is equipped with a peaking function for accurate focusing – This is activated by a physical 'focus' button and it greatly facilitates accurate determination of the focus point, even with the integrated monitor…  And on the subject of that monitor I was pleasantly surprised with its image quality and also the clarity and ease of operation of the touch screen menu system.  Whilst only a limited number of set up parameters could be changed on the prototype , where adjustments could be made it was a cinch!"
When will it be in stock?
Blackmagic are still saying July but the camera is still in the prototype stage. That is a very short amount of time to ramp up production to satisfy demand, so CVP say that the camera looks like it will be trickled out slowly on a first come first served basis. I'd say the chances of it being ready in the next 2 weeks is 50-50.
"Of course the number 1 question we asked is "When do we get our stock" and the absolute truth of the matter is that Blackmagic are un-reassuringly vague on this point, saying merely that deliveries will start in July BUT at the moment precise dates and delivery quantities can't be confirmed! From that we presume that initial deliveries may be constrained, so  we may still be fulfilling customer back-orders for some time…
So we apologise in advance to those customers who are understandably eager to get their cameras – When the Cinema Camera was announced on day one of NAB CVP ordered more than enough units to cover all orders to date and we've ordered more since, so we, and hence our customers are at the front of the queue for delivery – However it's clearly going to be a frustrating wait for the vast majority and our best advice is that if you want one of these cameras and haven't ordered it yet then do so without further delay as orders will be fulfilled in order of placement and we realistically don't expect to see it in 'free stock' for some time!"
I am more excited about the Blackmagic Cinema Camera than I have been about any camera for a long long time. It is great to see a new company challenging the might of Red, Arri, Sony and Canon especially at such an accessible price point (accessible is something quickly forgotten by the film industry and the corporate 'added value' strategies going on at Canon, etc.)
I don't have any concerns at the moment about the image quality of the Blackmagic Cinema Camera, I think it will be great. What I am less sure about about is the lack of physical buttons, the lack of a grip, lack of mounting points, the weight and the internal battery. Though the design and form factor breaks the mould for a cinema camera, I'd have liked to have seen a battery compartment and a few more physical buttons just to make on-location shooting a little less of a headache. A run and gun camera this is not! A studio / narrative filmmaking marvel for $3000 it is.
Further reading – CVP hands-on with the Blackmagic Cinema Camera