The eagle eyed amongst you may have noticed I've been taking over a month off from EOSHD. Here are my views on what happened whilst I was away.
I am selling up…
After over 5 years of EOSHD I must admit to needing a break from gear. I'm going to completely wipe the slate clean later this month. I will clean out my studio and move. I am selling almost everything I have, but rather than putting it on eBay I will be offering it to EOSHD readers first. Almost everything is going including my Sony A7R II and Canon 1D C. Email me now if you're interested.
EOSHD will continue, but more like in the earlier days. A focus on an artistic approach to cheap gear and lenses. What is the point of me buying a $8k camera and as a result never being interested in the next GH5 or cheap $600 killer camera that kicks way above its station?
So although I won't be buying a Raven or Sony FS5 then, I will continue to offer my views on the higher end kit at EOSHD…
The Martian was shot on RED Dragon; Dragon now = $6000 Raven
The RED Raven and Sony FS5 are a lot of camera for $6k. The FS5 especially, because it is ready to shoot at $6k. The Raven is really a $10k camera. The $6K brain alone does not have any input or outputs, cannot be shot with at all. It is more an eye catching marketing price, in keeping with their modular design concept. The trump card however is it has Dragon's sensor. Blockbuster "The Martian" A-camera quality for $10k! You can't get an Alexa chip or a Sony F65 imager in a camera under $10k can you?! It isn't quite "4K for all" but it is at least "4K raw and slow-mo for C300 users who have neither".
Sony FS5 is spiritual FS100 successor and in my opinion better than the more expensive FS7
Sony admit the FS5 is aimed partly at "DSLR shooters" (or at least the ones prepared to spend $6k!) Of course it is also aimed at the Canon C100 crowd. It's the spiritual successor to the FS100 and I am mega excited about it but I can't help feeling the A7S II at half the price is best for my particular needs, especially in low light. With the A7S II I'm eagerly looking forward to see if rolling shutter is improved and whether S-LOG 3 brings colour closer to the 1D C.
The FS5 does appeal to me more than the FS7 though and not just because of the price. It has that very clever electronic ND and I was really surprised to see that the body is consumer camera sized, just like the FS100 was. Accordingly, the boot time has been reduced to around 2 seconds and the menus are much snappier. The FS5 isn't aimed at DSLR shooters in the sense that consumers will buy of course, but it is aimed at anybody remotely serious still using a Canon or Nikon DSLR in commercial work.
Eric Naso does a great job of summarising the FS5's specs here

It all begs the question, do RED and Sony risk erasing the barrier between high end consumer gear and the professional stuff altogether? What if they start to do cameras like Raven and FS5 at $2999? I can see the day coming.
At this point it is worth remembering that price is not the only differentiating factor between consumer and professional hardware. Look at the Blackmagic Pocket Cinema Camera. Even though it once sold for a rock bottom $700 alongside mirrorless cameras in high street photo stores, it was never intended as a consumer camera. Huge file sizes, manual focus, no high-res stills and very short battery life. The people who bought into it were artists, hobbyists and professionals. Different market.
My point is that price alone does not dictate your market. What price does dictate is access. That's a good thing. The other positive to this aggressive pricing is it raises the bar for pros who distinguish their services by expensive gear alone. Those who rely on a Red Dragon getting them work, well they are not so special now are they? Because there are now hordes more people using sub $10k cameras (FS7, FS5, KineMINI, URSA Mini 4.6K and soon Raven) with similar capabilities. Great to see.

The iPhone 6S is 4K for all – A mini review
4K on the iPhone 6S is a great leap in quality that maybe 1% of the people who use it will notice.
It could also be said that when the masses DO notice 4K quality, they don't even like it. Manufacturers have forgotten that technical glories such as 4K goes through a very weird processor after it is sent to the screen. Us.
Let's be clear, EOSHD is mainly a blog about gear and technology and 4K is definitely a step up in technology, but the creative side of the megapixel race has to be questioned. Does 4K cinema projection break the spell like HFR does? On everything I've seen so far, it has. The exception was when I watched Amy screened in 4K (the new Amy Winehouse documentary by Asif Kapadia). Ironically this was 90% Mini DV footage and standard definition TV material from the last decade, so was soft as hell! I loved the film, incredibly moving. Manufacturers should seriously be asking themselves – does 'too much detail' distract?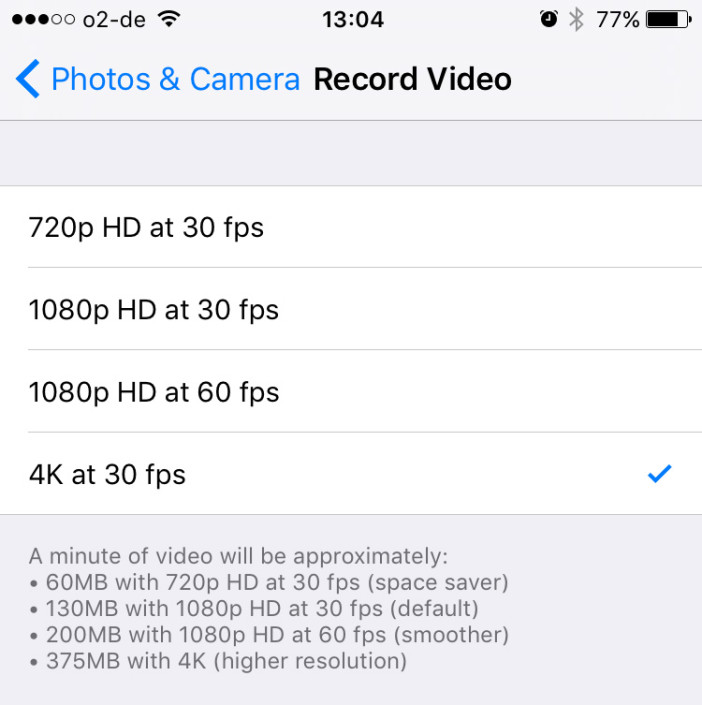 Hopefully people will get used to 4K and forget about all that detail popping off the screen eventually and we will find an interesting creative use for it (beyond cropping to 1080p!)
So to the iPhone 6S… By default on the new iPhone camera, 4K capture is turned off. The setting is buried deep in the menu. The default bitrate is 50Mbit/s and the codec is pretty solid but captures at a very digital looking 30p. With an app like Filmic Pro it will go up to 150Mbit/s in 24p. I find the quality to be better than my Samsung Galaxy Edge which does 4K with Android. The iPhone 6S is better in low light too.
The 4K videos look great on the screen and a nice touch is you can pinch-zoom 4K movies like a photo whilst they play (with little noticeable pixilation). However with the current state of Facebook's default video quality (mushy as hell, barely standard definition 480p) how far off are we until the internet masses are watching user generated content from smartphones in 4K on massive 4K displays? Bear in mind most cinema nerds aren't even watching 4K content in their expensive home cinema suites yet.
First we have to wait until H.265 and LTE are commonplace. Then we have to wait for people to care.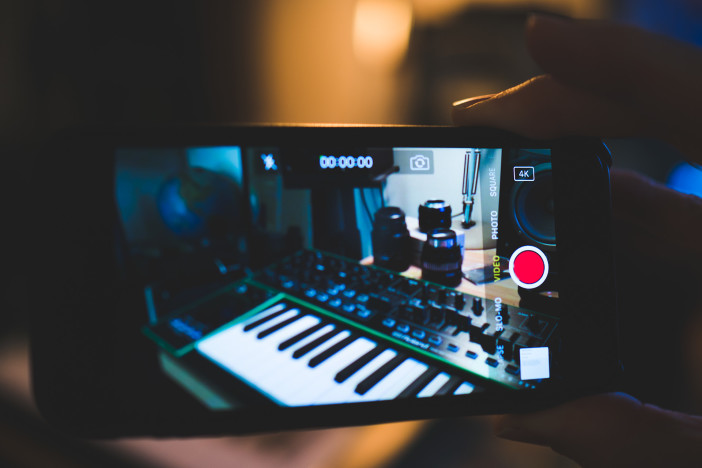 One thing I do miss about the iPhone 6S is the 5S. Ergonomics are not Jony Ive's strongest suite, aesthetics are. Yet he's been put in charge at Apple of many areas where ergonomics and aesthetics cross over. He says the 1mm extension of the lens from the back casing was "pragmatic"… I'd say the slippery alloy back and rounded case edges needed a little bit more of that pragmatism, for the benefit of camera handling. Steve Jobs was right when he said that any larger than the iPhone 5S and you can't comfortably operate the phone or camera one handed. The iPhone 6S is too large. The 6S Plus is ridiculously too large. Apple should introduce a third 6S Mini model to stop people dropping it when trying to take a photo. A case helps make the phone grippier, but then you lose any claim to aesthetic niceness and you still can't reach the upper left corner of the screen with your thumb. The 5S was the perfect size to get one hand around when using it extensively as a camera. The angular edges of the phone meant it stayed in your hand even without a case.
New mirrorless Canon
Canon's executives have long teased a new mirrorless camera. After the EOS M3, which I reviewed on EOSHD here (but it didn't even launch in the US initially) now Canon bring us the cheap M10 and it is a slightly smaller version of the first effort, the M1, which didn't sell. I just don't see the logic in it.
On the other hand I have really found myself enjoying the Nikon J5 (surprisingly!) – the AF is stunning on it and it is like having an interchangeable lens mount on a Sony RX100, so that is the small basic mirrorless camera that I recommend at the moment. Video quality is excellent on it (review is coming soon).
The real question is when am I going to reach into my pocket and give Canon some money. I haven't done that for ages and bought my 1D C used.
Again Nikon are the ones to choose if you're on a budget. The Nikon D5500 offers far superior video quality and features over the much more expensive Canon 7D Mark II for example and if you need 4K along with a more adaptable lens mount there's the Panasonic G7.