Sony have announced a huge step up in specs for their A6000 series with the latest model, the A6300. With a completely new sensor, the camera now does a 6K full pixel readout to produce 'perfect' oversampled 4K video.
For $998 at B&H Photo & Video this is a superb bargain of a camera.
It seems the Samsung NX1 is now no longer alone in having a rather impressive sensor readout in a tiny affordable camera body.
With a Super 35mm size sensor (becomes full frame with the use of Metabones Speed Booster), the A6300 shoots 4K video internally to XAVC-S at 100Mbit.
The new sensor also features phase detect AF pixels (like the 1D X Mark II). During movie shooting the AF system reacts quicker than ever before. Also the A6300 has options for tracking sensitivity and speed, similar to the Dual Pixel AF options on a Canon body.
There's no crop of the sensor in 4K mode.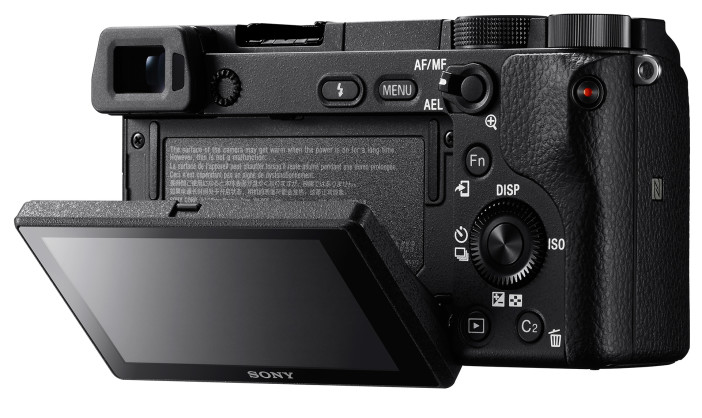 Here's what Sony have to say about the new AF capabilities of this camera –
"Sony's new α6300 camera builds upon the acclaimed 4D FOCUS performance of the α6000 model, utilising a Fast Hybrid AF system that combines high-speed phase detection AF with extremely accurate contrast AF and allows it to capture and lock on to moving subjects in as little as 0.05 seconds. The camera's High-density Tracking AF technology positions 425 phase detection AF points over nearly the entire field of view, allowing it to accurately focus throughout a wide area – even on small, fast objects that other cameras would fail to recognise."

"In addition to the extensive AF coverage, the α6300 debuts a new high-density tracking AF technology that significantly improves subject detection and tracking performance. This new technology can quickly activate a large number of AF points surrounding a subject – approximately 7.5 times more density than the α6000 – and intelligently adjust them in accordance with the subject's motion. This is a particularly powerful feature when used with high-speed 11 fps continuous shooting or the new 8 fps continuous live-view mode, which provides 100% accurate framing for fast moving subjects on the LCD screen or viewfinder."
https://www.youtube.com/watch?v=6rv9a1g5iu8
The A6300 also records an impressive 1080/120fps continuous at 100Mbit/s although no information of if this is a crop or Super 35mm image is yet available. Hopefully this mode will have minimal moire too. If the slow-mo isn't a centre-scan of the sensor then whether it will have moire or not is dependant on if the readout of the sensor uses a pixel mixture (advanced form of pixel binning), a heavier form of pixel binning or line skipping (the latter being the worst case scenario).
Also featured is S-LOG 3. Sony are promising approximately 14 stop dynamic range in S-LOG 3 along with S-Gamut 3 for a wider colour space, so as standard for  a modern Sony body. Thankfully Sony have put the Gamma Display Assist in there too, just like on the A7S II. Zebra and peaking are enhanced and the camera has time code as well as an uncompressed 4K HDMI output.
Even though this is a small camera it seems to have almost everything – apart from the in-body stabilisation of the full frame A7 cameras.
It has a great quality 2.4m dot EVF and the articulated screen has certainly been beefed up compared to the A6000 in terms of construction.
On the audio side the A6300 supports Sony's XLR adapter unit.
Maximum ISO in movie mode is 25,600.
The camera is due to hit the shops in March 2016 for $1000. In Europe the price will be 1250 euros. Although certainly a higher price than the A6000 was at launch, it is more than justified by the huge leap in specs. The Sony A6300 looks to be the best value for money 4K body yet and a great new option for anyone shooting with the Samsung NX1 or Panasonic GH4 as well as those who have not made the jump to the $3k full frame Sony A7 series cameras for cost reasons.