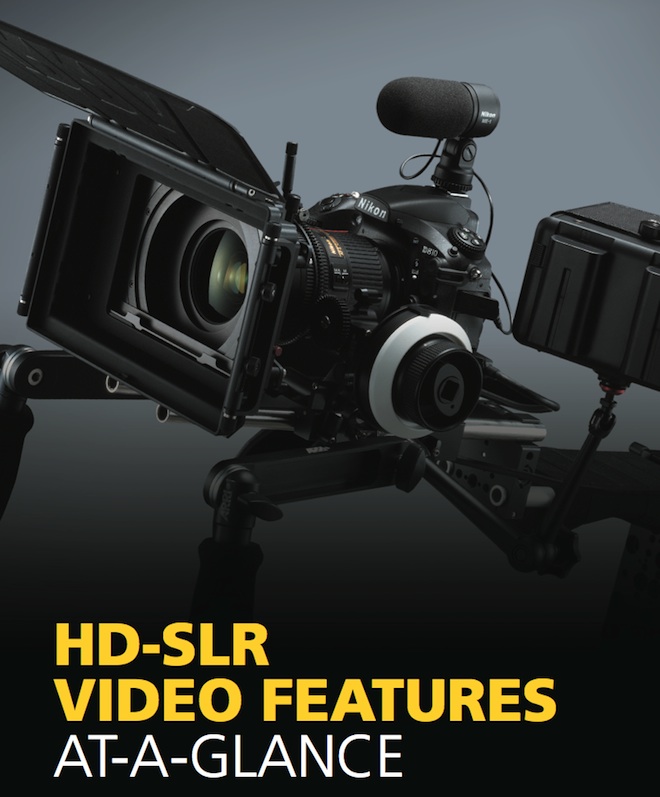 Along with such disappointing video quality on both of Nikon's flagship models the D4S and D810, it's suggested by some that Nikon do not care about video on DSLRs because it is a small market. They make stills cameras! Video is a tiny niche. And so it goes, on and on (from people on photography forums and not actual working pros)…
So I was surprised to see 34 mentions of "video", 14 mentions of "cinema" and 10 mentions of "broadcast" in Nikon's official press release for the D810.
That compares to just 18 mentions of "photographer", 4 mentions of "photography" and zero mention at all of the words "still" or "stills" in the entire release.
With Sony designing the A7S around video and a new sensor designed for 4K video, Panasonic with the 4K GH4 and now Nikon and their marketing campaign but no 4K maybe it is time to reassess how stills camera manufacturers see the video market.
The press release begins by calling the camera an "HD-SLR", delivering a "TRUE CINEMATIC EXPERIENCE" and ends by announcing "two kits designed for videographers and filmmakers". These kits contain a set of fast primes, Tiffen ND filters and a stereo mic and the Atomos Ninja 2 external recorder.
Then directly under that HD-SLR tittle comes the following sub-heading –
"POWERFUL VIDEO FEATURES and enhanced performance, the new Nikon D810 is the essential asset for pro photo and VIDEO APPLICATIONS"
The very first line of the main text says…
"Today, Nikon Inc. announced the D810, the next benchmark in D-SLR image quality for professional photographers and CINEMATOGRAPHERS"
Almost every mention of photography is counter balanced with a mention of video in the release. In fact in the first paragraph alone there are SIX more references to video –
"The D810 delivers enhanced response and performance for a wide variety of photographic, cinematic (1) and broadcast (2) disciplines. Whether photographing weddings, fashion or landscapes, shooting documentary (3)-style cinema (4) or video (5) for broadcast (6), this is the one D-SLR that provides the ultimate in versatility and capability."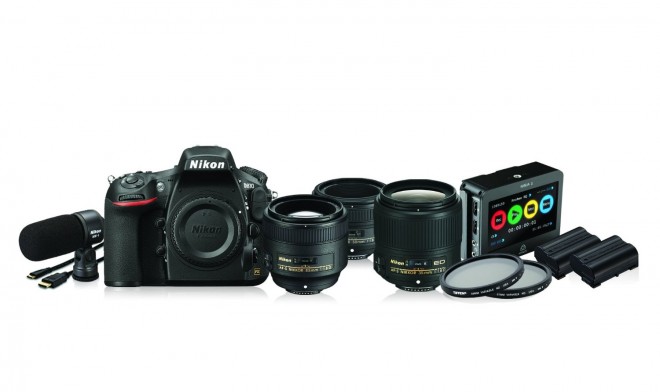 Above: Nikon are offering an official D810 "filmmakers kit"
From the horse's mouth, Masahiro Horie of Nikon then states –
"The D810 becomes a powerful storytelling tool to create images and broadcast-quality video with unprecedented detail"
Whilst still in the top fold of the press release, Nikon mention eleven video features highlighted with bullet points, including such amazing features as the ability to change aperture while recording.
And it doesn't stop there, they want to sell us the lenses as well!
"NIKKOR lenses: Cinematographers and filmmakers are supported with more than 80 NIKKOR lenses, many of which are a popular choice for cinema applications because of their brilliant optical quality and characteristics."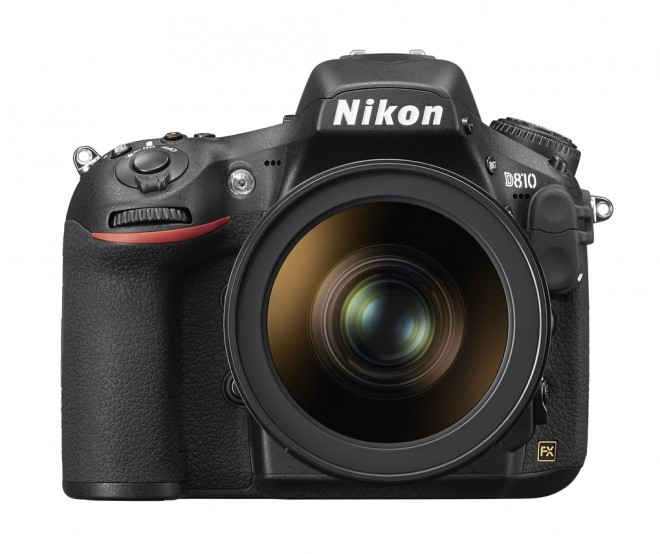 Nikon and video – an EOSHD opinion
Perhaps inspired by the success with filmmakers Canon have had based on the 5D Mark II, Mark III and resulting pro Cinema EOS line, Nikon claimed at the launch of the D800 that they would firmly go after pro video users and add the features they requested.
To ignore the marketing and just look at the product you'd be forgiven for thinking they decided not to bother.
Compared to the competition in 2014 the Nikon D810 is astonishingly lukewarm for a flagship camera in respects to video, and very very similar to the old camera when it comes to stills. As both a filmmaker and photographer myself I really cannot find a compelling reason to use the Nikon D810 on my projects instead of what I already have (A7R, GH4, 5D3, D600) let alone what is in the pipeline from other manufacturers. If too many people think the same, then Nikon's sales figures are going to disappoint for another year running.
From a hardware perspective the D810 is nothing more than a tweak. The most significant new addition is 1080/60p, which had already been implemented on the Sony A7R and Nikon's own cheap D5300 since October 2013. Expeed 4 was also to be found on the much cheaper D5300, a full 9 months before the D810.
The Sony A7S meanwhile offers double the internal bitrate for 1080p recording, 4 times the resolution over HDMI with 4K, a viewfinder usable for video recording (EVF), a mirrorless mount, focus peaking, S-LOG 2, 120fps, class leading high ISO sensitivity and an articulated LCD all for a lower price than the D810.
The Sony A7S, Blackmagic Production Camera and Panasonic GH4 all shoot 4K with a full pixel readout whereas the D810 produces 1080p with heavy pixel binning resulting in the same moire, aliasing and soft detail I find on the D800 in video mode. Yet Nikon's claims in the press release are completely contrary:
Says Masahiro Horie, Director of Marketing and Planning:
"Once a user experiences the intense level of fine detail they are able to render using the immersive resolution of the D810, it will be hard to imagine a project without it. When coupled with the amazing imaging capabilities of NIKKOR optics, the D810 becomes a powerful storytelling tool to create images and broadcast-quality video with unprecedented detail, dynamic range and sharpness."
If as I expect the D810 produces an image with more aliasing and moire than their own D3300 at $599 how will Nikon be able to justify such a misleading marketing campaign?
Read the Nikon D810 press release at stills site DPReview
"Nikon D810 is all about filmmaking" says The Verge