[vimeo]http://vimeo.com/72841566[/vimeo]
KineRAW MINI is now available to order from Kinefinity's official European reseller
Kinefinity are at BIRTV in Shanghai this week. Dan Chung has been there to speak to Kinefinity and the European dealer HD Videoshop now have more details on the MINI upgrades in the pipeline.
As it's designed as a modular camera system, the KineRAW MINI will do 4K with external KineDECK recorder (release date 4th quarter 2013). Price TBA.
KineDeck supports a recording resolution up to 6K and CineForm RAW.
This modular recorder works via a proprietary raw port on the MINI (bottom of camera 2nd from left…)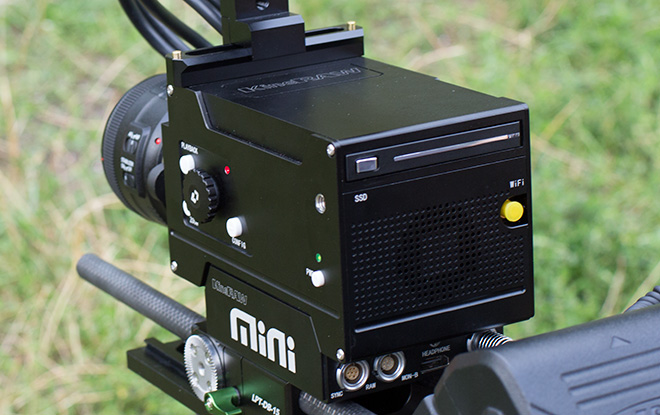 The port is included in the most complete package but can be added to any MINI body as an optional extra for 279 euro + tax. You must specify it at the time of ordering though. The body only is 3199 euros + VAT.
The MINI's 4K sensor makes a 2K crop mode possible and that will come in firmware update. That's great news. There's also a BNC mount for the MINI. I'd love to see a Micro Four Thirds one.
720p slow-mo at 100fps is already in the current firmware. For NTSC users I am told it will be 96fps. Here it is in action –
[vimeo]http://vimeo.com/72646025[/vimeo]
KineSTATION has been announced, this is software which can convert Cinema DNG to Cineform RAW in post at high speed. Available immediately for Windows and end of September 2013 for Mac.
KineGRIP with have additional controls for aperture and shutter has also been announced. Cleverly the grip features a built in 21Wh battery. This will be available end of September 2013 for 349 euros + tax. Additionally at the end of September Movcam will provide KineKIT – a LWS dovetail plate, top handle and 15mm rods for 389 euros + vat.