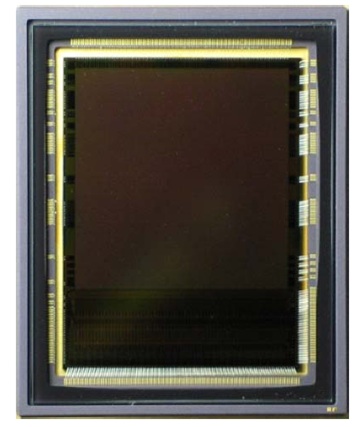 Above: VITA 25k
Glimpse of the future – Business Wire and EE Times report, via the excellent Image Sensors World blog that industrial image sensor manufacturer Cypress have just introduced a 35mm global shutter CMOS sensor for video.
With a global shutter, the VITA 25k delivers 53 frames per second at the full 25 megapixel resolution. No scaling. That's video in 5120×5120 resolution without compression, scaling, aliasing or moire.
The sensor is a 35mm full frame sized CMOS, in 1:1 aspect ratio (square!)
Interestingly, Cypress say the sensor also operates in rolling shutter mode, to reduce noise and increase dynamic range. It appears global shutter has not yet been perfected in the image quality stakes, at least for a sensor with 25 megapixels at 53fps.
A global shutter however means that no rolling shutter affect is present and no mechanical shutter is required for still photography.
Since the VITA 25K beast has so much resolution and data throughput capacity, much higher frame rates in windowed or sub-sampled readout modes can be achieved whilst still running at much higher resolutions than standard 2K HD video (1920×1080)
The current obstacles for implementing such a sensor in digital cinema cameras?
– Prohibitive cost
– Data capture capacity limits
– Buffer memory size capacity limits
– Power economy
– Cooling
– Current limitations of mobile computing power
In the consumer devices market EOSHD expects global shutter to be introduced first to Panasonic's progressive HD camcorders in a small chip, before progressing to Micro 4/3rds. Earlier this year my source said that global shutter was one of targets for the GH2 but since then the rumour mill has been quiet. It may be that Panasonic will choose to stick with rolling shutter so not to hurt noise levels or dynamic range, until this kind of ambitious sensor is perfected in terms of image quality.
For industrial applications where resolution, a distortion free image and frame rate are the main concerns, dynamic range and light sensitivity are secondary.
Cypress will be at the 2010 Image Sensing Show in Yokohama, Japan from June 9-11 in Booth #51. E-mail them at [email][email protected][/email] to arrange a meeting at the show.