Revealed at NAB 2018, the new Blackmagic Pocket Cinema Camera 4K is here. It's much better than anyone expected. It appears to use a similar Micro Four Thirds sensor to the Panasonic GH5S and record 4K RAW internally to CFast 2.0 or UHS-II SD card. On top of that it sports an absolutely huge 5″ 1080p touchscreen, ProRes recording, Dual Native ISO, 13 stop HDR, 120fps slow-mo, USB C, Mini XLR and even 3D LUT support in-camera.
Cinema DNG RAW can be recorded compressed 4:1. It of course has ProRes and LOG support (LT and Proxy for small file sizes).
4K is either DCI 4096 x 2160 or Ultra HD flavour.
Storage rates are as follows (for 30p. In 24p, will be slightly less)…
4096 x 2160
CinemaDNG RAW – 270 MB/s
CinemaDNG RAW 3:1 – 128 MB/s
CinemaDNG RAW 4:1 – 96 MB/s
That's approx. 5.8GB per minute in DCI 4K RAW 4:1.
3840 x 2160
Apple ProRes 422 HQ – 110 MB/s Apple ProRes 422 – 73.6 MB/s
Apple ProRes 422 LT – 51 MB/s
Apple ProRes Proxy – 22.4 MB/s
See that ProRes 422 LT is still a very high quality option, at half the size of the smallest raw option.
Shooting 1080p ProRes 422 LT halves that again to 12.75 MB/s or 765MB per minute.
One very interesting thing to note is that the BMPCC 4K is the first ever camera with RAW recording capability via USB C to an external SSD drive like the tiny Samsung T5.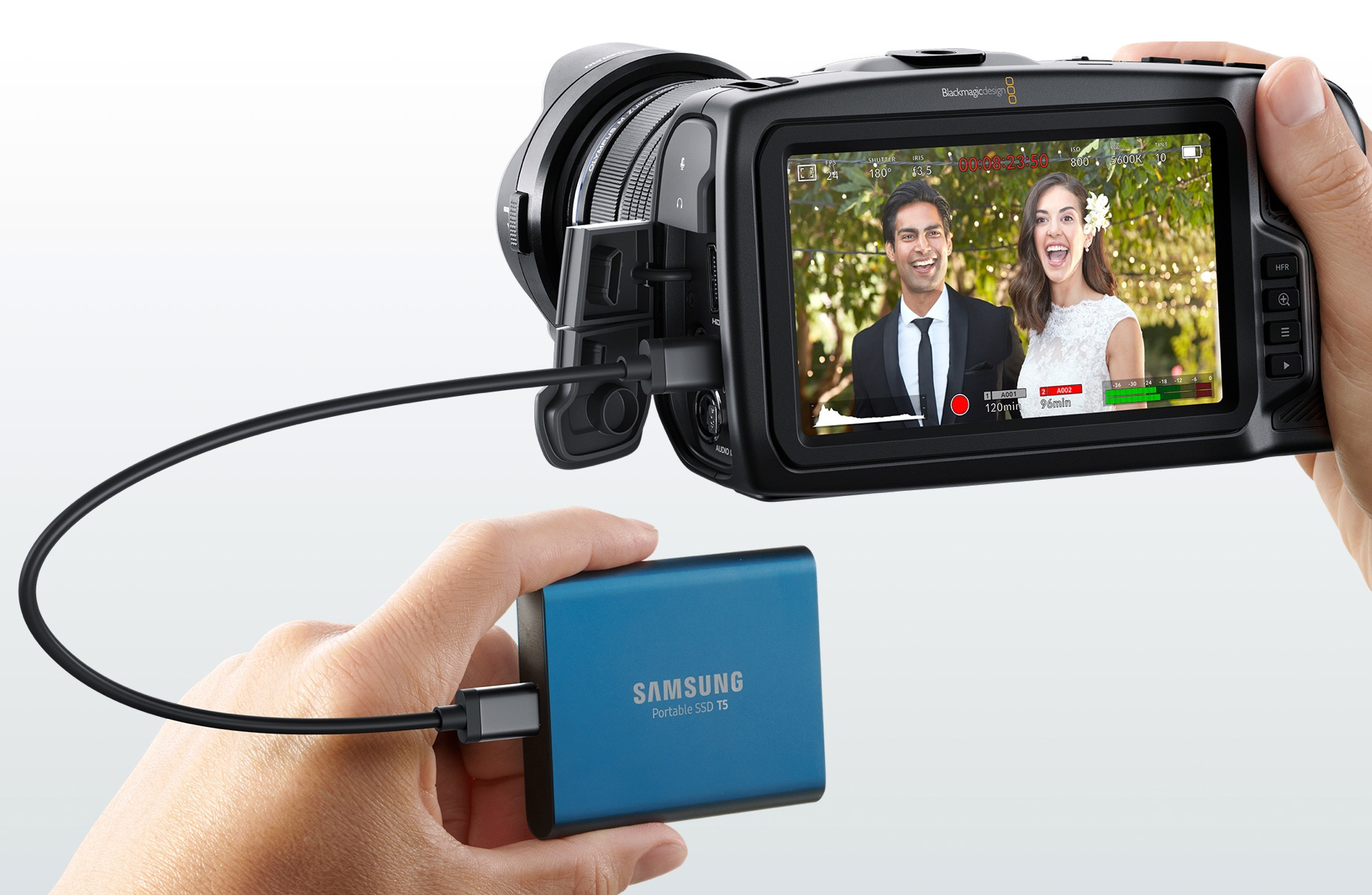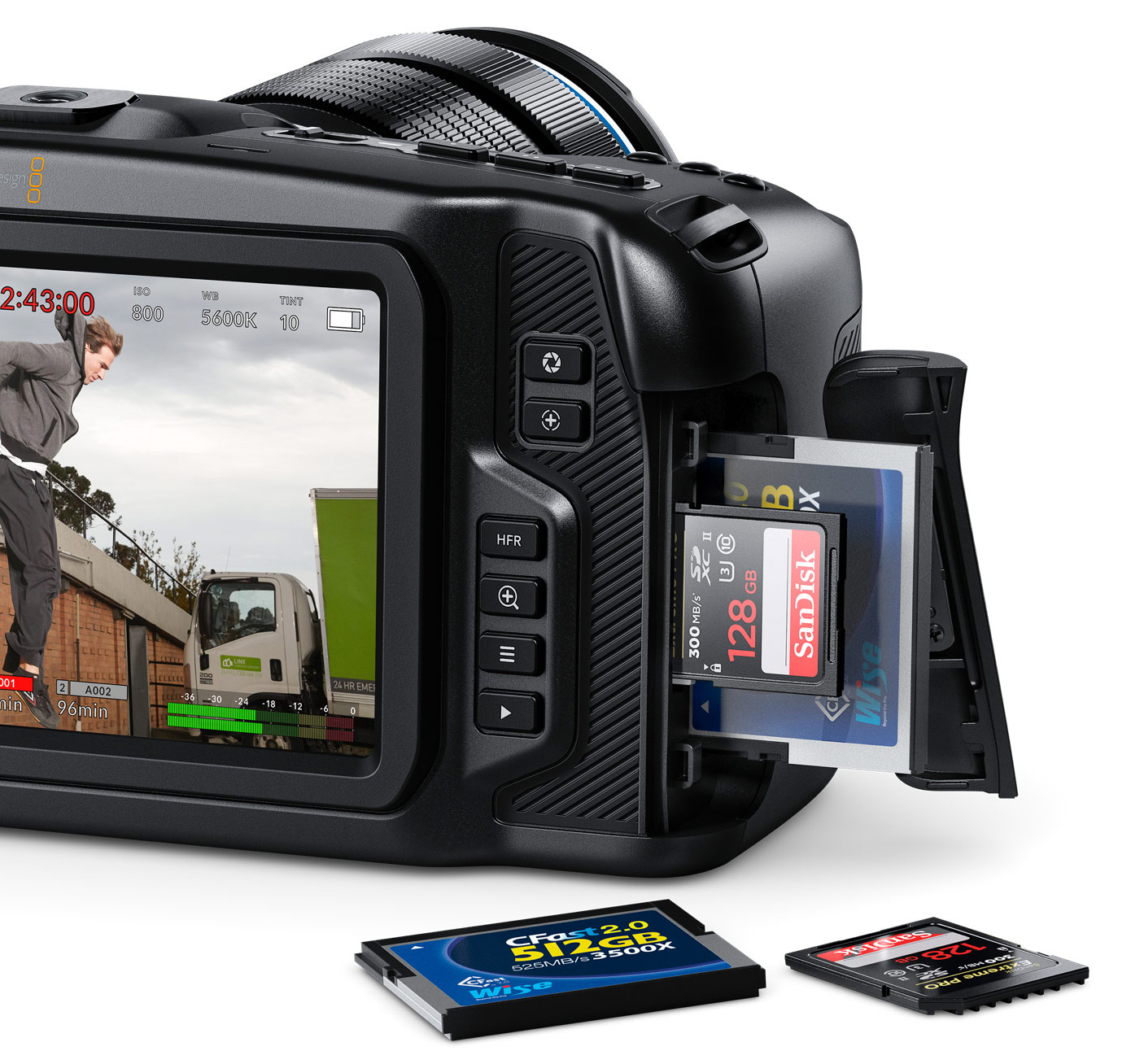 Power is provided by a single Canon LP-E6 battery. They should have made room for one more because I think it is going to eat them for breakfast.
Blackmagic claim 60 minutes per Canon battery. It's the same battery as the 5D Mark III.
I think in the real world, shooting 4K raw it will be more like 40 minutes or so. A battery grip would have been great but there's not one yet. You can also power the camera via USB C, with a mobile battery or via the 12v tap.
4K 60p is internal on this camera and 120fps is a windowed 2K video mode. Probably a 1:1 readout of the sensor, so quite a significant crop factor for that.
In true Blackmagic tradition it comes with a full Blackmagic Resolve Studio license in the box, which is insane value for money. That alone costs $300 and now includes Fusion for visual FX.
Same sensor as the GH5S
The sensor is 18.96mm x 10mm, which means it's wider than the usual Micro Four Thirds chip (17.30mm). Sounds familiar?
That size matches the new Sony sensor in the GH5S, as does the stated Dual Native ISO capability and clean high ISO performance, up to 25,600.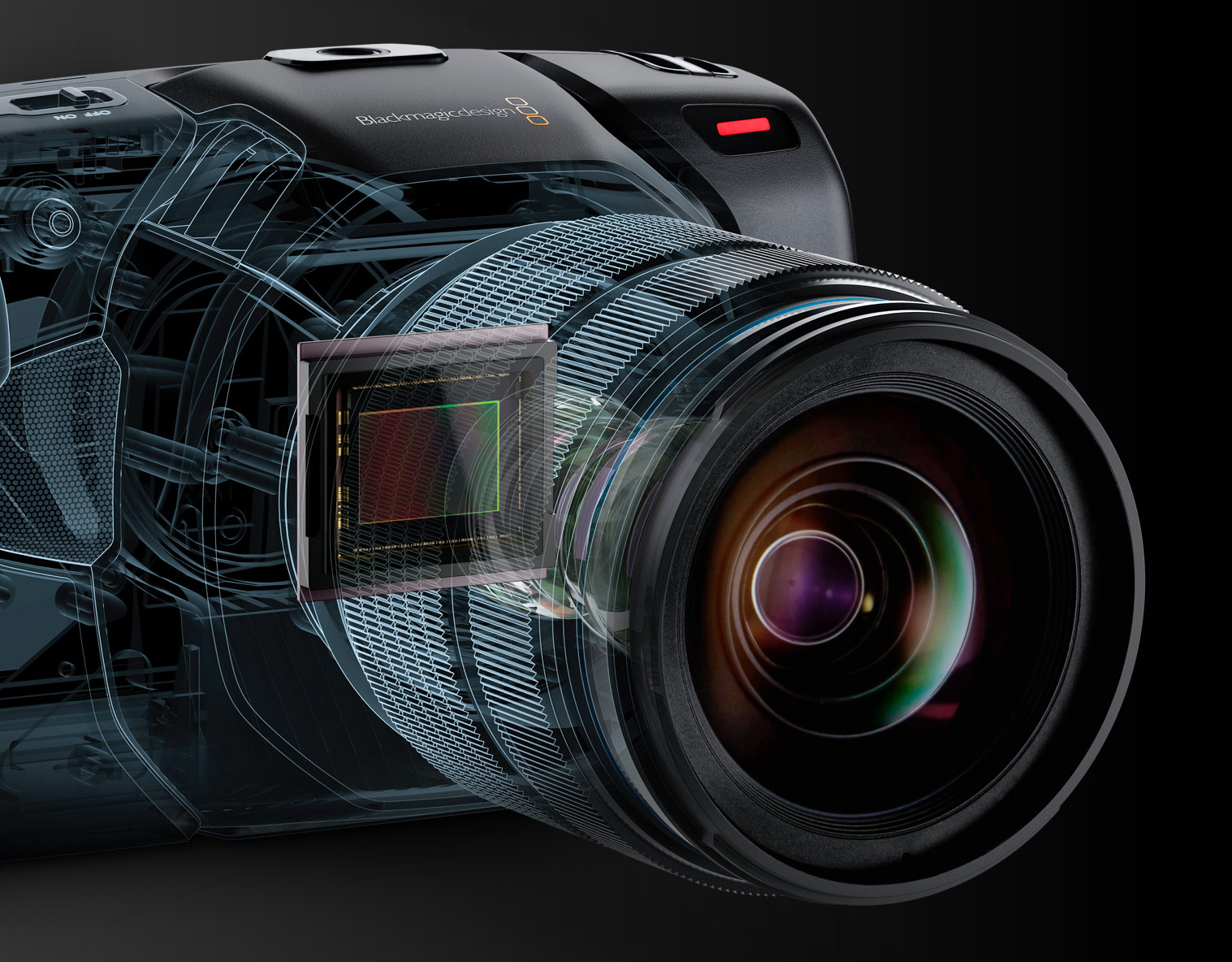 It's a big improvement on the sensors Blackmagic have used in their previous small cinema cameras.
In fact this sensor is larger than the one in the BMCC 2.5K, and with the large 5″ screen as well… Yes, finally Blackmagic have given us a proper successor to the BMCC as well as the Pocket cinema camera.
We do get autofocus, and an active Micro Four Thirds mount that should allow the use of OIS on the lens for stabilisation.
There's a dedicated button for shooting stills, whereas the main release trigger shoots video.
Roll on September
The camera is available to pre-order now at various places already, for a claimed release date of September 2018. Back in 2013 the original Blackmagic Pocket Cinema Camera was also announced at NAB and released in September on time, but it was back ordered for quite a while. I expect similar for this one.
I have little doubt the image from this camera will beat everything even close to the price.
ProRes and RAW from a GH5S-like camera body… It would appear Blackmagic have Panasonic beat as well?
Well, not quite, in my opinion. The current crop of mirrorless cameras feature several advantages in terms of handling… Like 5 axis IBIS, very good autofocus, long battery life, articulated screen and more. Also there are times when I prefer the look of a larger Super 35mm or full frame sensor.
It is amazing to see that it DOES do though…wow. A lot of the features are unique to Blackmagic and that price is unbelievably competitive. In fact I am blown away by it, it was a complete surprise.