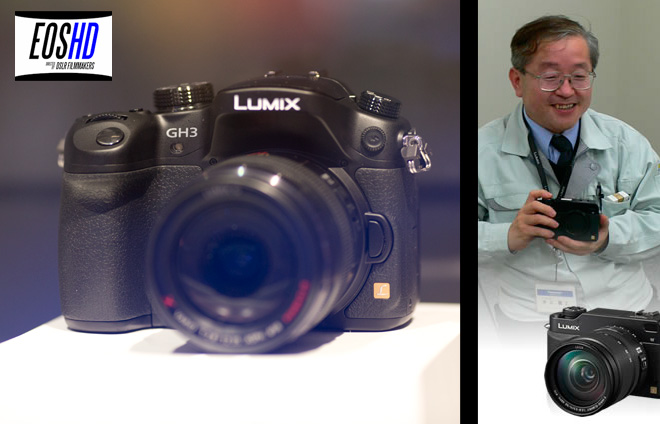 Above: Inoue helped conceive the GH3 and was a mechanical designer on the well regarded Panasonic L1 (inset)
For my hands on test of the Panasonic GH3 pre-production model read this!
Yoshiyuki Inoue is the senior engineering planner at Panasonic. A mechanical designer on the Panasonic L1 back in the Four Thirds days, that camera is now fondly rememberd for a beautiful optical viewfinder, Leica M style build and cutting edge design. Inoue also worked at Minolta before joining Team Lumix.
I caught up with Inoue yesterday at Photokina to ask him about the design and technical workings of the new Panasonic GH3 at Photokina in Germany.
EOSHD: I heard that you took a lot of the feedback from filmmakers from the GH2, and I can see there are a lot of improvements in there!
Yoshi Inoue: Ah yes. There are over a 100 members researching all over the world, there are many specifications required.
EOSHD: How do you come to prioritise what's most important, because you must have a huge list of feature requests.
Inoue: Especially high bitrate movies and 25p, it is very important for filmmakers especially in Europe, especially in the UK! Broadcasters require filmmakers to make their films at 25p, and at high bitrates. And we already upgrade the GH2 firmware to 25p specification, but we had interlaced to make progressive – not so good. This time on our GH3, we have progressive.
EOSHD: I like the move away from AVCHD, because AVCHD is good for playback on TVs but for software packages (editing) it is a little bit less well supported than Quicktime, or H.264. Regarding the HDMI output, is that uncompressed? For example if you have an external recorder and want to get ProRes at 200Mbit?
Inoue: Ah, the format after processing for HDMI – has no compression. It is 4-2-0.
EOSHD: Why not 4-2-2?
Inoue: This depends on the system internal structure. This one is optimised for the still picture quality also.
EOSHD: So it is a compromise between the sensor, the internal architecture for stills and video? I remember the old GH1 had 4-2-2 but only in MJPEG. Is there a way to bring 4-2-2 back? I know that is something Nikon have on the D800. I get a lot of requests for 4-2-2 from people wanting to do green screen work.
Inoue: I cannot at this time because of the structure.
EOSHD: Is it a Panasonic sensor? So it is not a Sony sensor?
Inoue: Ah no comment!
EOSHD: Because I noticed this is a standard four thirds sensor, because the GH2 had a multi-aspect ratio sensor. The GH3, does that have multi-aspect ratio sensor?
Inoue: This is a priority for imaging quality, our big priority is keeping that image sensor quality.
EOSHD: Regarding the audio, is there an XLR accessory? Is this available now or coming later?
Inoue: No XLR. [But] the GH3 has a 3.5″ jack.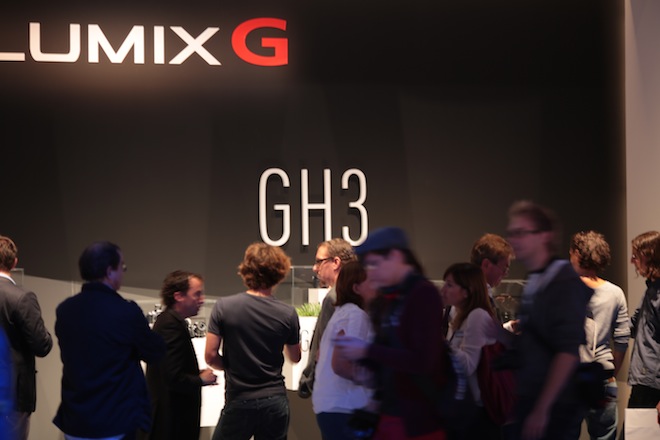 EOSHD: I noticed that the build quality is much better this time, the grip feels much more solid and the battery inside the grip is much larger. Is there a limitation there for how large the battery can be?
Inoue: Not chemistry of the battery. It is subject to the electrical power
EOSHD: Ampage?
Inoue: Yes.
EOSHD: So it is a safety thing?
Inoue: Japanese regulations have been changed.
EOSHD: Did this have a impact on the design of the battery?
Inoue: Regulation change was very serious. The critical point of this regulation is supply of electrical power, and we have to put in a fuse.
EOSHD: I'd like to see a 12 volt external battery option. But I guess it is not so much needed as there's a battery grip this time and that is a big improvement on the GH2.
Inoue: It is difficult. We have the priority of stills and movie camera. With photographic operation we have sudden power surges [elaborates with hands to demonstrate mechanical shutter – bang, bang] but in a movie camera it is a constant supply.
EOSHD: My next question is about the electronic shutter. Is that using a rolling shutter or global readout?
Inoue: Ah global shutter is a very ideal shutter. GH3 is rolling shutter. The readout is just 100 miliseconds, this depends on the sensor structure and sensor power.
EOSHD: What are the challenges of the global shutter design?
Inoue: Most important program of the technology is the processing after the capture on the sensor.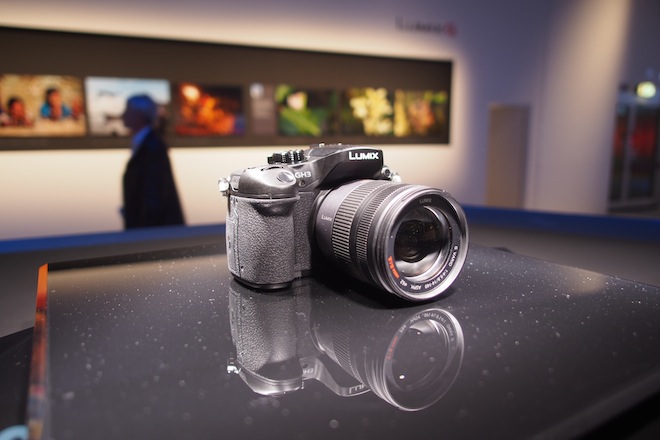 EOSHD: So it requires a larger readout structure?
Inoue: Yes it is very difficult.
EOSHD: Is that the A/D conversion?
Inoue: No, that is not such a big problem. It is taking a photo [with global shutter] and suddenly processing the data.
EOSHD: How long will it take to produce a fully electronic camera? 2 years?
Inoue: This idea is already initiating in the industrial sector. I think, since 1999. But not yet for consumers.
EOSHD: On the optical side, the amount of lenses have been quite small compared to Canon's EF range? Any plans to extend this?
Inoue: Now the priority is primes. We have a 43mm F1.2 and a 150mm F2.8 coming.
EOSHD: I noticed on Olympus lenses there's no stabiliser. That makes the lens a lot smaller.
Inoue: The structure of the lens is not decided mainly by AF or image stabiliser. Main factor is the size of the aperture and aperture structure, this is very important for the size of the lens.
EOSHD: May I ask about the sensor size of the AF100?
Inoue: Ah professional camera. Firstly, that camera once was popular, but at this time not as popular.
EOSHD: OK, because the GH3, in some ways is better now. I'd like to see a 35mm version of the AF100.
Inoue: The AF100 is another division, we are focussed on the consumer DSC. We are completely seperate.
EOSHD: If you wanted to put a professional feature on the GH3, would that be a problem
Inoue: We are getting into the professional area (with the GH3) but we have to build up the people and structure (for support). We are discussing this, our maximum mission is to exceed Canon.
EOSHD: Megapixels was the main target of the consumer, then it was ISO noise, now sensor size is coming in and maybe dynamic range. Are there any plans for a full frame mirrorless camera, 35mm?
Inoue: [Smiles] Already we release many many Micro Four Thirds lenses. I think it is possible with our technology, but we have to have MANY discussions on how to sell a mirrorless full frame camera.
EOSHD: Are you aware of the hack for the GH2, the hack project?
Inoue: Ah yes!
EOSHD: How much of an influence was it for higher bitrates in the GH3?
Inoue: The reason we didn't build on the high bitrate movie mode (officially), were internal Panasonic regulations for heat dispersion. Otherwise we could have had problems, we could not guarantee it.
EOSHD: Do you see in future programmers being able to make apps for Panasonic cameras? Say, if I am a filmmaker and I want a certain function like focus peaking, and I go to the Panasonic shop and I add focus peaking, maybe that would be better than a firmware update because the firmware is free, but the apps generate a revenue stream for Panasonic.
Inoue: It is a very difficult problem for us. Every make of camera is a very individual culture. Each manufacturer is different. There's no connection of culture in the camera industry. But the smart phone industry – connectivity is the whole philosophy. So we have to change the culture of the camera industry. This is very difficult. Samsung and Nikon have already taken steps. Many Android phones but all the same (in terms of the software).
EOSHD: I notice Samsung have a Galaxy camera with a zoom lens…
Inoue: It is a very important point for the strategy. After that camera was built into the Android phone, in Japan and all over the world the Galaxy is very popular, so for Samsung  it is easier to enter the market with Android.
EOSHD: One more question – Now the focus on the lens is electronic, would it be possible to have an accessory that allows an electronic follow focus (USB)? Actually it isn't so much a question but a solution. For example I like to change the lens very quickly, and I don't have time to set up the belt on the follow focus and unscrew the rig and it would be so much easier to keep the follow focus as part of the camera.
Inoue: [Gets notepad out] What is the combination of your lens and camera? Ah 12mm, OM-D. [Notes "USB follow focus">
EOSHD: I have more feedback for the product. For example the grip is raised near the rear jog wheel, and that needs to drop back, so maybe I will email you a list of suggestions. But I really like the camera, the feedback from the GH2 has resulted in a much better camera. Canon don't have a real video / photo hybrid camera so there is a big gap in the market for the GH3. I think it will do well. Thank you for your time!
Inoue: OK! Thank you!
Thank you to Inoue and Gareth Beazant, Senior PR Manager at Panasonic Europe for making the interview possible