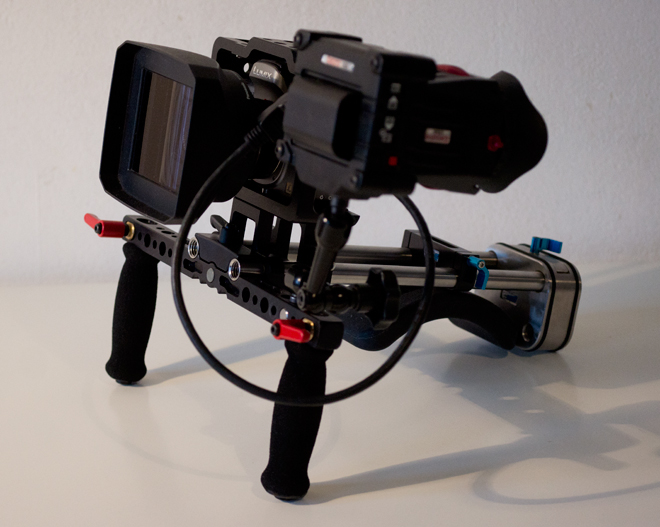 New 2nd edition of the EOSHD Anamorphic Shooter's Guide is now available, click here to read more!
I haven't seen very many documentaries, TV shows or news reportage shot with anamorphic lenses. Some of this work of course isn't suited to a cinema aesthetic – but some projects would really benefit from it. I have assembled a quick to use anamorphic ENG rig for handheld footage.
It has live anamorphic monitoring (thanks to the Zacuto EVF) and even AF for quick shot set-up or run & gun with both hands gripping the rig rather than one on a follow focus. When just getting the shot is important, AF can come in handy.
The great strength of the HIR handlebar is that you can rig monitors, EVFs, mics and even the OKI USB follow focus to the handlebar itself. (Although not with the GH2 – currently USB FFs only work with Canon DSLRS).
The benefit of this in particular for the OKI is that you can have a lot of flexibility with placement and you won't need a DSLR cage to mount it. You can put the OKI follow focus unit right under your thumb next to the lower left or right handle so you can have a two handed grip on the rig even when using a follow focus.
Usually one hand is up high on the follow focus leaving just one hand under the rig making it less stable.
Key components to my setup are:
GH2, LA7200 and 14mm pancake
Letus 15mm rods and shoulder mount (from the Talon K1 Shoulder Mount, EOSHD review here)
Zacuto EVF Flip (EOSHD review here)
ReWo GH2 cage with their 15mm rod support block (EOSHD's review here)
I use my ReWo cage here as well as the handlebar for mounting points higher up if I need them but you can as easily mount the handlebar to a quick-release plate and block rather than a cage.
The ReWo cage is also great for stopping the camera rotating on a baseplate, it is far more secure since the camera is attached top and bottom to the cage (top via a brass hotshoe attachment) and there are small bolts at the front of the cage to stop any small amounts of rotation when lateral force is applied to the lens mount like with a traditional follow focus.
I didn't have a USB follow focus but I shot a little bit of footage with it at the IFA show this week. The setup was very stable and quick to use. It was easy to take apart and put away. It's compact. Yes the AF in video mode on the 14mm pancake isn't perfect but when you need that shot it will get it. The pancake is also extremely wide with the LA7200 anamorphic! More like 10mm in a widescreen 2.39:1 aspect ratio.
[vimeo]http://www.vimeo.com/28763328[/vimeo]
The footage was shot with the GH2 hack and Chris Brandin's settings for 44Mbit AVCHD and the new Auto Quantizer patch set to 4. That is meant to help with macro blocking in the lows for a smoother looking image overall.
The HIR handlebar is pretty much unique in the world of DSLR rigging, something you can very rarely say these days! I can't think of any other handles that can fit ANY rig, any style of rig and suit so many setups, let alone ones with additional mounting points included as well like a DSLR cage.
Build quality wise this is pretty flawless – everything feels solid and durable. The handles have foam grips where are grippy and comfortable, although I expect that after a few years they'd need replacing – but that's another strong point of the rig. What do you do when the expensive rubber handles on other rigs wear out? Get another handle in it's entirety. Here you just replace the foam.
The other strength of having mounting points along a handlebar is that it is as good as a cage in terms of mounting accessories and yet is not restricted to specific DSLRs or sizes of camera. For example I can only mount things to my GH2 cage with the GH2 sat inside not any other camera. This handlebar cuts down on the need for additional cages. I know Sam has also used it to good ENG effect on his much larger Sony FS100 so it's not just a DSLR accessory.
The handlebar comes in two specs – depending on what size rails you have. 15mm is the industry standard in the US.
Click here to order the Half Inch Rails handlebar kit for 15mm rods or for half inch (1/2″) rods