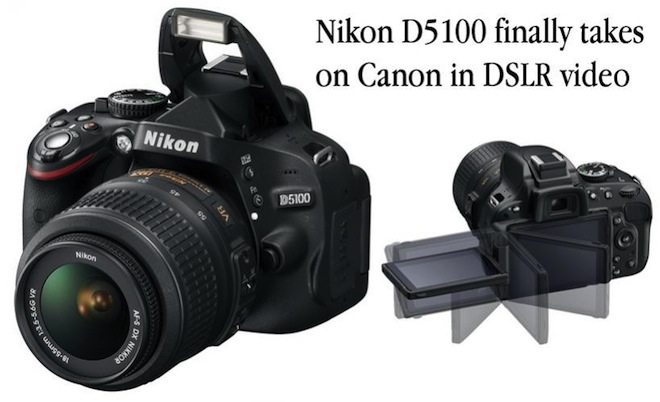 When the D5100 was leaked shortly before the official announcement which just occurred in Canada, the specs had video down at 30p. It now seems the new Nikon has a few significant features which we weren't aware of from the leaked information.
It does have a 24p 'cinema mode'
The codec is 'AVC-HD H.264' – note the dash! Maximum recording time 20 minutes.
A Nikon DSLR video mic has been unveiled
Price is $899 for the 18-55mm kit – not bad!
Screen is as good as D7000, as is sensor. Good to see the swivel hinge finally too.

On the mic 'ME-1' Nikon say:
"To address the needs of the ever growing community of shootersabandoning their video cameras for the versatility of a digital SLR, Nikon now offers the ME-1 stereo microphone. Engineered specifically for a digital SLR, the new ME-1 microphone attaches to the hot shoe and has noise dampening components designed to minimize noise resulting from AF operation. The microphone also has a low-cut filter to reduce wind noise not already blocked by the wind screen."
Wow! Is that the sound of Nikon finally waking up? 🙂
This is all quite significant and turns the D5100 into a MUCH more attractive option. Certainly over the D7000 for video. However there are still question marks, such as whether the live view meters correctly in video mode and how much (if any) manual control we have over video. The D3100 has none.
The rest is a gimmick. The camera has a Sh**e Vision (Night Vision) mode at ISO 102,400 for producing pastel paintings in the dark. The D5100 also has a HDR feature for producing ugly images which look like a cross between the sick outside a nightclub on Saturday night and a 1990's 3D computer game. You can now have special effects during video recording like selective colours and a digital tilt shift which makes your video look gimmicky and passe.
Whilst still not as attractive or brave as say – the (future) 5D Mk3, a Fuji X100 or GH2, the D5100 is certainly a 600D competitor. It's just that it offers very little new to differentiate itself from what we already have.
It will be interesting however to compare outright image quality in video mode versus the Canon APS-C DSLRs. I suspect the D5100 might be a tiny bit better.
I am Nikon
Unfortunately Nikon are still designing DSLRs like they did 8 years ago, which in turn wasn't a million miles away from how they were designed in the 70's but with much cheaper materials and a 'pets mode'.
Is this a right and true approach? Or is a sleeping giant allowing an existing market to dictate future strategy? Should a company as technically proficient as Nikon allow that to happen?
Well, when the inevitable happens and DSLRs are replaced by mirrorless cameras with highly sophisticated electronic viewfinders and convergent stills / video modes, Nikon will have a hard time playing catch up on 10 years worth of competitor R&D. Panasonic began theirs in 2007, Fuji began theirs with the X100 2 years ago and likewise Sony began with their NEX system around the same time.
One of the most successful companies in the technology industry is Apple. Is it any coincidence that they have a visionary at the helm?
And so to the Nikon D5100. The full brute force of the D7000's technology in yet another facsimile of a Canon Rebel.
Nikon's UK DX DSLR boss says that mirrorless is taking sales from the compact camera market, not the DSLR market and yet both Canon and Nikon lost DSLR market share to the NEX, GF1 and Olympus mirrorless cameras over Christmas in the UK. Hello?
Some might wonder why a guy like me who is a young filmmaker and technology blogger, can dictate strategy to one of the most technologically advanced photographic corporations in the world? I ask myself that too. They should be better than I am. Here we get to the crux of Nikon's problems. Having been around computers since I was 8, technology is my generation's culture. I have been around technology and using it as a consumer for a lot longer than the crusty leadership of Nikon have, who probably still use pens and paper and whom got in on the iPhone culture about 2 years after it happened. Last week I heard that Nikon's product manager for FX format cameras played Angry Birds for the first time and loved it. (I jest on that one, but you get the picture). It's embarrassing.
This is a computer and information driven world, and Nikon still have mechanical mirror mechanisms in their cameras. It is no wonder that Panasonic, primarily a electronics company with people who understand computers, have banished the mirror and have begun to take market share from Nikon, having started with basically none. I can understand that the profit margins on simple mechanical devices and 50 year old optical concepts is worth hanging onto for a while, but at the expense of the company's future? I don't think so.
James Banfield, the UK boss of Nikon's DX division says that compact system cameras like the GH2 are not competitive with DSLRs. "If you want a DSLR you want what a DSLR stands for and that isn't a compact system camera".
Someone needs to do a Pepsi challenge with this man. Give James photos and video from a GH2 and a D7000, then challenge him to tell which set came from which product. The boss of Pepsi as it happens, once took the Pepsi challenge and chose Coke.
A much more significant Japanese tragedy
In the recent tragic Japanese Earthquake, Nikon lost several employees. Of much less importance, they have been unable to produce a single sensor according to reports, due to rolling power blackouts, damaged factories, parts shortages and the nature of CMOS manufacturing.
Sony were due to announce new cameras this week but pulled these at the last minute, specifically the new NEX C3.
Unless Nikon produced a huge number of batches of D5100s in February and early March before the Earthquake, the announcement now of the D5100 is a very odd one.