Wednesday, 02 April, 2014 00:07
Above: GH4 test footage shot in 4096 x 2160 Cinema 4K DCI mode. Academy 1.85:1 aspect ratio. CineLikeD profile for best dynamic range.
Tip jar EOSHD just $5 if you think this article is useful
Below: Cooke S4i Mini (uncoated Panchro/i version) on the GH4 with Ciecio7 PL adapter (buy it on eBay here
)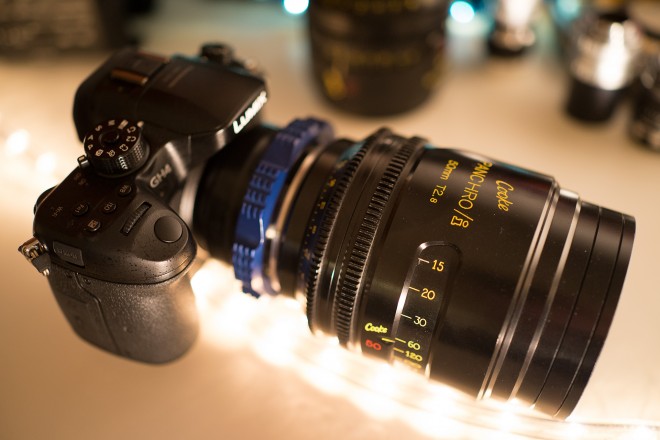 Andrew Reid (EOSHD) and Frank Sauer (Filmmaker) are shooting with the Panasonic GH4
On Day 1 of shooting with the GH4 we did a location scout at the Spreepark abandoned theme park in Berlin. The park has granted us paid access to do a proper shoot with the free runners so I am going to save the location scouting footage for when it comes to that edit and the final piece. Frank is near Frankfurt now with the GH4 to shoot a piece with a new aerial drone and gimbal (similar to MoVi) and I have been out shooting with the GH4 around Berlin to get an idea of the image quality when it comes to 4K. I've also tried grading the 100Mbit/s 4K codec in Premiere to see how well it holds up. Here are the results in glorious 4K!
Disclaimer 1: This GH4 is a pre-production model. Firmware version is v0.5. The image quality may not represent the final camera.
Disclaimer 2: Because I don't have NDs big enough or good enough for the Cooke lenses yet, most shots were shot at higher shutter speeds than 180 degrees (1/50)
Tip: if you don't have a Vimeo Plus account to download the original file and pixel peep I've uploaded some short GH4 4K clips here in ProRes LT format. Try grading them and looking at the detail 1:1!