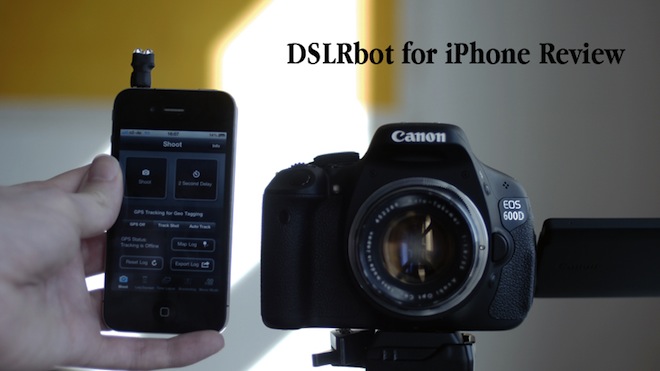 Download DSLRBot at iTunes
Grab the transmitter plugin here
Can't decide which intervalometer remote for timelapses to get for your Canon DSLR? Well with DSLRBot your iPhone becomes one and whats more it is wireless.
I recently came across this app in Sound on Sound magazine's print Video Media section in the UK and I decided to give it a go. A few weeks later DSLRBot's creator in Australia very kindly sent me the infra red plugin for my iPhone. You can make your own but I preferred to cut out that hassle and get one from the creator, although I do like DIY electronics I don't trust plugging something I've just made into a lovely iPhone! The app itself is an App Store download.
The iPhone app hooks up with the infrared transmitter via the iPhone's headphone jack which beams an instruction set to a Canon DSLR. No mod is required on the camera. The infrared port is usually on the handgrip and is very sensitive, so you don't need to point the iPhone directly at the camera to use it. The transmitter plugs into the iPhones headphone jack and is absolutely tiny, it also comes with a tethering cable so for long timelapses, to save your arm you can just tether your iPhone via a cable to the camera and strap the transmitter next to the infrared receiver on the handgrip. Very useful.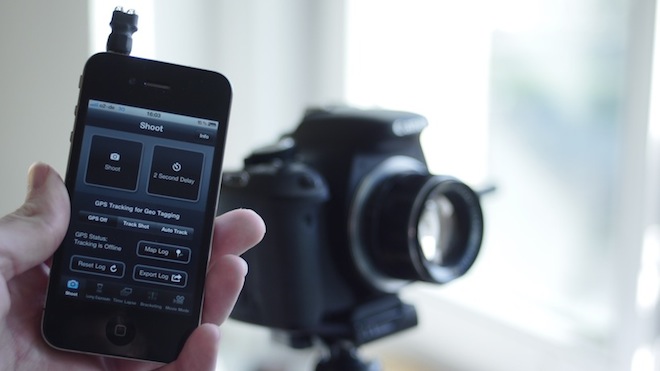 Above: with my 600D – no it isn't a walkie talkie and this isn't Vietnam
Although the app's functionality is slightly bound by the available instruction set Canon have programmed into their infrared remote control receiver on the camera, the app has extended on what you get with even the most top end intervalometer, timed remote or wired remote.
GPS tagging
You can have GPS tagging which records on a map where the shoot is taking place. That is exported in the form of a GPX file which you can then use GPSPhotoLinker on the Mac or similar to batch geotag your photos and timelapses.
Movie mode with timecode
This logs a shot list and allows you to start and stop movie clips without touching the camera. The shot list can then be exported via email.
HDR bracketing
Here you can programme in exposure bracketing to produce mutliple exposures which can then be combined later to produce those sick looking (literally!) looking HDR timelapses.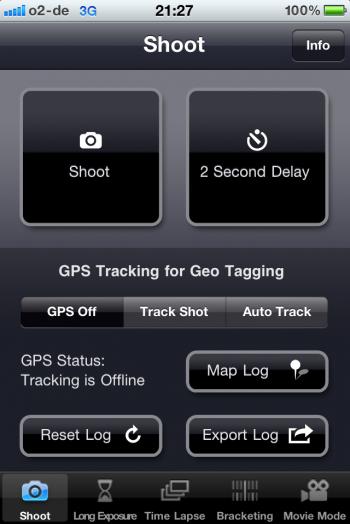 In addition to all that extra stuff we have the basics – shutter release button, timer delay, long exposure and timelapse mode which performs the function of a normal intervalometer but with a much nicer touch screen user interface. I must say that pressing the iPhone's touch screen buttons to trigger the mirror slap in the Canon DSLR is weirdly satisfying.
DSLRBot's user interface is really well thought out and superbly designed. Everything you can think of that an app like this should and could have is in there but it never feels cluttered or confusing and there is a nice consistency to the UI throughout the app. You never have to scroll through pages of options or navigate multiple levels of panels to get to what you need.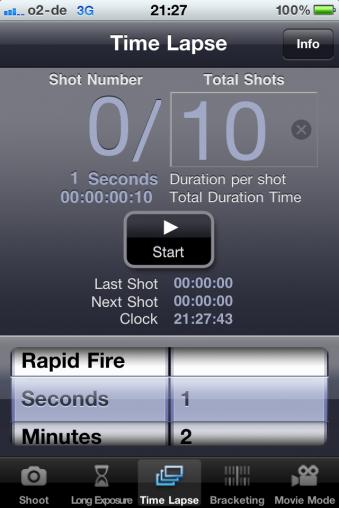 I love DSLRBot and now I have it there is absolutely no point carrying around an intervalometer for my Canons. Sometimes you'd need two types of unit and the official Canon one is over £100. For example the 600D has a more basic remote jack and the 5D Mark II has the N3 type connector which necessitates a different timed remote. Boo.
True can't dangle your iPhone from the headphone jack wire off a tripod mounted DSLR and you are more vary of where you place the iPhone on rugged terrain when shooting timelapse. If you need a remote that you can kick about the iPhone is probably not the right device!
But for convenience, price, features and how nice it feels to use you simply cannot beat DSLRBot.
Currently DSLRBot on works with Canon, Nikon, Sony and Pentax DSLRs but I expect an update for the Panasonic Lumix G cameras not to be far away.