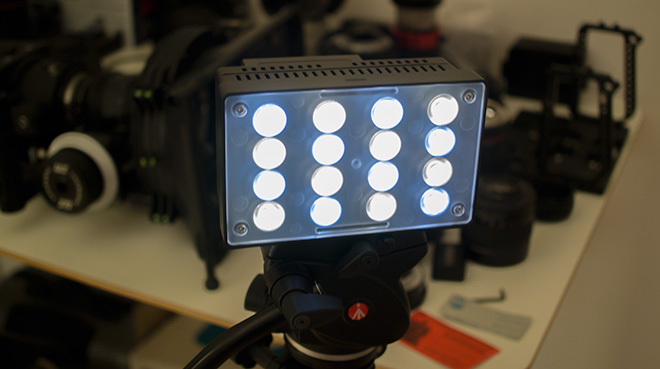 See the full specs of the Switronix TorchLED BOLT and accessories here
LEDs are in my opinion the future of cinema lighting. Until now though I've not been too satisfied with the throw of light they produce. Too short, too directional and the character of the light isn't the most flattering. The BOLT has been designed with input from filmmakers and contains two sets of LEDs of different temperatures and you can mix the temperatures.
What's it like?
On my recent shoot "Radioactivity" on the Nikon V1 at 400fps I needed plenty of light. The shutter speed was 1/400 when usually I'd shoot at 1/50. With the sensor running at top speed noise is an issue so I had to keep the camera under ISO 800. As part of the same shoot I did some stills with the V1 which were also lit with the TorchLED BOLT, here's a selection of those (click to enlarge):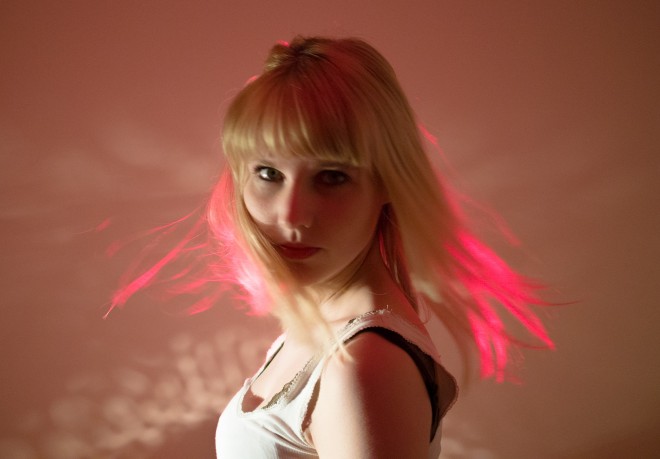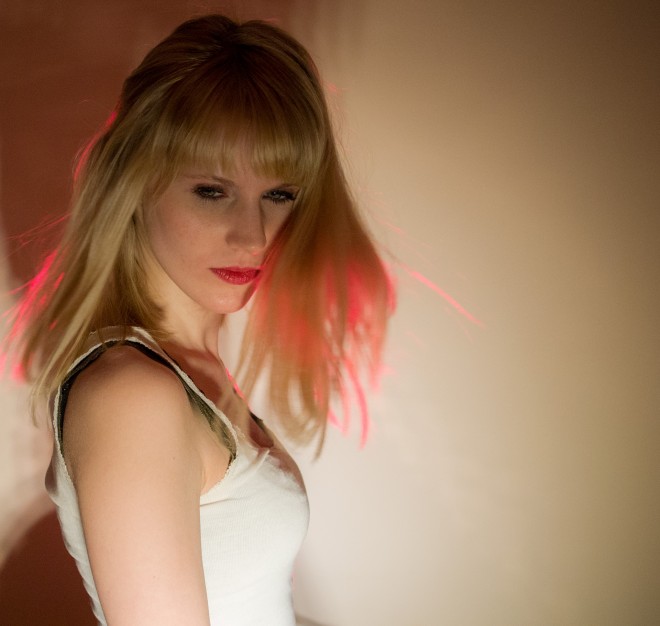 [vimeo]http://vimeo.com/62177101[/vimeo]
In these shots the BOLT is providing the fill lighting and the backlighting is from a practical light with red filter and 100w incandescent bulb.
And here's one with a flash on the Sony RX100 for reference…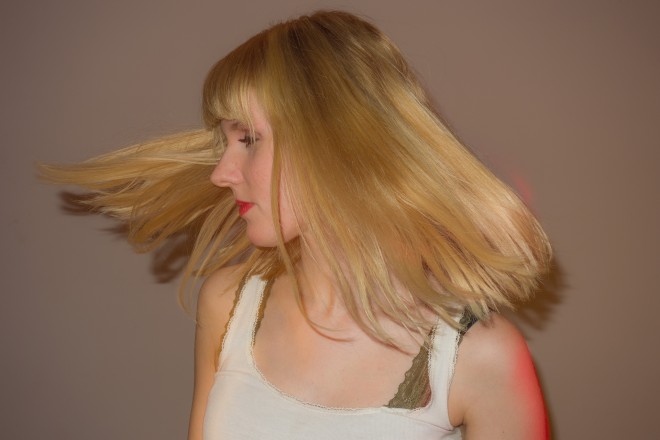 As you can see the BOLT does a great job of skin tones for an LED panel.
Let's look at the basics first – a clip on bracket for filters (supplied with one for diffusion), two dials for colour temperature / brightness and importantly – good power from as large a battery as you can find on set – it has a 12v connector and built-in backplate for the Sony FS100 NP series batteries (NP-F970 pictured below).
The panel contains two tempertures of LEDs which can be dimmed invudidually – 3200k and 5600K.
One of the features is that you can mix temperatures by turning on both sets of lights, but once you achieve that perfect mix changing brightness whilst maintaining the specific temperature in-between 3200 and 5600k becomes a bit of a problem because there isn't a third control to control overall brightness on one dial. Having very slight differences in temperature from shot to shot is going to be a headache in post and a real continuity issue, so unless on full power I recommending using one set of LEDs on the panel at any one time – either 3200k or 5600k.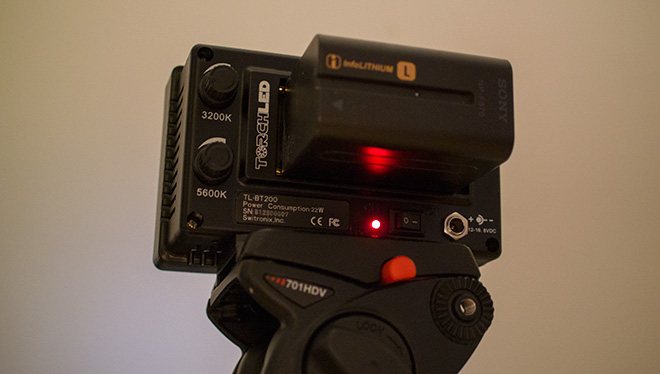 This is a very powerful panel. It is 200 watt and gives 7300lux at 2ft and 3800lux at 1m. You can mount it on the camera, or use it as a stand-alone 'sun gun' which is how I used it. The BOLT has a standard 1/4″ mount thread (metal) on the base and comes with a 1/4-20 swivel hot shoe mount in the box.
Normally you wouldn't mount a light on a tripod quick release plate like in the shot above but I wanted to see if it was possible. Unfortunately there's a ridge on the front of the panel that isn't flush with the base where the only mounting point is. You can therefore only use small quick release plates if mounting it that way. A small quibble but I'd have preferred to have seen a totally flat base from edge to edge and at least two more mounting points – one on the side and one on the top.
Happily the light does mount on the small quick release plate on top of the huge Switronix PB70 battery which you can use to power the light for probably as long as there's a sun in the sky!? I currently use this battery as my main Blackmagic Cinema Camera power source (my review of that is here).
I have a Sony LED light which lasts for 1 hour – truly ridiculous! So great to see proper filmmaker friendly power options on the Switronix light.
One word of caution – if you're dimming the light during a rolling shot as some kind of an effect the dimming is not linear. There's a sudden step from around 90% to 100% and a slight flicker at a couple of stages on the way down.
Overall though I loved the light and it will be getting a lot of use.
Pros
Variable colour temperature
Good throw distance (up to 50ft)
Good character to the light
Competitive price
Light weight and very portable considering luminance
Excellent battery life and 12v connector
Cons
No overall dimmer switch when mixing both sets of 3200k and 5600k LEDs
Dimming not quite smooth and linear from 0% to 100%
Extended panel ridge gets in the way of quick release plate
Chassis almost entirely plastic