[vimeo]http://vimeo.com/142487045[/vimeo]
[pullquote]Buy the RX100 IV[/pullquote]
The Sony RX100 IV review is done and it is a camera I've found myself using a lot… but not for the 4K.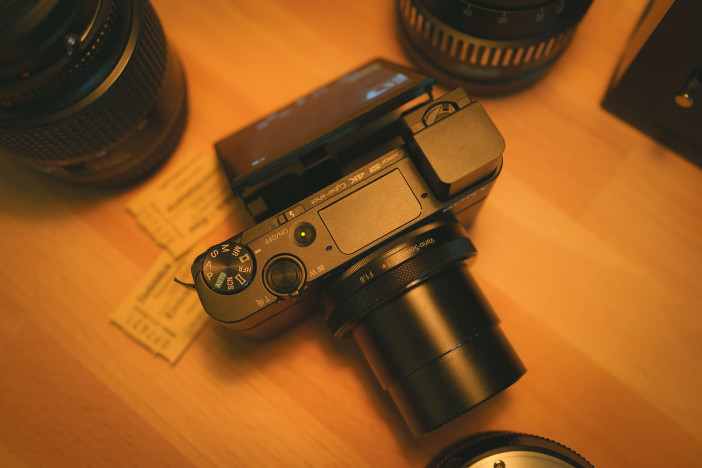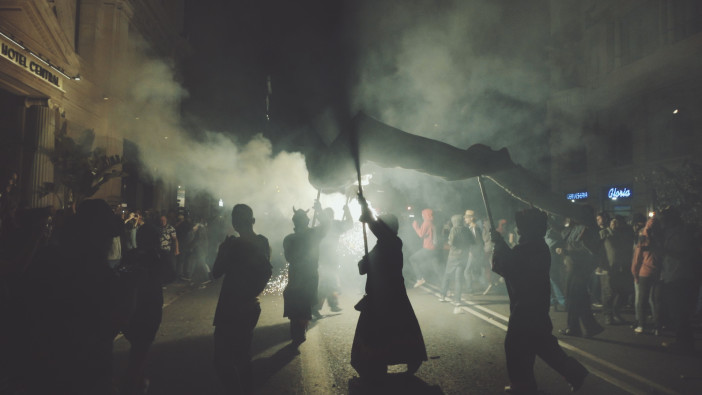 Hmm. We never did get the perfect 1080p DSLR before 4K came along and swept our investment under the rug.
By 'perfect 1080p' I mean crisply detailed at 120fps or even 240fps, wide dynamic range with LOG profile, absolutely minimal rolling shutter and a robust codec yet small file sizes.
Enter the RX100 IV. A pocket camera!
Forget the fact it only shoots 4K for 5 minutes at a time. That isn't the main attraction here, although of course the 4K image is excellent.
For me, this camera is all about having a lovely slow-mo tool in your pocket.
I enjoyed the larger camera too, the RX10 II superzoom (review here) – but the RX100 IV was the one I ended up keeping.
Why? It has the advantage of a much faster F1.8 aperture at the wide end which I find invaluable in low light for slow-mo when you are jacking the shutter speed up to 1/250.
It has so many of the bigger camera's features, even the EVF, aside from the long 10x zoom reach, and it's cheaper.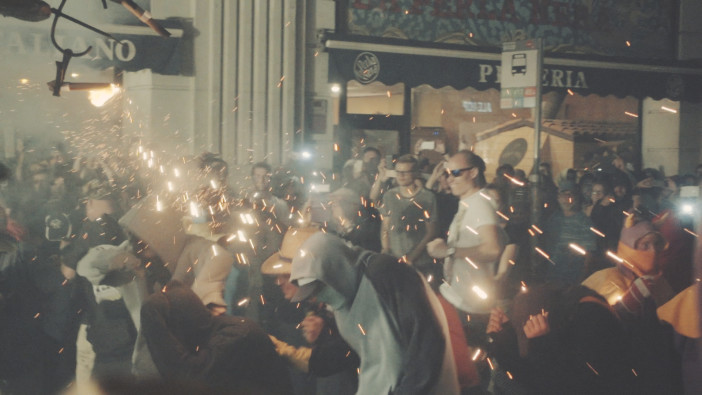 Yes the lens is a much shorter 24-70mm vs 24-200mm. However the 70mm end is easy to double to 140mm by using a little DIY trick – an old 2x teleconverter add-on designed for camcorders. The quality, if you find a decent one, is really respectable with sharp corners. However since the RX100 IV lacks a filter thread you must use the Carry Speed MagFilter and this isn't powerful enough to hold it without support from your hand. What it does do is stop the lens slipping around during use and it makes it instant to attach / detach. It's pretty comfortable to cradle handheld.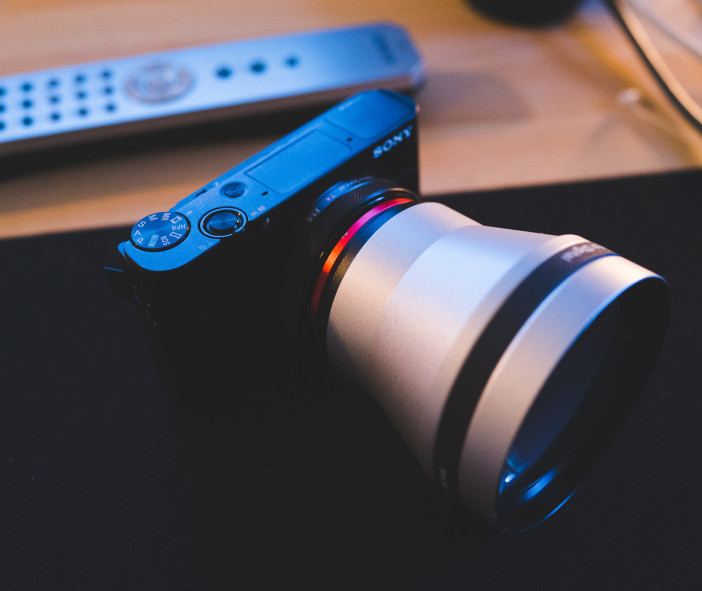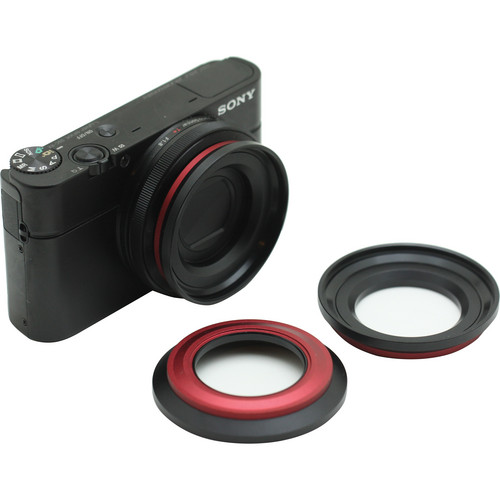 With this trick I found myself able to go telephoto simply by reaching into my pocket for the converter lens and there are far smaller ones than the one pictured here.
For tripod use you can use a clamp around the base of the lens, just before the control ring, to clamp an extension tube around the lens, far enough out so it clears the lens when it is extended and zoomed to 70mm, then simply screw on the telephoto converter.
The best 120fps 1080p for under $6000
Unless I am being really dumb, I can't think how else you can get a perfect 1080p image without moire or aliasing from a full pixel readout at 120fps for the price of the RX100 IV ($948), with LOG! Under $1000 you are looking at 1080/60p. Not here!
This is a normal XAVC-S continuously shooting mode at an astounding 100Mbit/s bitrate. (Screen shot below shows my camera in PAL mode – 100fps – but it goes to 120fps in NTSC and is region switchable).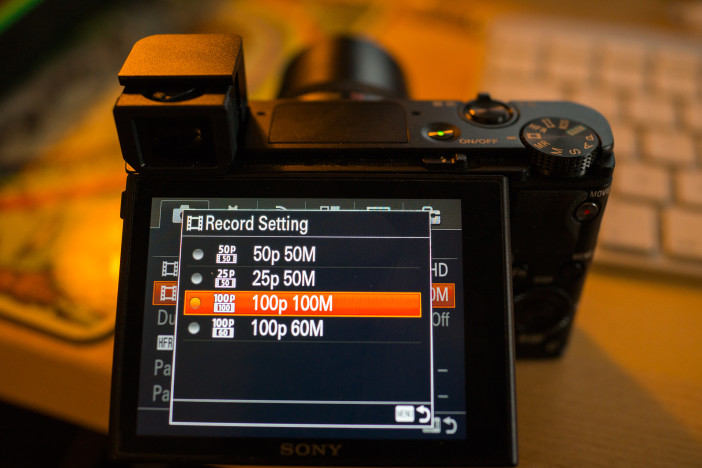 When I was shooting the Fire Run video in Barcelona I was very grateful for the high bitrate, because of so much going on. Remember the original RX10's codec or AVCHD on the RX100 Mk I? Those couldn't handle a tea cup carousel let alone a spark spewing dragon monster.
What I found in the S-LOG 2 shot 1080p files at 120fps was a fine noise grain, super low light performance for a compact, zero rolling shutter, very effective image stabilisation (the video was entirely handheld) and zero compromise on image quality from the high frame rate. 120fps = 24p for quality. There's no crop either and switching to 240fps only has the cost of a tiny crop.
The reason I found myself using 120fps so much though is twofold – yes the quality is superb but you can leave it running for ages. The 240fps HFR mode is limited to a burst of 2 seconds at the highest image quality. Not enough really.
As I said in the RX10 II review, quality in 240fps is very good – almost up there with the 120fps 1080p – but the usability of it is an issue.
The buffering after the shot means you lose valuable shooting time just as the action is all going off around you.
You can apply Twixtor or similar in post to the 120fps and get 240fps anyway with just a 50% reduction. This will work for most stuff since with 120fps conformed to 24p, very little moves faster than what Twixtor can handle. Too fast and you will get morphing artefacts and this happens a lot with standard 24p but not as much with 120!
Shooting and handling

I wouldn't say the RX100 IV is the least fiddly camera to actually shoot with. The movie mode has very slow AF and I prefer to lock onto a subject in stills mode and hit record. In single shot AF mode the focus doesn't drift during a recording.
Unfortunately the HFR modes (240fps, 480fps, 960fps) are badly implemented just as with the RX10 II, the camera locks up all control just as you prime it for the shot.
The menus are absolutely all over the place especially for video, with relevant options scattered around far too many pages. Maybe Sony need the Germans to come in and organise it for them.
On the plus side the screen is articulated and the quality of the EVF is great, although it does need a fiddly 'pull-back' once you've popped it out, in order to work.
With so much space on the top panel taken up by the flash and EVF, there are no custom buttons. Just one on the back and the usual d-pad assignments. The video button is in a bit of an awkward place but not as bad as with the A7 cameras, at least it is on the back and not round the side!
The camera is fussy about SD cards so make sure you get an SDXC of speed class UHS U3, at least 60Mb/s write speed and 64GB+. Nobody likes to drop back to AVCHD do they 🙂
Amazingly the camera has a 4:2:2 HDMI output for 4K video to an external source. Will I be using it? No! Have fun bolting your Shogun to the hotshoe of this one!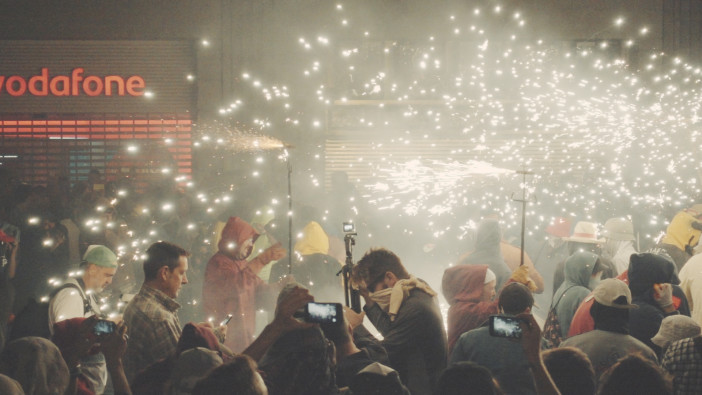 Conclusion
I've kept this short because I believe the images speak for themselves on this one. The RX100 series is pretty well covered, we know the ergonomics and the lens. They haven't changed much in years. What has changed is the video spec – it's extraordinary for any sub $1k camera let alone a pocket compact.
Although the iPhone 6S does 1080p at 120fps it isn't a patch on the RX100 IV quality wise. It's very rare to find 120fps without pixel binning, without line skipping. You won't find any moire in the 120fps 1080p of the RX100 IV or any softness. This makes all the difference.
Add to that the grading flexibility of S-LOG 2 – I was able to put James Miller's DELUTs on the footage from Barcelona and it responded beautifully – and it is very rare to find a feature like that in a compact. Can you name another?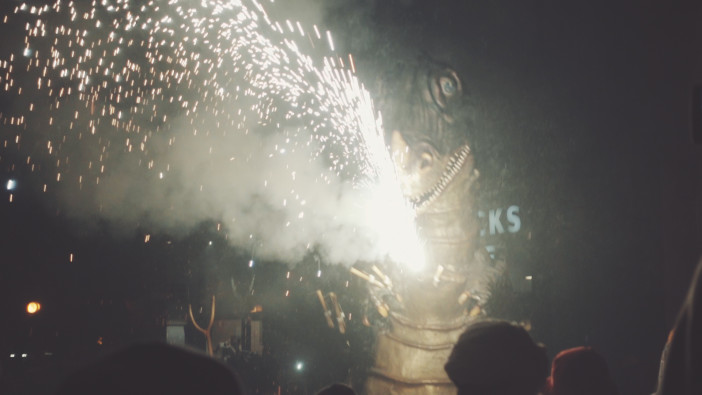 The price is high by compact standards of course, but then you take into consideration the brand new sensor, stacked DRAM buffer, Zeiss lens, built in EVF and faster processor for 4K and high speed video it begins to look quite excusable.
Yes there are better options for 4K under $1000 – the Panasonic G7 being one of them… But for a pocketable 4K camera or a slow-mo camera for cheap, there's no competition.

Pros
Incredible slow-mo 1080p especially the 120fps continuously shooting mode
Tiny. Fits in jeans pocket let alone a jacket!
4K is a bonus – only 5 minute maximum continuous recording at a time though
Big advance in video spec from previous camera makes it worthwhile upgrade even for RX100 III owners
Built in ND for S-LOG 2 makes it practical to use in bright light even at minimum LOG ISO of 1600
Faster wide end of zoom compared to RX10 II (F1.8 vs F2.8)
Uncompressed 4k 4:2:2 HDMI output on a compact!
Very good EVF with clever pop-up fold-out mechanism
Stepless aperture ring (and can be programmed for other controls)
Cons
Clumsy menu organisation
Too many "cannot do this" messages popping up in HFR mode
240fps only for 2 second bursts (same as RX10 II)
PAL / NTSC switching requires formatting of card
Video clips stored in convoluted XAVC-S folder structure rather than with photos
Slow continuous AF in video mode and no single-shot AF, have to switch to stills mode
Short reach of 70mm limits telephoto shooting potential and shallow DOF
Very picky about memory cards when recording highest quality 4K and 1080p
Slow-mo leads you into dangerous situations, where you may die