[vimeo]http://vimeo.com/74457964[/vimeo]
In part 2 of the SLR Magic anamorphic coverage we'll look at how the prototype lens looks and performs on the Blackmagic Cinema Camera.
There's also a poll in which you can help influence the final lens flare this anamorphic produces.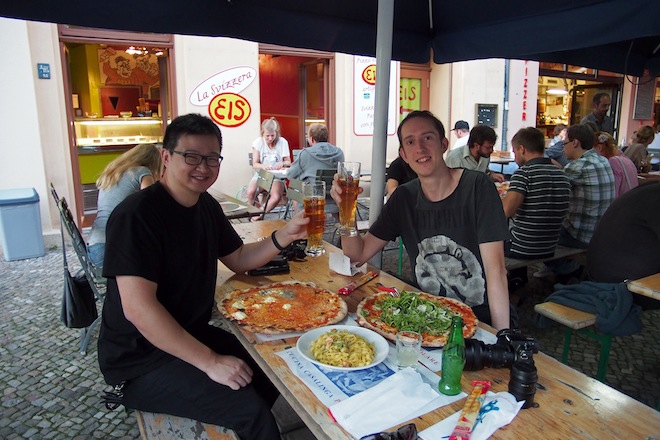 ABOVE: Andrew Chan from SLR Magic (left) arrives in Berlin for pizza with myself (Andrew Reid, right)
The current best options for indie filmmakers who wish to shoot anamorphic are the single-coated Iscorama lenses from the late 1960's and early 1970's. These are $3000 and rare. Even rarer are the LOMO square-front lenses, now circa $4000 for a good copy. There are a lot of bad ones out there and the mechanics are poor. The round fronts are better but $6000! Then there's the LA7200 from Panasonic which fetches between $1000 and $1500 but this lens is soft at the edges and doesn't work well on full frame. All of them are very rare lenses and getting more scarce. Something needs to be done.
SLR Magic aim to change all that and finally give filmmakers a new option.
The great thing about this is that they are consulting the filmmaking community not just about the spec of this lens, but on the artistic signature it gives as an anamorphic.
I shot the footage above with the Blackmagic Cinema Camera, which was a Micro Four Thirds mount version. The anamorphic is being optimised to work with SLR Magic's own lenses and in this case we used their affordable 35mm T1.4 CINE II.
I am also testing the new SLR Magic 17mm T1.6, which I will cover on the blog next week.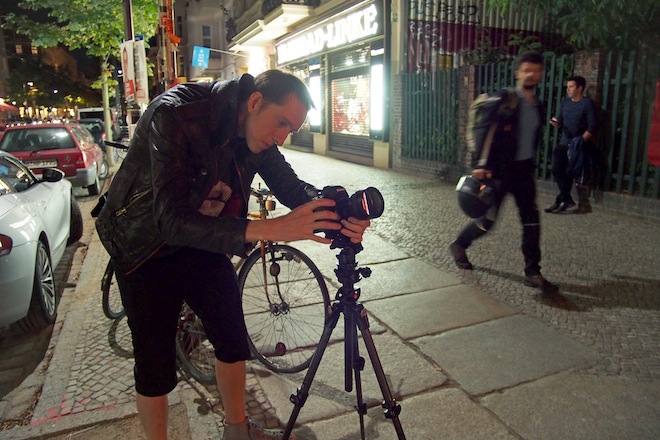 ABOVE: As already mentioned in Part 1 this lens is compact and lightweight. Here I am shooting with it on the 5D Mark III.
As you can see from the footage this lens has very good edge to edge sharpness and it isn't even the finished piece. The lens wasn't optimal for this shoot so there was a tiny bit of softness on the left side of the frame only but this is barely noticeable.
I shot at a range of apertures between F2.8 and F8.
F2.0 is of course softer, but still perfectly usable for low light shooting – and will be fine tuned by the time the final lens reaches the market.
You can see how sharp the lens is at F4 by downloading some very high resolution raw stills shot on the Olympus OM-D E-M5 below, or click the image to enlarge it
Download 16MP raw files shot with the SLR Magic Anamorphic Prototype lens
Click to enlarge to 1080p…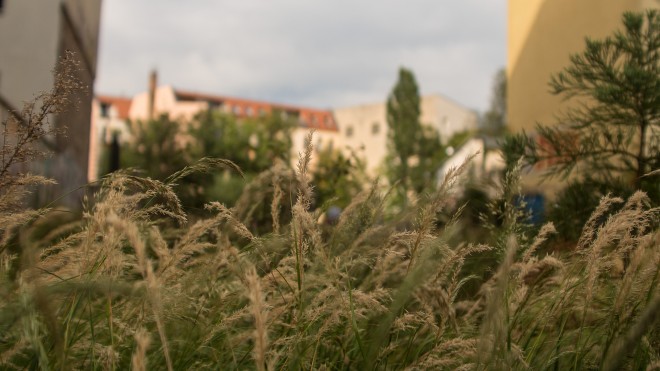 For those too lazy even to click… here is a 1:1 crop!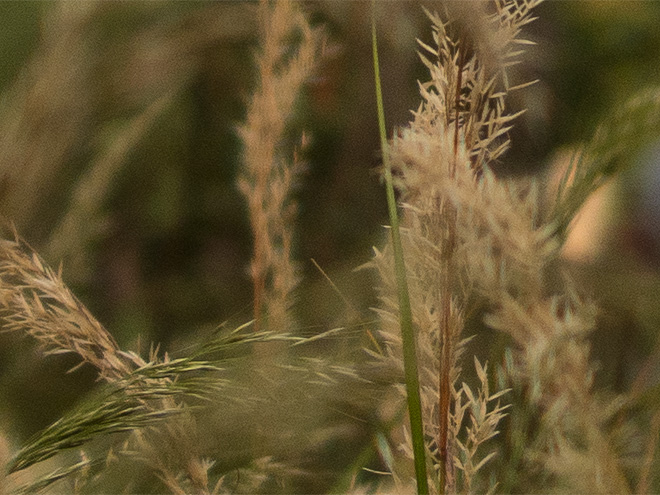 Flare is an area where SLR Magic are collecting a lot of feedback, which should go towards the final product. Here we need your input.
Horizontal flare on anamorphic lenses is usually blue, with a secondary green flare. Blue flare comes from elements which are multi-coated and this coating sometimes represses the flare altogether. Green and orange / cream coloured flare comes from single coated elements.
The aim will be to decide what kind of flare people like the best and to coat the elements accordingly and within budget. Here's how flare looks on the Iscorama –

On the SLR Magic Anamorphic Prototype lens, flare matches the colour of your light source.
The prototype lens is actually completely uncoated.
This for me has advantages and disadvantages. The advantage is that it allows you to get creative with gels and different lights to evoke any colour of anamorphic flare you want.
The disadvantage is that if you have a lot of strong bright light sources in the frame of alternating colours, your shot is going to become psychedelic and it may be hard to intercut footage shot with a standard anamorphic lens with the traditional blue streaks. Here's how flare looks on the SLR Magic Anamorphic Prototype for now –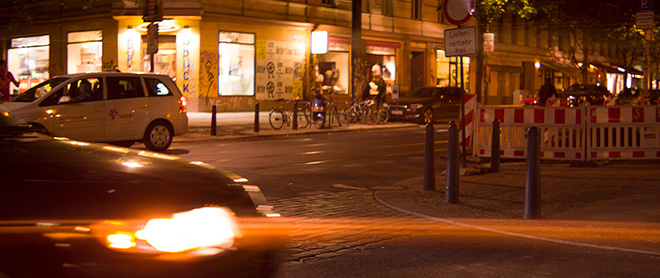 And here's the Iscorama 54 flare, which for me flares even better than the Iscorama 36 –

Sometimes the Iscorama gives me orange flare like from the sun, but rarely does it pick up the exact colour of the light source (such as red brake lights on a car).
So the question is – what tone of flare would you like to see on the FINAL anamorphic lens from SLR Magic?
[polldaddy poll="7393479″>
SLR Magic can also consider a multicoated version with completely suppressed flare.
This shot is from the flare-supressed prototype back at SLR Magic's R&D centre –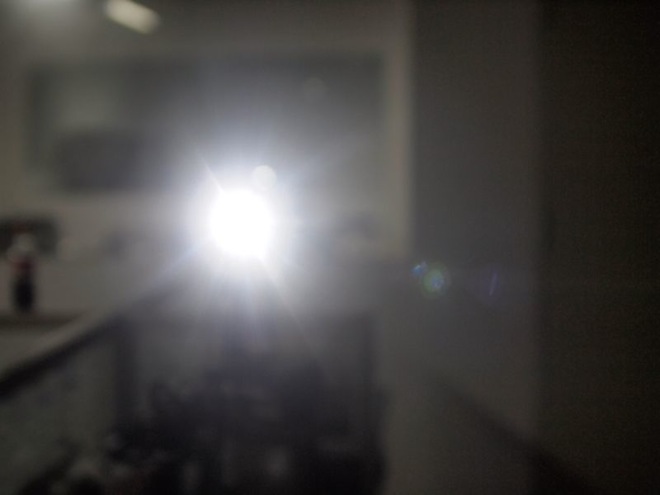 Built-in close focus mode
Another area where I focussed a lot of my feedback was the focus micro adjustment ring on the lens.
This moves an element in the anamorphic to achieve close focus distances between 1.4 to 3m, though the minimum focus distance hasn't yet been determined.
What we are aiming for is a lens that is very practical to use. Dual focus and diopters really slow down a shoot dramatically.
I'd like to see a simple switch or collar that engages closer focus distances. At the moment the adjustment isn't a on / off collar but a focus ring with a range of micro-adjustments in between the MFD and 3m. If your subject is further than 3m away you don't need to touch it. When your subject is closer, the focus adjustment ring on the prototype allows you to fine tune sharpness at close focus distances. Setting up a sharp shot at close focus is therefore a bit more time consuming than it is beyond 3m, but SLR Magic are working on improving the mechanism.
We tested the close focus mechanism versus the highly rated Tokina AT-X diopter. The resulting image is as sharp with the close focus mode engaged & no diopter as it is in normal focus mode WITH the diopter!
Good diopters are quite hard to source. The discontinued Tokina AT-X uses two pieces of glass, whilst most others are often single pieces and not as good.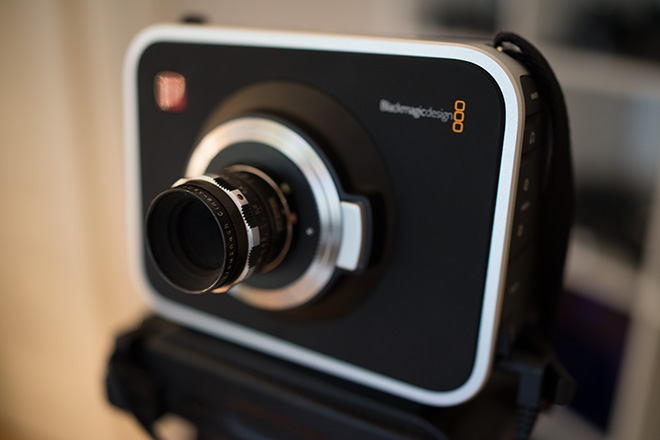 ABOVE: the Blackmagic Cinema Camera MFT
Oval bokeh
Anamorphic cinema aesthetics contains some key  ingredients, one of which is oval bokeh.
Pseudo anamorphic lenses like the LA7200 don't do stretched ovals, or indeed very much shallow depth of field (DOF) at all.
For now, the prototype depends on what prime lens you use it on as to whether you get stretched ovals. This is part of the optimisation SLR Magic are doing to make the lens perform at its best on their 35mm F1.4 and 25mm T0.95.
Here's an example of the current anamorphic bokeh the prototype is capable of –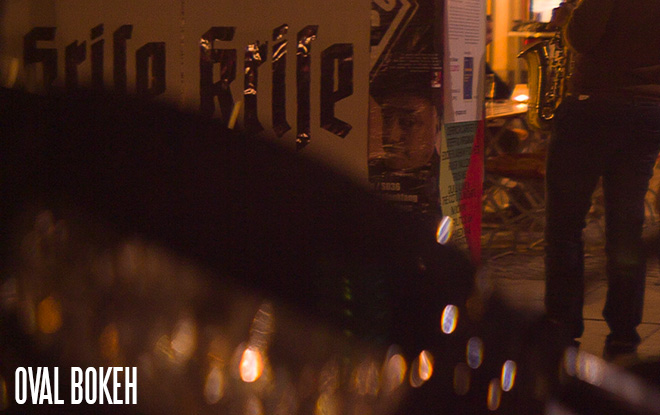 All in all, SLR Magic have a very cinematic piece of glass on their hands here.
Like any prototype, it isn't the optimal design and there are areas for improvement namely the close focus mechanism and coatings to determine what kind of flare we'll get.
Ideally, and strictly in my own opinion, I'd like to see:
Less scattering and less fragmentation of the horizontal streaks
No more than two horizontal streaks at once
Blue tinted flare
Simple on / off engagement of a single minimum focus distance around the 1m mark
It will be very interesting to see how the lens develops with the input of filmmakers and the anamorphic community. And it is certainly unique. None of the larger manufacturers offer a modern, affordable anamorphic lens for filmmakers let alone for consumers or enthusiasts.
In the case of this lens your opinion is very valuable so be sure to have your say on the EOSHD forum, using the link to comment below…
Thanks to Andrew Chan and SLR Magic for access to the prototype