[vimeo]http://vimeo.com/99147875[/vimeo]
Despite appearances the third RX100 is no incremental update. It is astounding that Sony have managed to put a built in ND, OLED EVF, 120fps and XAVC codec in a compact camera, not to mention the new 24-70mm F1.8 to F2.8 lens. Sharply detailed resolution in video mode round out the spec.
But does the reality of shooting with it live up to the specs on paper?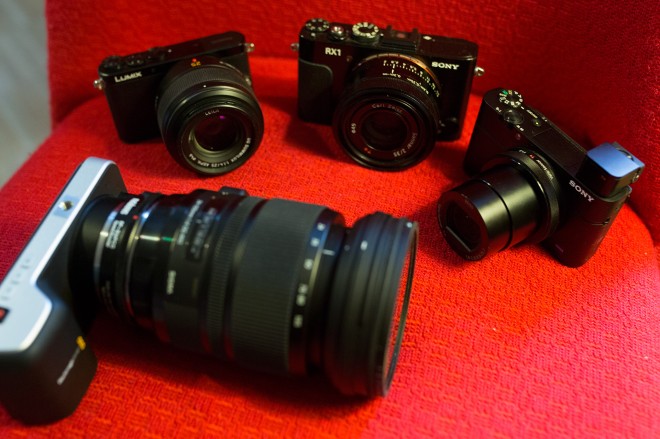 Above: size comparison with the Panasonic GM1, Sony RX1 and Blackmagic Pocket Cinema Camera with full frame 24-105mm lens.
What's new?
Full sensor readout for increased detail and reduced moiré in video mode
Built in ND filter
Built in OLED EVF
XAVC-S codec at 50Mbit/s
120fps (NTSC) and 100fps (PAL)
New lens – 24-70mm F1.8-2.8
Uncompressed clean HDMI output – on a compact!
New LCD tilt mechanism – it goes 180 degrees upwards for selfies
Pretty impressive. Compare this to the main things the RX100 M2 added over the first model.
Tilting screen
WiFi
Accessory port hotshoe for an EVF
Worth the upgrade
The new built in ND filter is as welcome for stills at F1.8 as it is for video with a shallower depth of field, because the leaf shutter only goes to 1/2000 leaving even raw stills at ISO 200 over exposed in strong sunlight when shooting wide open. I wish my RX1 had a built in ND filter.
120fps (useful for slow-mo) is surprisingly good though it does entail a crop and softer detail, it does not significantly increase any moire and aliasing. It records files at 720p in 120fps and you must conform in post to get slow-mo.
The EVF is 800 x 600 (1.4m dots) and similar quality to RX10. Impressive for such a small camera.
Cinematic camera?
The RX100 III is a consumer compact camera that reaches very high in terms of the features but it is still a consumer compact camera. The limitations it has as a creative tool are merely part of the parcel of it being what it is! Although the RX100 II is a big improvement on the previous model, it now inhabits a world where we get 10bit ProRes for $999 and 14bit raw video recording on Canon DSLRs like the 7D.
Sometimes you can't tell the RX100 III apart from the Blackmagic Pocket Cinema Camera…
[vimeo]http://vimeo.com/98559724[/vimeo]
But sometimes it is night and day different. I am really starting to notice when a camera serves up a brittle little thin compressed video clip.
When a scene contains a lot of variation in tone like a sunlit leaves or or a colourful umbrella the camera actually produces very nice results. When you have a lot of low contrast surfaces and subtle variations in tone are required like with skin for instance, the results are just horrible – plastic, waxy and video-like. It is not a camera you can put in ALL lighting situations and expect it to sing like 5D raw or Blackmagic ProRes.
Also dynamic range remains a major limitation. It is very much clipped in the XAVC-S files. It isn't the sensor's fault. This is rated for 12 stops on DXOMark like the 5D Mark III. Sony have done a superb job on the 1″ sensor.
The next limitation is the 8-25mm lens to match the small 2.7x crop sensor. That is 24-70mm in full frame terms but in reality it is still a 8-25mm. That is simply not long enough to give you separation of the subject from their surroundings when they are more than 2 or 3 meters away from the camera. The lens on the RX100 III is much shorter than on the RX10 and it is actually shorter (by 30mm equiv. ) than what we had before on the RX100 M2. It is shorter to accommodate the lovely bright F2.8 aperture at the long end of the zoom which is very welcome but even at the long end of the zoom between 3m and infinity there's hardly any subject isolation at all.
Here's such a shot that looks too busy and flat from the lack of separation at the long end of the lens…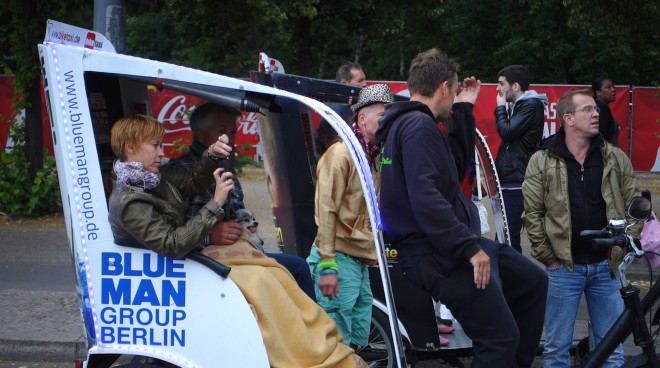 Despite framing the subject (couple in carriage) top to bottom, the background is involved as well as a crowd of about 6 other people.
For so long consumers had ignored aperture simply to look at the length of the zoom. Some compacts now have camcorder lenses with a reach of 50x which is madness because they lack the stabilisation and fast aperture to make it all look nice! Sony did a noble thing with the fast F2.8 aperture at the long end of the zoom, but the irony is I really miss the reach and shallower DOF of longer focal lengths.
For shallow depth of field there is the Sony RX1 which shoots amazing stills, the problem there being that is it shoots terrible video! Lots of moire, no pop-up EVF, no ND and no XAVC codec. Yet here Sony have an $899 compact with all of that and one which shoots much cleaner video than their flagship RX1. Strange stuff! It is almost as if Sony are making their product planning up as they go along. The RX1 isn't even that old and there's absolutely no reason why it shouldn't have a firmware update for 50Mbit/s XAVC-S.
XAVC-S
This is the same codec Sony are putting on the A7S so possibly with the RX100 III we get an early glimpse of what it is like.
On the RX100 III we have 1080p at 50Mbit/s so double the bitrate we had previously with AVCHD but still there is lots of horrible macro-blocking on motion blur. It's a poor encoder, rather than the bitrate which is to blame.
Also the clips are still stored in a sub folder of a sub folder of a sub folder in the PRIVATE folder. I hate having to fish for them there, put them with the stills! The clips are in there as they are accompanied by XML metadata files and 720p resolution JPEG preview frames. Incredibly the metadata file does not contain anything useful at all and the JPEG thumbnails also are completely wasted. They don't contain any EXIF shooting info related to what settings you used, or what exposure, or the picture profile selected for the clip. When scrolling through videos in playback mode the high resolution thumbnails are ignored completely and you get a barely legible pixilated scrawl! What on earth were they thinking here?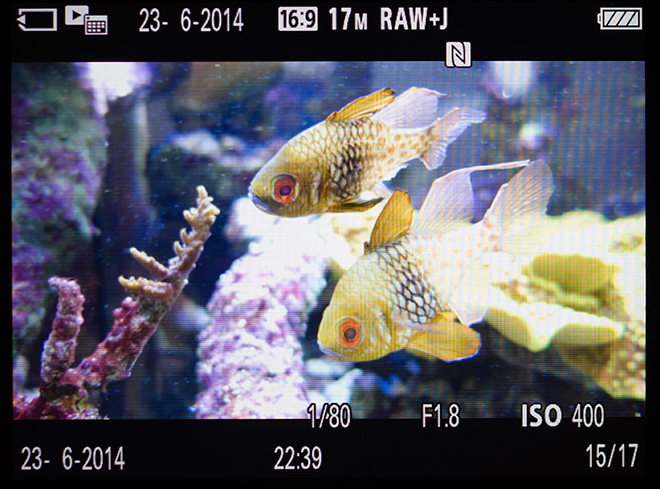 Above: Stills thumbnail in playback mode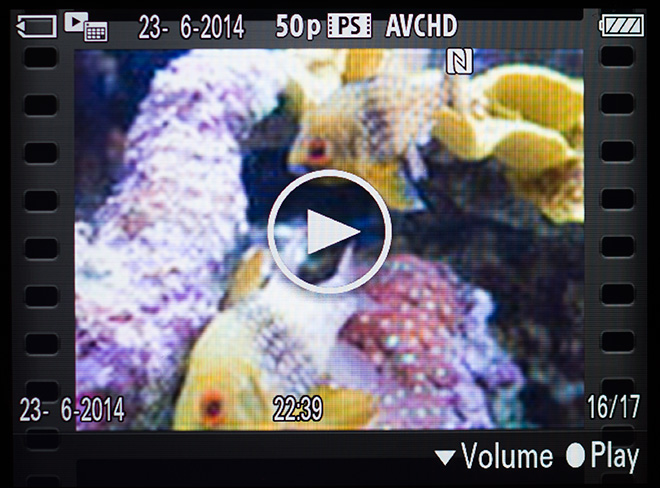 Above: video thumbnail
Video quality, stabilisation, EVF
Sony appear to have switched to a sensor-shift based stabilisation system in the RX100 III rather than optical. I think this because even with standard Steady Shot enabled which I thought uses the OIS of the lens, I get a warping effect caused by the sensor moving. The stabilisation is not as effective as the Olympus 5 axis system. You can switch to Active or Inteligent Active mode which is quite effective but then you have a further crop of the sensor and a softer image.
The EVF is bright, sharp and the best viewfinder yet seen on a compact. The pop-up mechanism means the camera maintains the jeans pocketable form factor it is famous for. I really love this feature and found myself using it a lot. It's an OLED panel and very sharp and contrasty.
In terms of resolution the 1080p from this camera has the crispness of fine detail like the GH3 but it falls flat vs the 4K you would get from Panasonic's upcoming compacts using the same sensor, like the FZ1000 bridge camera.
Here are some 1:1 crops from the output…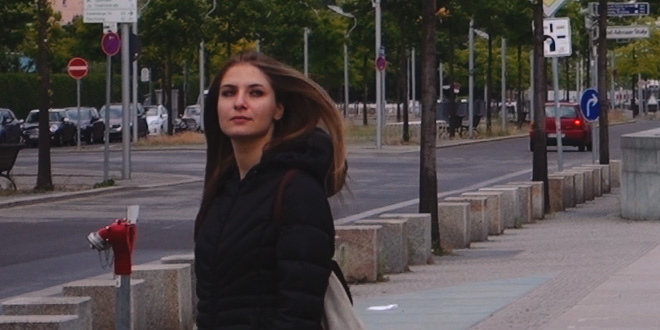 A little compressed looking, but sharp…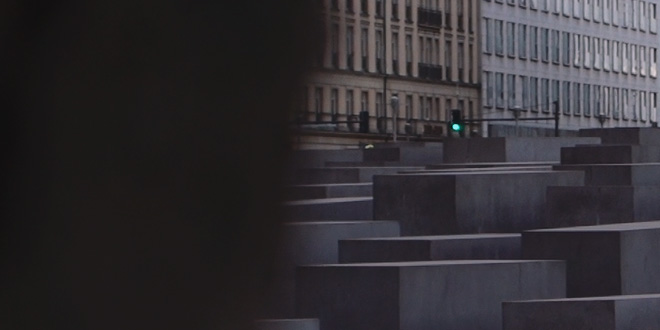 Very poor handling of subtle grey tones.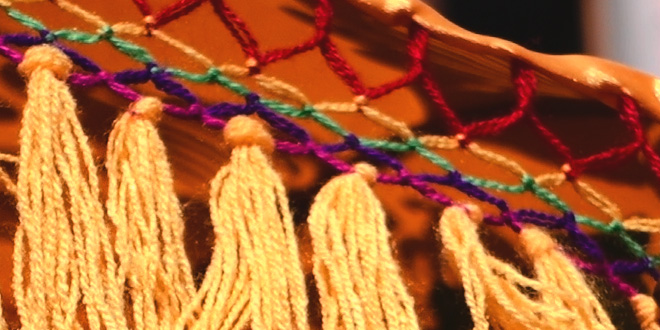 Very nice handling of colourful and detailed subjects at close-up.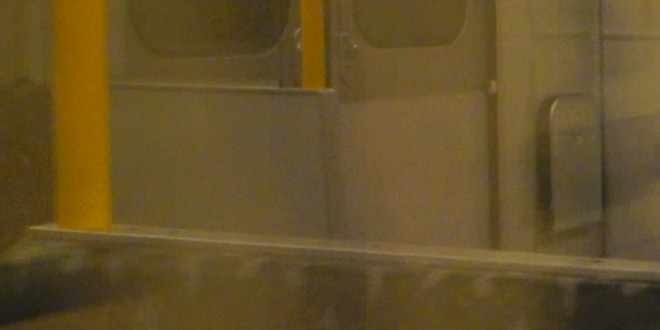 Encoding mud from motion blur of passing objects outside a train window. Not nice!
The stills quality is pretty much as before but I did notice the JPEG quality on this camera has taken an interesting direction. Lots of sharp detail and fine noise grain in the JPEGs this time.
Slow-mo
A big surprise is that 120p (at 720p) does not contain lots of moire and aliasing. It is actually very usable for slow-mo! It takes a 16mm film crop of the sensor and of course it is softer than 720p on the GH2, but it's the best 120fps I've yet seen on any compact camera. It is certainly in league with the GH4's 96fps. However the camera astoundingly does not playback 120fps in-camera as slow-mo! Hmm! How is the average consumer buying a high end compact supposed to know how to conform this 120fps to 24fps or 30fps slow-mo? In Premiere Pro!?
The camera is PAL / NTSC switchable so PAL uses get to benefit from the higher frame rate of 120fps as well. A 100fps option is available when the camera is set to PAL to reduce flickering with electric lighting.
I'll be revisiting this feature in a separate article.
Handling
There's no hotshoe and no mic socket so external microphones are out of the question for this one.
However overall this is a camera that handles better than you'd expect give the tiny size. It is far more responsive than the older models too. Operation is very snappy and there's virtually zero lag on the video record button.
The zoom lens operates slowly but very smoothly during video recording and at he end of the zoom it settles gently to a stop rather than abruptly. Nice touch there.
The punch-in focus assist zoom can be activated while recording. Framing changes on the LCD but the recording isn't effected. A quick brush of the shutter button brings you back out. Again a nice touch!
AF is now MUCH faster than the RX100 M2 in stills mode, but in video mode it is still very hesitant and slow. I actually prefer to use M stills mode for movie recording than the actual Movie Mode on the dial. In movie mode you cannot use AF-S to grab focus quickly on an object and record video with it locked rather than continuous. Also in movie mode the manual focus assist is a bit soft and peaking a quite low res affair. Pressing the shutter won't allow me to bang off a still in movie mode either, nor can the shutter button be used to record a movie! I have set my stills to 16:9 so I get proper framing of movies in the stills mode. When I need MF I get a crisper zoomed display and when I press the shutter button I can rattle of a raw still. Only at 120fps does the framing change when I hit record in this mode and I lose the option for the cropped 'Active Stabilisation' for movies too but the benefits of stills mode for movies outweighs those downsides.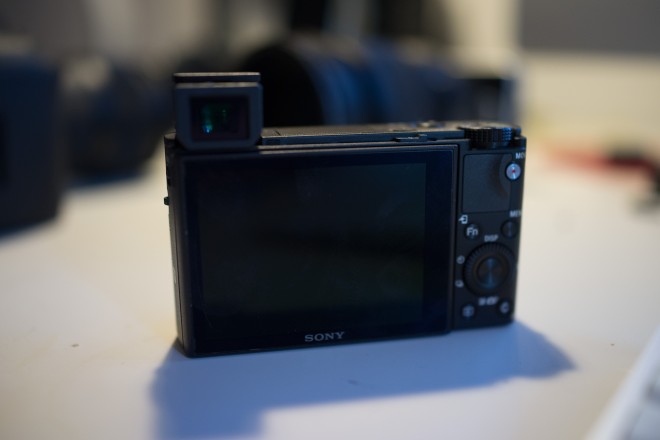 The pop-up EVF is easy to extract even if it does need two motions… One flick of the switch and one pull forwards to extend fully. Rightly or wrongly the camera automatically powers off when you retract the EVF. You can leave it up and switch between the LCD and EVF with the eye-sensor but shame there is not a menu option to switch off that auto power-down behaviour.
My feedback to Sony on the RX100 would be to fix the small but annoying things. There's nothing major which is a deal breaker but plenty they can improve upon.
The playback mode separates out files of different types in the menu rather than allowing you to scroll between movies and stills seamlessly like every other camera on the market. If you have shot video in XAVC-S, some in AVCHD and then some stills, only one set of these files will be available in playback mode at any one time and the rest hidden. This makes you believe the files are actually deleted. For consumers who haven't yet found the right option in the menu these will be a scary few hours.
When you use the SD in another camera, Sony cameras need to 'rebuild the image database' and the propriety folder containing videos. This was a regular occurrence for me with lots of SD cards and other cameras. It was also a painfully slow process but on the RX100 III this seems greatly speeded up and it does it pretty much instantly. You just have to dismiss the prompt. When switching regions (PAL / NTSC) you have to format your card (unlike on the GH4) so I recommend PAL shooters keep two cards, one for 120fps and one for 25p! You can then set 120fps to the Memory Recall mode on the dial which handily sits between Movie mode and M stills mode, then keep your regular 24p/25p settings on one of those.
When the screen is tilted upwards the shooting info rotates with it but stays at the bottom of the screen, the exact part which is obscured by the camera body when the LCD is in selfie mode. Hmm!
The organisation of the menus is still a bit haphazard with video frame rate on the same page as flash options, movie options scattered around on different pages. Why not put all the movie related options on one page? And for stills you have AF / focus options scattered onto no less than 4 different pages in two separate menu tabs. Why?
The manual focus ring is still too thin and has too much variation in sensitivity as you use it. It's very confusing. You can whip focus quickly from infinity to macro with a very short turn, but then fine tuning focus over a tiny distance requires many many slow turns of the ring. I'd rather the travel was constant like a DSLR lens. Especially with a deep depth of field it is hard to see what effect the focus ring has, when the effect is not predictable.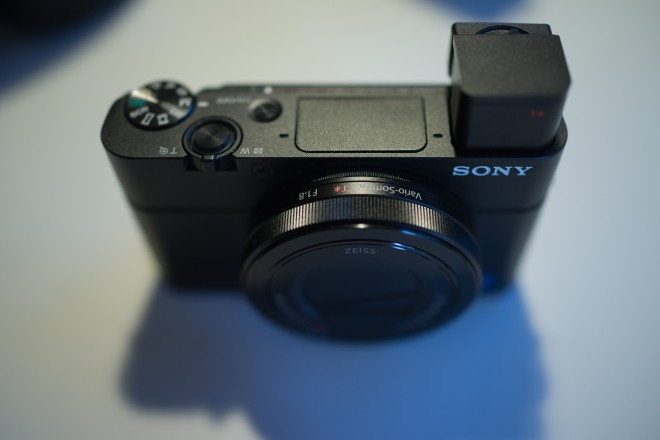 Conclusion
The RX100 III is deeply impressive as a compact camera. No other camera this size touches it.
As a video camera it delivers 50Mbit/s files with plenty of detail in 1080p and very usable 120fps for slow-mo.
It doesn't lack for features or usability either. For video the RX100 III really has a chance to displace the GoPro as a popular drone and action sports camera. It would be great to see 3D gimbals for the DJI Phantom and RX100 III!
However I dislike the lack of depth of field control with the short lens. 8-25mm on a 2.7x crop sensor pales in comparison to a 35mm or 50mm F1.4 on full frame. I just cannot get the dreamy look that I can with the GH4 + Speed Booster and fast lenses or with the 5D Mark III and full frame raw video. Too much to expect from a compact? Maybe, but the Sony RX1 fits a much bigger sensor into a pocket camera doesn't it?
If you need a drone camera or a very small 'shot grabber' as well as a pocket camera for stills you cannot get a better one than the RX100 III. However image quality does fall short of the Blackmagic Pocket Cinema Camera for video. The other thing which may give potential buyers slight pause for thought is if Panasonic put 4K in their LX series. The FZ1000 already has the requisite 1″ sensor and 4K codec for $799 in a bridge camera, so this is a distinct possibility.
Right now in the here and now, the RX100 III is highly recommended as long as you appreciate the limitations.
The Future
I would LOVE to see a full frame RX1 Mark II with these features. I suspect the RX1 II is going to be a curved sensor affair but if they put the 12MP A7S sensor in the RX1 and added the new RX100 III features it would be a great in-between step. A full pixel readout for crisp 1080p, 120fps, pop-up EVF, built in ND filter and XAVC-S are exactly what the RX1 is missing.
I would also love to see an APS-C version as well. That 1″ sensor is just a bit too small for the tastes of many filmmakers. 1″ is approximately Super 16mm but with a fixed zoom lens but with Super 16mm you really must have interchangeable lenses and raw for it to sing like the Digital Bolex does, with the lovely fine grain and 14 stops dynamic range…
[vimeo]http://vimeo.com/90537957[/vimeo]
Above: Shot on a small sensor!
As we have seen with the RX1 it is possible to fit a very large sensor in a compact body. Even if an APS-C RX had to grow to accommodate a 18-50mm lens to cover the larger sensor I'd buy it in an instant.
Pros
Larger sensor by compact standards (2.7x crop 1″)
Respectable low light performance especially considering the 20 megapixel count
Very good resolution in 1080p/60p/24p
Very good quality 720/120fps mode for the price
XAVC-S 50Mbit/s increases quality of movie capture over AVCHD on previous models with finer noise grain and less banding
Sharp lens bright at both ends (F1.8 / F2.8)
Built-in ND filter
Built in pop-up OLED EVF with eye sensor
Uncompressed clean HDMI output
Very good quality stills. JPEGs are excellent this time
180 degree tilt on the screen, makes selfies possible
Effective optical stabilisation and even more effective Intelligent Active Stabilisation for movies (with crop and reduction in detail)
Very fast AF in stills mode
PAL / NTSC switchable
Almost all movie options usable in stills mode
Wide range of frame rates – 120,100,60,50,30,25,24p
Full manual control and stabilisation remains active in 120fps mode unlike other compacts (like LX7)
WiFi allows remote control
Very small and light so perfect for DJI Phantom drone
Responsive
Zoomed focus assist can be activated while recording a movie and moved around the frame
Full manual control of ISO, shutter, etc. while recording a movie
$799 for all that in a compact camera is superb value
Cons
Short lens (8-25mm) makes it difficult to separate subject from background if they are 2 meters or further from the camera
Still occasional (mild) moire and aliasing
Waxy skin tones and occasional 'video' feel to images
XAVC-S still prone to blocky compression and poor rendering of motion blur
XAVC-S meta-data useless, very poor quality thumbnail preview in playback mode despite high quality one stored on card!
XAVC-S still hides clips in a sub folder of a sub folder of the PRIVATE folder
No option to conform / playback 120fps as slow-mo in camera
No mic socket
No hotshoe
Limitations when set to movie mode on the dial – No AF-S or ability to take stills with main shutter button
Slow AF-C in movie mode
Confusing feel to the manual focus ring – way too much variation in sensitivity
Video recording button awkwardly placed and cannot be assigned to another key
Main shutter button cannot be used to start video recording in movie mode
Options relating to focus and movies scattered randomly throughout the menus rather than grouped
Playback mode only displays one format of file per session, hides the rest
Switching between PAL / NTSC requires card to be formatted
Shooting info panel obscured when screen is facing forwards in 'selfie mode'
Low resolution peaking not accurate enough for critical manual focus