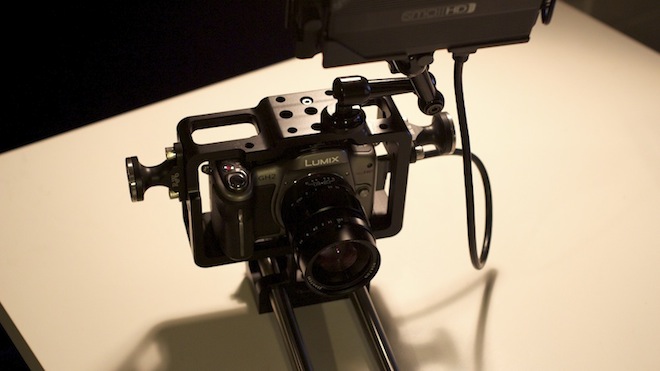 Out now though very limited stock – buy & contact ReWo here
For the latest updates you can follow ReWo on Twitter here
The GH2 may be the best all-round DSLR for video at the moment and the only one with an extensive creative movie mode and no moiré – but it's construction is weak relative to a Sony F3, or RED, and even the 5D Mark II. I want to have top and side handles, rails to support large LOMO anamorphic lenses, attach a monitor and a mic.
This cage is the answer.
How does it handle? Well, my GH2 & ReWo feels like one solid chassis, more like an aluminium digital video camera than a DSLR. It looks so much more stylish too, sitting in this precision engineered block of anodised aluminium. More 'RED EPIC' than DSLR but maintaining a very short profile and overall size. It has a hint of RED in a practical way as well as stylistically, with RED standard mountings and spacings on the top.
Obviously, since DSLRs are not designed for video they have a lack of mounting points – just two in fact, one for a tripod quick release plate and one for a flash! The cage changes that.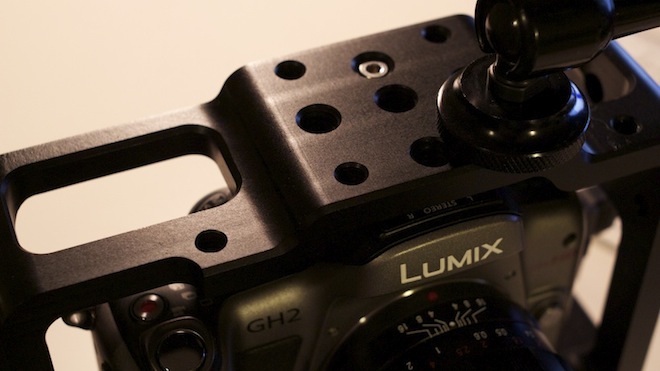 So if you haven't used a cage before the advantages are bigger than you may think. Here are some I've noticed so far.
Advantages of the ReWo GH2 cage
DSLR ergonomics are massively improved (you can even use a RED top handle)
I can attach handle bars to the cage for an ultra compact handheld rig (ReWo includes Hirth Toothed mounting points for professional handles like Arri's)
Unlike if mounted with a quick release plate, a caged GH2 never tries to escape (budge or rotate)
The weight of lenses and monitors goes through the rails and cage instead of the lens mount and hot-shoe which can damage the camera
I can rig my monitor higher on top or on the side of the camera itself and not be restricted by the fewer mounting points on my handheld / shoulder mounted rig
The cage comes with a removable rod support block out of the box, with industry standard 15mm rod mountings. Particularly useful for supporting heavy cinema lenses or LOMO anamorphics.
It looks great!! The GH2 looks more professional and of higher quality in the ReWo cage.
It protects the camera from direct hits or knocks
When you use a follow focus the camera has more tensile rigidity and a much stronger link to the rails themselves rather than via a tripod quick release plate and one screw mounting. So even if your follow focus gearing is strong, the camera remains rock solid and doesn't ever move – VERY important.
Being aircraft grade aluminium means the cage remains light despite it's strength
Because the cage tightly adheres to the profile of the camera, the overall system remains very 'petite'
Because the cage accommodates the flip out screen, battery door and card door you never need to remove the camera from and it never hinders you. The GH2 and cage become one.It's important to state, though it should be obvious(!) – that this is an elegant solution not some kind of frankenstein creation. Like most DSLR shooters I don't like complex rigging or unwieldily handheld rigs which unbalance your handling. This cage is simplicity in itself.
The engineering is really first class and it was great to get access and to see the plans becoming reality. I'll write a behind the scenes blog soon with photos of the manufacturing.
It has all the great hallmarks and attention to detail of typical German engineering and should really be a much more expensive product than it is. Instead ReWo are selling it for €360 + VAT.
I find that with the cage I can now attach handles, monitors, audio solutions and more in a much greater variety of positions without damaging the camera's toy-ish consumer plastic chassis. It also gives the camera better rigidity and extra heft for handheld work. That extra rigidity when rigged up really is good for follow focuses…
Because the cage gives the chassis of the GH2 some much needed rigidity and security, racking focus and using follow focus systems become much more stable with the GH2 anchored to the cage (top as well as bottom). With a normal quick release plate of a handheld rig or tripod, the mounting point is a single consumer tripod thread on the bottom and it simply isn't good enough. How many times have you found your camera rotate on it's own accord and un-tighten over time on a quick release plate?
Critically when you're using a follow focus, the gearing can put enough force through the lens to move the camera slightly causing the image to jump. Thankfully Panasonic strengthen the mount on the GH2 – it no longer bungles as easily as the GH1 with heavier lenses for instance, and in the ReWo cage the camera is secured on the base in the usual way but also via a cool hot-shoe mounting bracket. So there is a structural rigidity running from top to bottom, which you can only have with a cage such as this.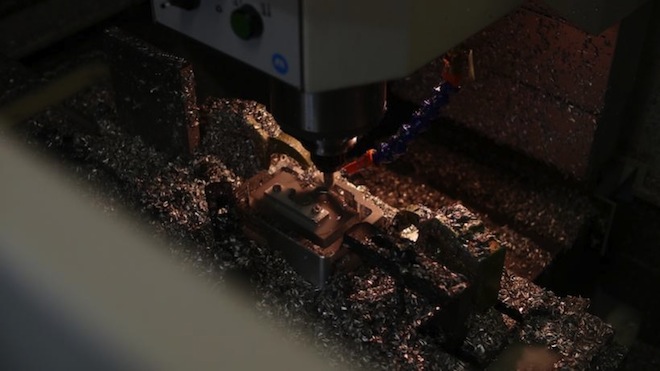 The cage is CAD / CNC milled and finished by hand from one block of aircraft grade aluminium before being anodised black.
ReWo are German DP Philip Reinhold and DP/Director Bernd Wondollek, two film industry professionals. When Porsche and Audi need a new ad shooting Bernd is one of their first points of contact. This is relevant because that knowledge and experience is directed into the design and they understand the needs of working DPs.
They're big fans of DSLRs love the fact that rigging is reducing in size and complexity. I've seen the cage evolve over the last 6 months into a fully fledged product and I was able to suggest ideas. EOSHD DNA is present in one small area – the cut away for the shutter release and record button for easier access. I suggested this since those are the only controls on the top panel you need constant access to and it was important to get that right, but not compromise the structural rigidity of the cage.
Operating the GH2's extensive manual controls whilst caged is so easy I haven't removed my GH2 from the cage since I got it. The GH2 and cage have become one piece as far as I'm concerned!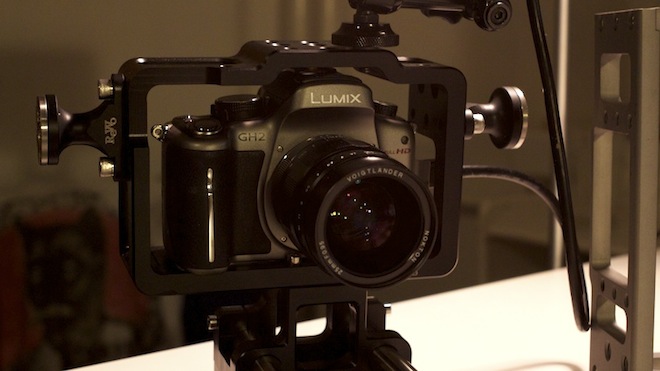 It was good to follow the process and see each refinement as it came including the aforementioned top-mounting bracket which secures the GH2 rather ingeniously by slotting into the hot-shoe, for the camera to remain locked into the cage rock solidly, so even the toughest follow focus gearing won't upset the rig.
The 'cheese plate' spacing of the mounting points are RED / Arri compatible.
Standard 15mm rails are supported and the rail support block is included with the cage as are two mounting points for handles such as those by Arri.
On a professional set you are free to move accessories like handles and monitors from an Alexa to a B-camera GH2 & ReWo cage, which simply wasn't possible before.
ReWo tested the cage on set, and kept adding refinements like these.
I endorse simplicity and affordability which is part of the reason why I like DSLRs so much. I don't like to get too rigged up, preferring to keep it small and simple, it is my filmmaking philosophy! So for me to appreciate the cage it has to be small, light and have advantages other than just allowing lots of arms with hardware hanging off. That it has these hidden depths as well as good looks and fantastic build quality makes it practical and sexy. It fits the brief and stays true to what a DSLR is.
At €360 + VAT it is certainly affordable considering it's refined design and quality – not to mention the fact that it's not mass produced by slaves in China! All in all, highly recommended.