[vimeo]http://vimeo.com/38959690[/vimeo]
The 5D Mark III is the long awaited 4 years in the making successor to the one that really started it all. Have Canon managed to keep the DSLR video flame alive?
Sadly I have to say no.
During the pre-orders period where many rushed to buy it based on the reputation of the predecessor – myself included!! – Canon went to great lengths to hold back full 1080p video samples. All the footage was 720p, 540p and also highly compressed for the web. They had an embargo on their reviewers and test shooters not to release any original files direct from the camera but were happily taking thousands of pre-orders from loyal video shooters.
Thus the first sign most people will have of anything being wrong with the video mode will come when they shoot with it, $3500 lighter! There are 3 major things I'm not happy about…
The video output on the box says 1080p. It isn't. It is about equal to $600 GH2's 720p mode  and that camera has more resolution in 1080.
The new ALL-I codec is 80-90mbit but has some really terrible fizz and mosquito noise issues
There are no real improvements for video (like an articulated screen, peaking focus assist, etc.) apart from a headphone jack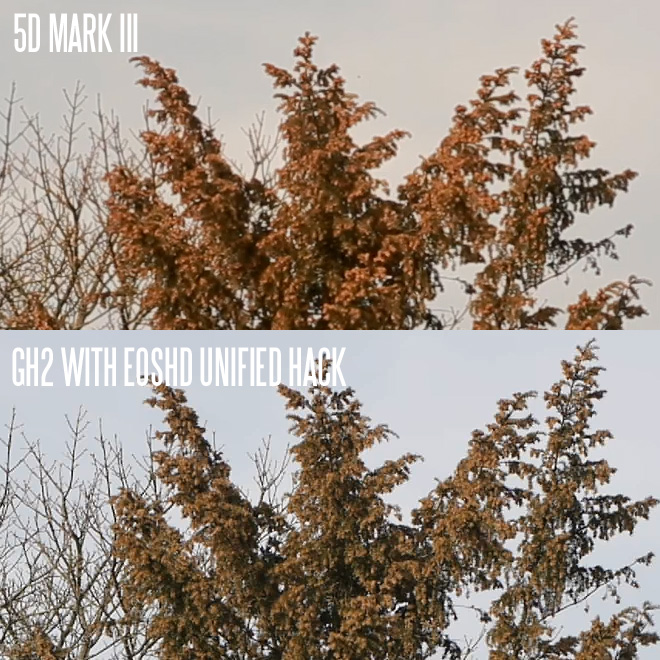 If the GH2 can do such a good job of scaling its 18MP sensor to 1080p for $600 why can't the 5D Mark III scale from 22MP? With all of Canon's expertise in video on the camcorder side of the business it isn't hard for them to do.
I'm running the production model firmware v1.0.7. The improvement to resolution over the rather mushy 5D Mark II was one of the minimum requirements on my list for the 5D Mark III over the Mark II. In fact, that along with the moire and aliasing solution is all I really wanted. I'm not that demanding and realise that this is a $3500 stills camera not a $20,000 video camera.
So the 5D Mark III doesn't even live up to my modest expectations – even though we are now a whole three and a half years on from the 5D Mark II and Canon have had plenty of time to react. As with any camera though, there are two ways of looking at it (apart from the Nikon D5100… Which was just rubbish full stop!)
Nothing is ever black or white, right or wrong, for everyone. It compliments the GH2 well, if you want to add a full frame look but keep the highly detailed true 1080p of the GH2 in reserve for landscapes and architecture. It also compliments the GH2 in low light where the 5D Mark III is frankly quite amazing (i.e. above ISO 6400).
You can shoot video up to the expanded range of 25,600 in video mode, though you have to set the ISO expanded settings for stills mode in the menus before the option becomes available.
It also has much improved audio controls and monitoring. You can adjust levels silently with a touch pad even during recording. It has on-screen meters and finally a headphone jack like Nikon offer on the D800. Yes! That amazing iPod technology which took Canon 4 years to include on a DSLR that does video.
The 5D Mark III also has some nice small incremental improvements – like a new Toyota does. Very conservative, very correct but very uninspired. (Sorry if you expect Canon to still be making Ferrari cameras, because it looks like they are Toyota all the way from now on!)
There's the headphone jack, timecode, barely noticeable improvements to rolling shutter. Build is very good too, as you'd expect for the price. But nothing all that exciting.
Like the 5D Mark II the best thing about the Mark III is the sensor. That is exciting. Full frame is lovely and the camera is capable of incredible results as was the 5D Mark II – important not to lose sight of that. Rich colour and beautiful rendering of your full frame lenses are particular strong points which give the image a cinematic quality.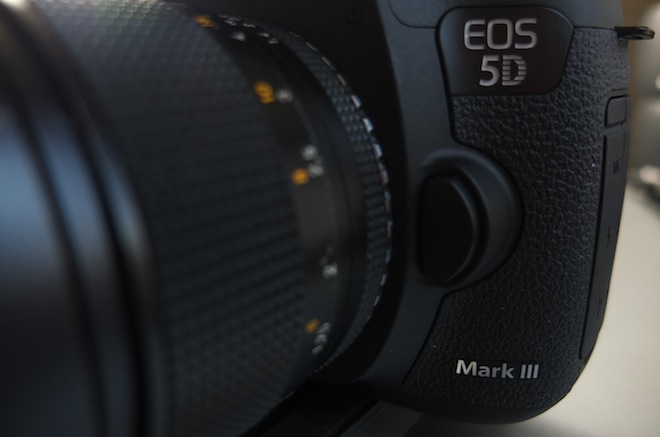 Again here, the issue is not black & white though. A larger sensor is not the be all and end all of a camera and it has some drawbacks. First your telephoto end retracts dramatically and you will need absolutely massive lenses to get fast telephoto. On the GH2 you simply stick a tiny 85mm F1.4 on there and punch in to Ex Tele mode! Nothing like a 1:1 crop mode on the 5D Mark III unfortunately though the Nikon D4 does have that, with no mushy resolution because it doesn't scale. The Nikon D800 has a 1.6x crop mode (for DX lenses).
Also your focus plane shrinks at fast apertures, so some of the low light advantage of the 5D Mark III is negated if you need to rack focus in a manageable way. You need to stop down. Don't be tempted to always shoot wide open on full frame unless your shot is pretty much locked down.
Codec fizz
I have to say the new ALL-I encoder is not actually very good. The FS100 proves that with a good encoder, you don't need high bitrates for good quality. The 5D Mark III throws 80Mbit intra-frame at a full frame sensor that is almost clean at ISO 3200 yet still manages to generate a ton of fizzing noise over the image in video mode at ISO 100!!
This is not ISO noise, but codec generated. It is important to note that. It will appear on shadows and under exposed shots even at ISO 100 or 160. The noise reduction setting in-camera doesn't have an affect. It is more noticeable in motion than on a still frame example.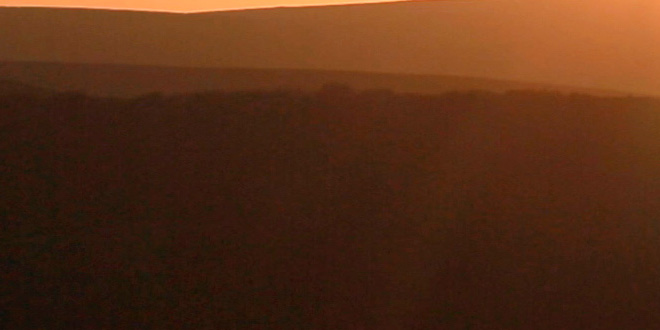 Here are two examples of where it is particularly bad, especially after a light grade to boost the lows…
That said, the new codec does generally speaking grade better than the old one. It does keep onto plenty of colour and detail when you push it. It is just a shame about the fizzing noise issue, and hopefully Canon can fix this a via firmware update (don't hold your breath!)
Codec compatibility issues
Possibly due to the switch to the Rec.709 broadcast colour space of 16-235, the 5D Mark III footage is also more susceptible to gamma issues with NLEs than the old camera was. Like the GH2 you get crushed blacks and a darker gamma on a computer screen which uses a 0-255 colour space. You need to transcode with 5DToRGB with gamma set to 1.22 to get properly representative rushes whilst editing. I don't think Quicktime on the Mac properly remaps the 16-235 range of luminance to 0-255 for your display.
Canon and Apple need to talk more.
There are also other (more minor) compatibility issues with the new codec. Vimeo doesn't support the .MOV files direct from the card yet though I am sure a fix is on its way very soon and VLC Player prior to the new 2.0.1 doesn't playback the footage either so make sure you update that app if you haven't already.
Ergonomic mishaps
Where the focus assist used to be…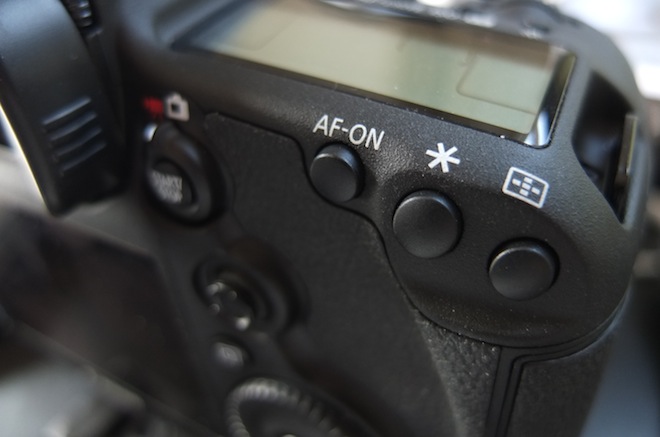 And where it is now!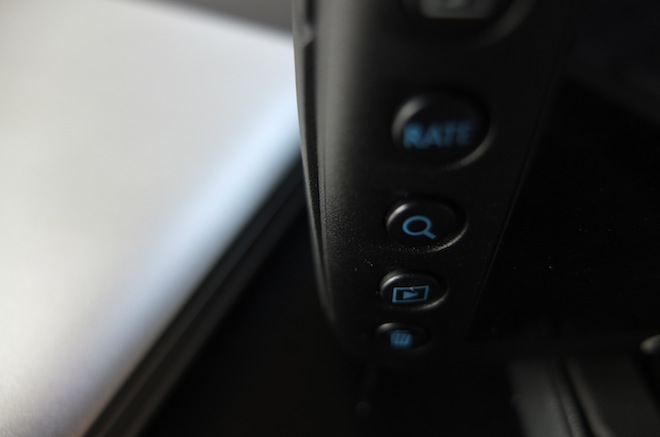 Canon don't think a focus assist for manual glass is important because they want you to buy their lovely auto-focussing lenses. That much is abundantly clear, because the punch-in magnified focus assist has moved to a ridiculous position. This is the only focus assist the camera has!
We rely on manual focus, not AF for video. Even those who need AF are still out of luck. The 5D Mark III doesn't support AF in video mode at all. Again, not the kind of leap forward many of Canon's customers were hoping for especially live event shooters and point & shoot consumers.
Focus assist is now the lowest priority button on the body, under RATE and next to the playback button. You can't even reach it with your shooting hand on the right. You can however program it to the SET button. Better but not ideal. It can't be assigned to the more convenient M.Fn button next to the shutter and there's still no half press of the shutter to come out of it. Instead that still takes two button presses. Well done Canon.
Alternatives
Back in 2009 the 5D Mark II only had the D90 and GH1 for company. Today the 5D Mark III is not just far higher priced it has more competition.
For those who don't mind shooting with (a still large) Super35mm or near Super35mm sized sensor instead of 35mm full frame the Panasonic GH2 and Sony FS100 offer far more video features and better image quality overall. Almost as good resolution as the $16,000 Canon C300 and the FS100 is as good in low light.
If stills are important as well as full frame video, the Nikon D800 is $500 cheaper than the 5D Mark III and offers a 36MP full frame sensor. It is not quite as good in low light as the 5D Mark III but it does feature clean 4:2:2 HDMI out and a APS-C 1.6x crop mode for DX lenses. On actual 1080p resolution however they are unfortunately as bad as each other.
For those who don't need the only real major improvement of the 5D Mark III (low light performance) the older Mark II with a Mosaic Engineering VAF-5D2 anti-aliasing filter represents far better value for money, for those wanting full frame video on a tight budget. That camera also has the Magic Lantern hack, so essentially has more functionality than the new camera! Just be aware of the soft corners at anything wider than 24mm when you have the anti-aliasing filter fitted.
Conclusion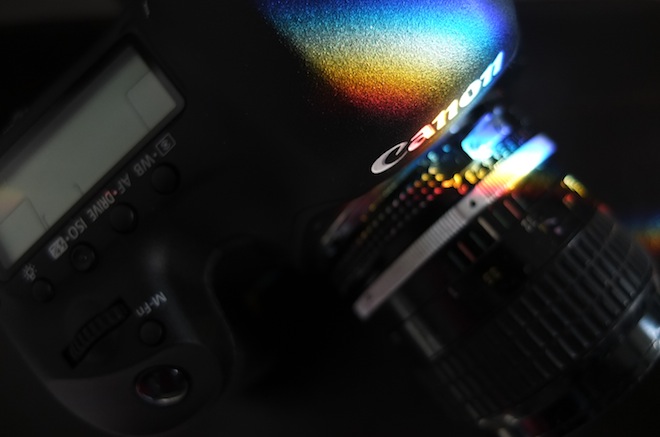 The high sales of the 5D Mark II were in a large part down to the massive consumer market (even camcorder users) buying it for video as well as a huge portion of the professional video industry (small production studios and freelance shooters) buying 2nd and third bodies. A lot of pros even used it as their primary camera.
The Canon C300 doesn't cater for these people because of the price and the 5D Mark III is not a big enough improvement.
You will not even notice the difference between the 5D Mark II and 5D Mark III on most kinds of shoots – even though one is nearly 4 years older!
In those 4 years we have had such lukewarm updates as the 60D,600D and 7D all of which didn't progress image quality from the 5D Mark II. What is wrong with Canon?
That is a pretty massive failure to deliver, in my book.
It seems like they are suffering from some kind of risk averse corporate paralysis. Canon are very lucky that Nikon are so clueless about video, even though the D4 and D800 are big steps forward for them. But they won't be so lucky when Sony bring their full frame DSLR to the market later this year. By then it will be game over for Canon in DSLR video unless the 4K EOS is sub-$4000 which I very much doubt since it belongs to the professional Cinema EOS range like the C300.
I'm expecting cutting edge video and a very aggressive price point from Sony with the A99. There's also the GH3 coming.
And like I said earlier, the price of the 5D Mark III is so high that it nearly butts up against the excellent Sony FS100, at least in the US.
So is it all over for DSLR video with Canon?
So now the dust has settled on 2 years of shooting DSLR video, I feel short changed by Canon to be honest. The C300 is way out of my budget. Can't afford it. I have better things to spend $16,000+ on. How about the script? How about 4K even? Canon currently has nothing in-between the 5D Mark III and C300 for video and even more worryingly nothing under it! The NEX 7 and GH2 are both better buys than the current 7D, Rebel or 60D for video image quality and digital cinema features.
Today I bought a Sony FS100.
I'll probably keep the 5D Mark III as my stills camera, and for special occasions like where stealth is important or I want an extremely shallow depth of field. For medium close ups, a bit of softness is OK actually. I don't like sharp portraits and neither do actors.
It is sad to give the 5D Mark III such a lukewarm reception…I am in love with DSLRs and the opportunities they create, at accessible prices, the footage they produce in the right hands and the whole ethos and community around them. The 5D Mark III is still a great camera but it just hasn't really moved on from 4 years ago and that is unacceptable. Even many traditional stills guys are saying the same. Apart from the improved high ISO performance and new AF it doesn't offer them much either, though the new 100% optical viewfinder is pretty nifty I have to say.
So the 5D Mark III has let us all down with the mushy resolution and mosquito noise from the codec, and I am really not sure how long I will keep hold of it for.
Canon have killed the golden goose.
Pros
Ground breaking low light performance, though an even softer image at high ISOs
Moire and aliasing far less of an issue now
Marginally better video image quality than the Nikon D800's internal recording – higher bitrate and less moire
Full frame sensor remains unique for video, not much in way of competition
HDMI no longer drops to 540p, suitable for monitoring if not recording
Cons
Not true 1080p video – more like 720p resolution in reality. No improvement on 5D Mark II
Fizzing codec mosquito noise visible even at ISO 100 on underexposed areas and shadows
Unlike Nikon D4 and D800, HDMI cannot be utilised for better image quality with external recorder
Other than the moire & aliasing fix and better ISO 3200+, no improvement in video quality over very old 5D Mark II
Nothing really very imaginative has been added for video users – no crop mode, no EVF, no articulated screen, no electronic ND filter like G1 X
Pricing is suspect – not far off FS100 which is a far better all-rounder for video. GH2 a bargain for low budget shooters
No peaking and poor manual focus assist
Magnified focus assist button moved to awkward place on left of camera rather than under thumb
No articulated screen (due to weather proofing concerns)