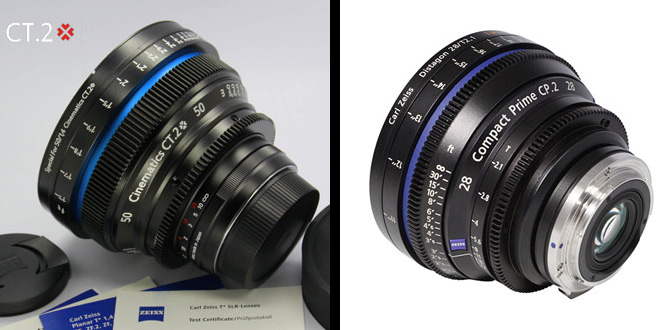 Spot the difference! Those crafty Chinese are at it again!
See the lenses on eBay here
Cinematics have started offering 'film lenses' which are Zeiss Compact Prime copies – cinema modified Zeiss ZE (Canon mount) full frame lenses at up to one quarter of the price of a real Compact Prime. Optically they remain the same as standard ZE but as you can see from the image above a CP.2 style housing is added (left) to create a "CT.2".
This includes gearing for a follow focus, T-stop marks instead of F-stop, cinema standard front thread size as well as a stepless aperture ring.
First a HUGE disclaimer. I've not handled one of these lenses. I have no idea what the build is like. I don't recommend these over renting a set of real CP.2 lenses for pro work. I certainly don't think the build of these modified lenses is in any way approaching that of a real cinema lens. Optically they all breathe, so for a lot of focus racking when stopped down your framing will shift.
However for budget filmmakers who just want their follow focus to be more closely integrated with the lens, these look to be a very good deal. Their price list does not contain the kind of mark up you'd expect for such an extensive mod of the lens housing, let alone the added value in the features you're getting.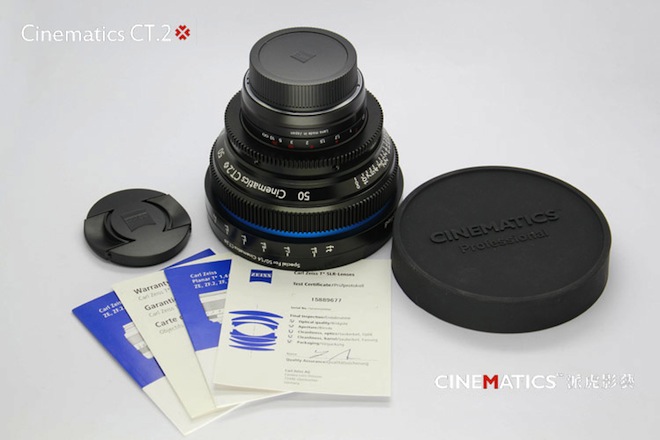 There's some very nice ZE glass on the list, in particular the 35mm F1.4, 28mm F2 'Hollywood' and the 85mm F1.4. All will mount on the 5D Mark III, Blackmagic Cinema Camera, FS100 and GH2.
Here's the price list for the modified Zeiss ZE lenses in full…
Wide angle
Distagon T* 18mm/3.5 – $2229
Distagon T* 21mm/2.8 – $2910
Distagon T* 25mm/2.8 – $1690
Distagon T* 28mm/2.0 – $1940
Distagon T* 35mm/1.4 – $2709
Distagon T* 35mm/2.0 – $1752
Standard
Planar T* 50mm/1.4 – $1065
Planar T* 85mm/1.4 – $2183
Macro
Makro-Planar 50mm/2 – $1847
Makro-Planar 100mm/2 – $3083
These prices don't include the modified aperture ring. The geared aperture ring is an extra $30 and stepless aperture is an extra $47 so an extra charge of $77 altogether.
By comparison the real CP.2 cinema lenses from Zeiss are variously $3,990 to $4,900. You only have to compare the 50mm prime ($1065) or the lovely 28mm F2.0 at $1940 to realise Cinematics are offering huge value to filmmakers here. Value that simply wouldn't be possible outside of China due to labour and manufacturing costs.
Whether the mod is any good however, remains to be seen! It is possible they have pulled a stroke of genius of the bag here and done a high quality mod. The Cinematics matte box
was pretty good after all for the price.