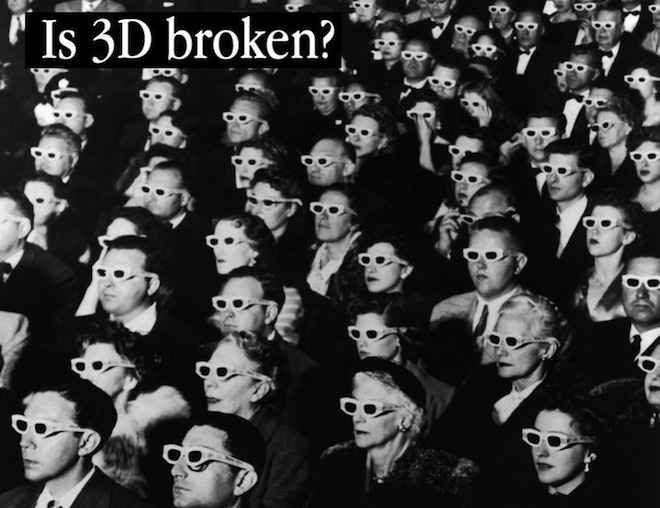 Top hollywood editor Walter Murch thinks 3D is broken by design, and he has the proof.
It's not been a good few months for 3D – Last month Nintendo issued a health warning for their 3DS which recommends players to limit their exposure to the 3D screen, to avoid damaging their eyes. (Source: The Guardian)
I have used a similar glasses free 3D LCD on the Fuji W3 and it was unbearable. Low resolution, awful contrast, and it made me go cross eyed.
I've also been dipping my toes into the 3D YouTube experience, and whilst it appears novel at first that novelty soon wears off when you realise how eye fatiguing and dark the whole experience is.
Now there are new health concerns over 3D TVs which are making people sick, as reported around the internet – here is but one report.
To top it all off a top Hollywood guy now says in an email to film critic Roger Ebert that 3D is fundamentally incompatible with human eyesight and will never work. He suggests we wait for holograms and that the current 3D cinema craze will die out as quickly as it blew up.
The guy is no less than Walter Murch, editor of Apocalypse Now and the guy who first coined the term 'sound design'. A top editor, who's work included:
• Apocalypse Now (1979)
• Ghost (1990)
• The Godfather, Part III (1990) using KEM flatbed
• The English Patient (1996) using Avid.
• Cold Mountain (2003) using Final Cut Pro on an off-the shelf PowerMac G4.
Roger Ebert starts by saying: "I received a letter that ends, as far as I am concerned, the discussion about 3D. It doesn't work with our brains and it never will."
Read more of the reasons why here
In my view 3D as it is now is a recycled version of film's first ever foray into 3D. It's no better now than it was in the 1960's. It's time it was put out to pasture and that the industry waits until holograms are more technically feasible.